WORLD
9 Important Stories From 2016 You're Likely To Have Missed
Some news still passes us by.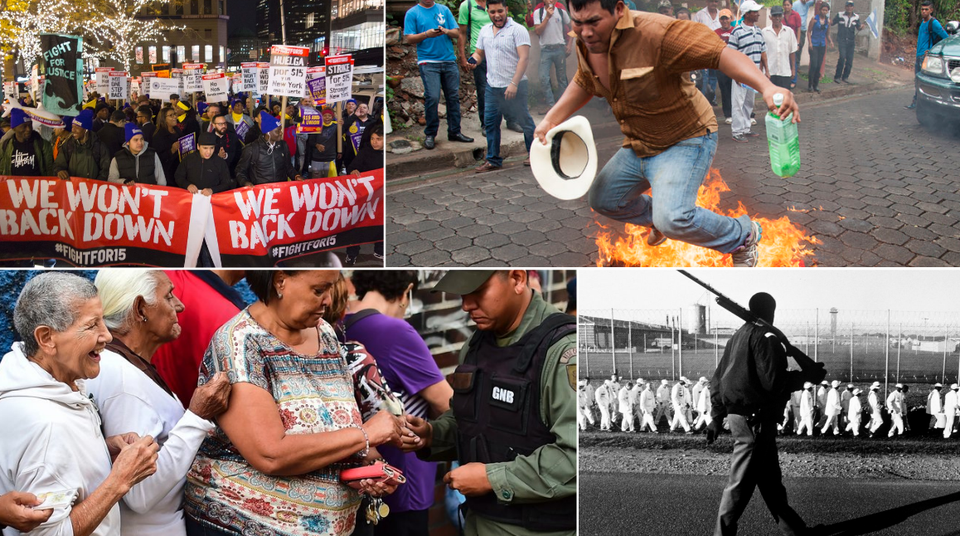 VARIOUS
We might live in an ever-more connected world, but some news still seems to pass us by.
And given this year's wall-to-wall coverage of Brexit and then Donald Trump's surprise US election victory, it's likely some important stories slipped under the radar.
From the harrowing accounts of Venezuelan's poorest to the plight of the Rohingya minority in Myanmar, there have been some big stories this year which haven't captured people's attention.
These are nine under-reported stories of 2016 you should know more about.
1. The Recession Is So Bad In Venezuela Some Parents Are Giving Their Children Away
Despite having the world's largest reserves of oil, Venezuela has plunged into a deep, brutal recession that's left parents unable to feed their children.
The situation has reportedly become so dire for the country's most impoverished, that families have been torn apart, as desperation leads some to offer their offspring for adoption to provide them a better quality of life.
Mothers have even left newborn babies in maternity wards to avoid the cost of bringing them up, Thomson Reuters Foundation found.
"It's better that [my daughter] has another family than go into prostitution, drugs or die of hunger," one unemployed mother said, explaining her decision to offer her child for adoption.
Average wages in the country are less than the equivalent of £42, according to a conversion by the website dollartoday.com, which tracks trading in Venezuelan street markets.
The IMF says Venezuela has the world's worst negative growth rate, at minus 8%, and the worst inflation rate, at 482%.
The unemployment rate is 17% and is expected to be nearer 30% in the next few years.
Water supplies are also running low in many areas, as the country of 30 million people battles with the effects of the deep recession caused, many believe, by the economic policies of former president Hugo Chávez.
The current president, Nicolás Maduro, has blamed the current economic situation on the United States and right-wing businesses who he believes have cut production to force his government's hand.
2. British Hotel Guests Are Being Taught How To Spot Signs Of Human Trafficking
Guests and staff at hotels across Britain will be told how to spot the signs of human trafficking in foyers and corridors, to help reach thousands caught up in the shady, darkly secret trade.
Human trafficking, and associated crime, is a huge problem and there are an estimated 13,000 victims of forced labour, sexual exploitation and domestic servitude in the United Kingdom.
While it may seem surprising that hotel chains would take such an active role in reducing the trade, hoteliers are often on the front line of such criminality.
Domestic sex trafficking is one of the largest forms of human trafficking in the US, with the commercial sex acts commonly happening in hotels, Bradley Miles, CEO of Polaris, a leading anti-trafficking organisation wrote on The Huffington Post.
In 2014, some 1,500 at-risk children in Nigeria, South Africa, Thailand, Turkey, and the UK were helped by Hilton Hotels' Anti-Trafficking Fund.
The programme was launched by Hilton Hotels and Shiva Hotels in November and is run in association with the British Hotel Association and International Tourism Partnership.
Shiva Hotels, which runs properties under the Hilton brand in the UK, said it was trialling an Anti-Trafficking Charter that would be shown to guests in public areas and on televisions in rooms. The Charter aims to "raise awareness of the problem and encourage vigilance among guests".
The Modern Slavery Act - which came into force in Britain in 2015 -brought in new measures to protect those most at risk of being enslaved in the UK and to increase punishment for those found guilty of trafficking.
According to the government, modern slavery includes servitude, forced or compulsory labour and human trafficking.
It said a person is trafficked if they are brought to (or moved around) a country by others who threaten, frighten, hurt and force them to do work or other things they don't want to do.
The 2016 Global Slavery Index by the Walk Free Foundation found some 45.8 million people were in some form of slavery across 167 countries.
Over four million Britons are employed within the hotels and hospitality sector, with many more millions spending time in hotels across the country.
"We're also calling on individuals to be vigilant when they're making hotel bookings," said Meenal Sachdev, head of a anti-trafficking campaign funded by Shiva Hotels.
"So next time you walk into a hotel, ask them what they're doing to tackle human trafficking and slavery."
3. Killings And Rapes Are Being Reported Daily In Myanmar
A Muslim minority in Myanmar is subject to horrifying treatment including executions and rapes, according to as yet unverified reports collected by the UN.
Members of the Rohingya minority who have fled to neighbouring Bangladesh have reported houses being burned, civilians targeted and family members being killed.
The UN's agency UNHCR has not been able to verify the claims, made as recently as mid-December, but has said it receives daily reports of alleged human rights abuses.
It has previously said crimes against humanity may have been committed against the group.
We can only fear the worst

Zeid Ra'ad al Hussein, United Nations High Commissioner for Human Rights
It has argued with Myanmar's government over access to the country's Rakhine state, in order to allow its observers into the area. Requests have so far been denied.
"If the authorities have nothing to hide, then why is there such reluctance to grant us access? Given the continued failure to grant us access, we can only fear the worst," UN human rights chief Zeid Ra'ad al Hussein said.
Thomson Reuters Foundation reported that at least 86 people have been killed so far this year according to state media, and the UN has estimated 27,000 members of the Rohingya minority have fled across the border to Bangladesh.
Many in Buddhist Myanmar see the some one million Muslim Rohingya as illegal migrants from Bangladesh. They are largely stateless, having been denied citizenship by the government despite generation-long ties to the country.
"We are worried that this is going to get further out of hand. This is perfect breeding ground for violent extremists," Zeid Ra'ad al Hussein added.
4. Donald Trump's Family Owes Some Of Its Fortune To Gold Rush Brothels
Donald Trump's grandfather ran at least one brothel for early beneficiaries of the American gold rush at the turn of the 20th century, sowing the seeds of an empire that ultimately helped finance the Trump family line.
Fredrick (nee Friedrich) Trumpf (the f was quietly dropped later on) travelled to the US in 1885 aged 16 aboard the S.S. Eider from Bremen, Germany.
After several years working as a trainee barber in New York, he left to take advantage of a booming gold rush in the north-western US.
The New York Times reported that at the age of 22, Fredrich bought and sold a restaurant in Seattle's red light district - before moving further into Washington state to develop a small real estate fortune.
It wasn't long before Freidrich travelled further north, across the Canadian border and into British Columbia. Settling in Bennett, a town at the centre of the region's gold rush, Freidrich opened the Arctic Inn with a business partner.
The Arctic offered "elegantly furnished private boxes for ladies and parties," according to an 1899 copy of the Bennett Sun newspaper.
"Of course, in the rough-and-tumble frontier towns of that era, the Arctic's business model built on food, booze and sex was common," Bloomberg reported. The Arctic was later moved to a more lucrative location.
After a failed attempt to return to Germany, Fridrich ended up in New York once more - but this time with riches equal today to around half a million euros, according to a controversial biography. The Trump family has remained in Manhattan since.
Donald J. Trump has refuted these descriptions of his grandfather's businesses. The president-elect has previously stated his grandfather was Swedish.
5. People Are Too Scared To Research 'Sensitive' Topics Online After Snowden
An Oxford University professor has found evidence that people stopped searching for information on "sensitive" topics such as terrorism amid fears of surveillance following the publication of the Edward Snowden files.
Jon Penney's study found traffic to "privacy-sensitive" Wikipedia articles reduced after the mass surveillance revelations.
Penney describes the reduction as a 'chilling effect'. The study suggests this could be the first empirical evidence of a change in behaviour resulting from government surveillance.
Snowden himself appears to agree with the study's findings.
"It's the minorities who are most at risk" from the impact of mass surveillance, Snowden said earlier this year. "Without privacy there is only society, only the collective, which makes them all be and think alike. You can't have anything yourself, you can't have your own opinions, unless you have a space that belongs only to you."
6. Prisoners Striking Over Forced Labour Are Being Denied Newspapers
Strikes against prison conditions and forced labour in the US have led to inmates being denied access to newspapers, in a potential breach of their 1st Amendment rights.
An exemption passed in the 13th Amendment to the US constitution has enabled businesses to make use of prison labour, paying inmates just pence per hour.
However, since a group named the Free Alabama Movement organised walkouts, prisons in some states have banned prisoners from reading newspapers.
Texas and Pennsylvania have established statewide bans in prisons of the San Francisco Bay View National Black Newspaper, a four decades old publication largely consisting of content written by inmates themselves, PBS reported.
Free Alabama Movement says its principal demand is the abolition of prison labour, a practice it has said is akin to slavery.
Prison labour generates billions in profits a year for private companies, according to research.
7. Ex-McDonald's Boss Issues Dystopian Prediction Of Robot Workforce
A former CEO of McDonald's has predicted a dystopian future in which robots flip burgers in the chain's American restaurants - potentially ending employment opportunities for millions.
Ed Rensi said that buying waiting, flipping and frying robots for $35,000 (£28,000) will soon become cheaper than paying workers $15 (£12) an hour.
Rensi said in May: "I was at the National Restaurant Show yesterday and if you look at the robotic devices that are coming into the restaurant industry ― it's cheaper to buy a $35,000 robotic arm than it is to hire an employee who is inefficient making $15 an hour bagging French fries ― it's nonsense and it's very destructive and it's inflationary and it's going to cause a job loss across this country like you're not going to believe."
It comes after reports into automation suggest technology could have a big impact on formerly middle-class, professional occupations such as accountancy.
Telemarketers, accountants and retail salespeople are most at risk of automation, according to research.
And Bank of England governor Mark Carney has said as many as 15 million British workers could lose out to technology.
8. There Are Still Huge Fears Over The Nicaraguan Canal Project
Clashes between protesters and police this month injured 11 as the fight against what may become the world's biggest man-made waterway intensified.
The Nicaraguan Canal project hopes to allow ships passage across Central America has raised concerns over potential environmental impact.
But local residents, engineers and environmental campaigners believe the project will have a critical impact upon Lake Nicaragua – Central America's largest.
Demonstrators had planned to converge on the capital of Managua, but canceled the gathering after clashes broke out with riot police the day before in Nueva Guinea, a municipality about 186 miles from the capital.
"We decided not to go on with it because we want to show that we love peace, that we are not violent," said Francisca Ramirez, a leader of the movement that opposes the expropriation of land for the canal, saying five protesters had been hurt.
Francisco Diaz, deputy director of the federal police, said riot police used tear gas and rubber bullets against a group of "vandals" who attacked them with sticks and machetes on Tuesday, leaving six policemen injured, Reuters reported.
The "anti-canal" movement said it will continue its fight against the mega-project, which is currently being studied for its feasibility.
Funded by a secretive Chinese billionaire, Wang Jing, the Nicaraguan Canal project aims to connect east and west through the Central American nation.
The canal may destroy or significantly change close to one million acres of rainforest.
Longer, wider and more complicated than the Panama Canal, the Nicaraguan project comes with many more risks than its smaller, southern cousin.
Wang Jing believes that his ambitions will ultimately be successful and it is predicted to become the world's biggest construction project.
9. Palm Oil Producers Hit With Human Rights Abuse Claims
Human rights abuses at palm oil plantations are going unpunished by the industry watchdog due to weak rules, critics say, as an Amnesty International report exposed severe violations at Indonesian plantations.
Workers go without "adequate" access to water and food, as widespread labour abuses make it difficult to report violations.
Palm oil is an edible oil used in a wide variety of consumer goods - from food stuffs to soaps.
It is mainly grown in Indonesia and Malaysia, and palm oil producers have come under scrutiny from activists and consumer companies, particularly over clearing of protected rainforest.
Producers can obtain an Roundtable for Sustainable Palm Oil (RSPO) certificate, seen as a reputable standard for sustainability.
The certification is used by plantations and big multinational consumer goods companies to prove measures are in place to minimise harm to the environment and to protect human rights.
However, a separate Amnesty investigation showed children as young as eight working in hazardous conditions, forced labour and other violations in RSPO-certified plantations owned by Wilmar International Ltd - a key supplier of Marmite maker Unilever.
Despite other reports of abuses, no RSPO member has lost its certification over labour issues, Thomson Reuters Foundation found.
The RSPO responded to the Amnesty report, saying: "The RSPO fully acknowledges the existence of serious problems in the protection of workers and human rights in the global intensive agriculture sector, including the oil palm sector.
"These problems are exacerbated when linked to poverty, weak law enforcement and the presence of legislative gaps - as underlined by Amnesty itself - contributing to the challenge of making agriculture and specifically the oil palm sector truly sustainable."
Suggest a correction