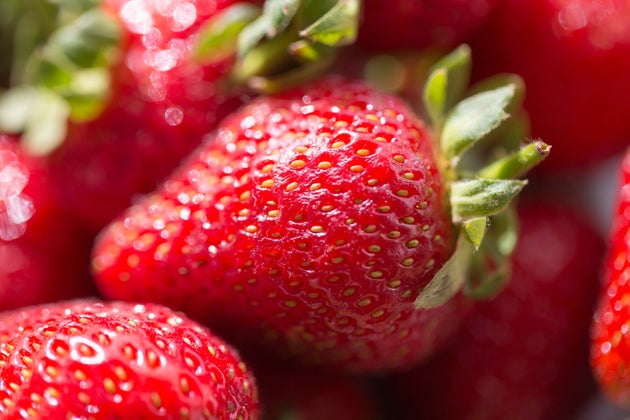 Fabrice LEROUGE via Getty Images
You know that strawberries are good for you, but do you know exactly why?
Turns out these little nuggets of heaven are valuable for much more than just their naturally sweet taste. They load your body with key vitamins and are even thought to ward off disease. Consider this:
1. They're literally packed with Vitamin C.
Just one serving of strawberries -- about eight of them, to be precise -- has 160 percent of the Vitamin C you need in a day. What's more, the flavanoids in strawberries help Vitamin C do its job more effectively.
2. They naturally lower your blood pressure.
That's thanks to potassium and other nutrients, and it's very good news for your heart.
3. And they could majorly cut your risk of heart disease.
Besides lowering blood pressure, strawberry's nutrients also reduce inflammation and boost "good" cholesterol. The folate in strawberries may be able to wipe out homocysteine, an amino acid that's associated with heart disease as well.
Craving strawberries yet? Try these recipes on for size...
Strawberry Mango Mint Julep Fruit Salad With Whipped Marshmallow

How Sweet It Is

Toasted Oatmeal With Strawberry Chia Jam And Coconut Whipped Cream

Cookie + Kate

Strawberry-Rhubarb Stuffed French Toast

Completely Delicious

2-Ingredient Strawberry Popsicles

Half Baked Harvest

Strawberry Lemon Custard Trifles

Boulder Locavore

Roasted Balsamic Strawberry Shortcakes

Completely Delicious

Strawberry Basil Coconut Cream Puffs

Hummingbird High

Strawberry And Quinoa Parfait

Foodie Crush

Sparkling Strawberry Lemonade

Damn Delicious

Strawberry, Basil And Goat Cheese Panini

Cookie + Kate

Strawberry, Basil And Balsamic Pizza

Cookie + Kate

Strawberry Pot Pies with Sugar Cookie Lid

Mandy @ Lady and pups

Chocolate Mousse-Filled Strawberries

A Beautiful Mess

Balsamic Roasted Strawberry Rhubarb Sorbet

Bell'Alimento

Genius Recipes/Food52

Fresh Strawberry Coconut Margaritas

How Sweet It Is

Berry Tart With Lemon Curd Mascarpone

Foodie Crush

Genius Recipes/Food52

Roasted Strawberry Brown Butter Pancakes

How Sweet It Is

Bourbon Strawberries And Cream Ice Pops

Bite This/Food52
Do you want to be more mindful about eating healthy foods that'll keep your mind and body at their best? Sign up for our newsletter and join our Eat Well, Feel Great challenge to learn how to fuel your body in the healthiest way possible. We'll deliver tips, challenges and advice to your inbox every day.
Suggest a correction