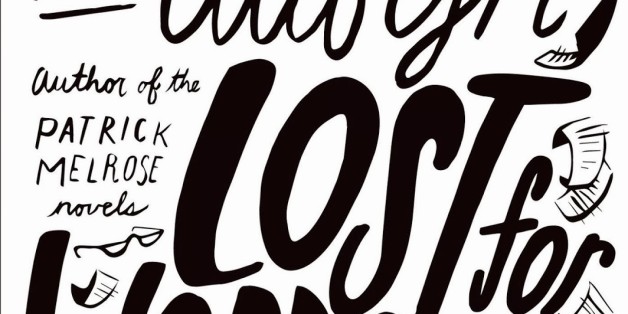 Farrar, Straus and Giroux
by Edward St. Aubyn
Farrar, Straus and Giroux, $26.00
Publishes May 20, 2014
The Book We're Talking About is a weekly review combining plot description and analysis with fun tidbits about the book.
What we think
In a suitably rambling essay titled "No Self-Mockery, Please, We're American," Terry Eagleton writes, "One of the gravest moral defects of Americans is that they tend to be straight, honest, and plain-speaking." That is to say, American writing tends to be earnest, to pack a blunt moral punch, to lack many dualities.
He cites Oscar Wilde, who famously quipped, "I live in constant fear of not being misunderstood," as an adversary to this approach, and an example of what complex, humorous, and self-deprecating art has to offer. These are the hallmarks of certain British society novels, namely those by Kingsley Amis and Evelyn Waugh. In his latest book, Lost for Words, Edward St. Aubyn upholds this tradition.
St. Aubyn is no stranger to critiquing England's upper echelons; he's best known for his five-book series, The Patrick Melrose Novels, which are based on his own upbringing in a malfunctioning aristocratic family. He's been lauded for packing both humor and psychological poignancy into his account of his tragic and drug-addled childhood.
In Lost for Words, he turns his critical eye towards another institution: The Man Booker Prize. The novel follows a crew of judges and nominees for "the Elysian Prize," a literary award given annually to an author hailing from England or the Commonwealth. The prize itself is immediately painted as corrupt, as it's sponsored by a "highly innovative but controversial agricultural company," and chaired by a shamelessly power-hungry Parliament member.
The judges, too, are caricatures of book-world types: a columnist interested in "relevancy," an academic vehemently committed to "good writing" (which she refuses to define in more explicit terms), and two amateur writers whose loose relations to an important political figure secured their spots. The nominees aren't exempt from criticism, either. They include a pompous rising star from India, a blasé femme fatale ("an old-fashioned salonnière... with books in the window sill and books on the floor" of her apartment), two of her ardent pursuers, and a modest cookbook author who is puzzled by her placement on the prize's short list.
St. Aubyn pans between these characters' inner monologues, which could explain his being likened to Virginia Woolf, although the similarities end there. The result is a hilarious commentary on the dissonance between the daily lives of authors and how they are perceived publicly. Lost for Words is especially witty when mocking poor writing, be it the convoluted language often used to summarize a title ("Language explodes with meanings that subvert our logocentric reading of the text") or the overwrought and inaccurate technical descriptions of young thriller writers ("Sitting in her Audi A6 3.0 litre TDI with all leather seats, Jane Street was ready to call it a day").
In an ironic and ultra-meta turn of events, St. Aubyn's novel bested Sebastian Faulks's by winning Britain's Wodehouse prize, the country's award for comedic fiction. Given the book's complexity and ability to elicit muffled laughter while reading it in public, the honor is much deserved.
What other reviewers think
The New York Times: "While 'Lost for Words' doesn't have the depth or resonance of Mr. St. Aubyn's Melrose novels, it's not meant to. It's simply an entertaining cartwheel of a book with a glittering razor's edge."
The Guardian: "St Aubyn's ear for fakery never falters. There is (as in the Melrose novels) the feeling he does not suffer fools gladly –- however adroitly he sends them up."
Kirkus: "And now for something completely different: a broad farce from a British novelist renowned for his literary subtlety and command of tone."
Who wrote it?
Edward St. Aubyn is the author of The Patrick Melrose Novels, five books based on his own experiences growing up in an aristocratic British family. One title in the series, Mother's Milk, was shortlisted for the Man Booker Prize.
Who will read it?
Those interested in satirical social observations and British humor.
Opening lines:
"When the Cold War relic Sir David Hampshire has approached him about becoming the chair of the Elysian Prize committee, Malcolm Craig asked for twenty-four hours to consider the offer. He had a visceral dislike of Hampshire, the epitome of a public-school mandarin, who had still been Permanent Secretary at the Foreign Office when Malcolm was a new Member of Parliament."
Notable passage:
"She had only just finished making love and she was already chattering. She thought of an empty train shooting through an empty station at night, an image of her mind without words. How beautifully unnecessary they seemed at that moment, but soon it would be rush hour, with hardly enough words getting off the crowded train to allow any words from the crowded platform to get on."
Rating, out of ten:
8. Though it lacks optimism about... well, anything, Lost for Words is an enjoyable read for the cynic in all of us.