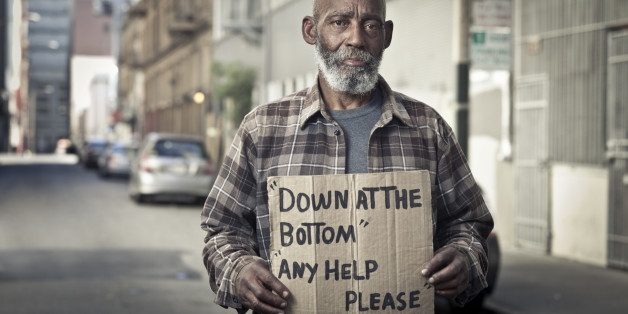 JasonDoiy via Getty Images
When the National Coalition for the Homeless (NCH) began publishing which American cities have restricted publicly feeding homeless people, it believed the reports would be a source of humiliation for those communities and their leaders. But that hasn't been the case.
"We published the report in the hope that it would embarrass the cities," Michael Stoops, director of community organizing at NCH, told Vice News. "But they just keep doing it."
Not only are those cities unashamed, they seem to be setting something of a national precedent.
Vice News obtained NCH's third and latest report, which is set to be published later this month. The outlet reports that, incredibly, at least 33 municipal bans on publicly handing out free food have been enacted across the U.S. between January 2013 and April 2014, reflecting a sharp increase in communities with such restrictions.
That troubling number is likely less surprising to anyone whose been following the issue of food sharing at a national level. Many cities have been actively stepping up their fights -- not against homelessness, but against homeless people.
This past February, Columbia, S.C., began requiring groups of 25 people or more to purchase permits allowing them to utilize the city's parks, making it considerably more difficult for a local chapter of Food Not Bombs to pass out meals to the hungry. Last month, a retired Florida couple was fined $700 and threatened with jail time for feeding hot meals to the homeless in Daytona Beach. After the news gained national attention and outrage, police dropped all charges.
But why have local governments become increasingly committed to stopping what many would consider an act of basic compassion?
Houston Mayor Annise Parker said on KUHF radio's "Houston Matters" that "making it easier for someone to stay on the streets is not humane" after her city began penalizing anyone who gives out food to more than five people in public without prior permission. Violating the ordinance, which passed the Houston City Council in 2012, could result in a fine of up to $2,000.
Stoops said implementing these types of laws acts as a deterrent to organizations wanting to help those who need it most.
"We've had a number of church groups say, we don't want to go against the law," he told VICE News. "And it has resulted in a number of groups quitting the ministry."
To find a homeless shelter in your area you can support, visit Help the Needy's website.