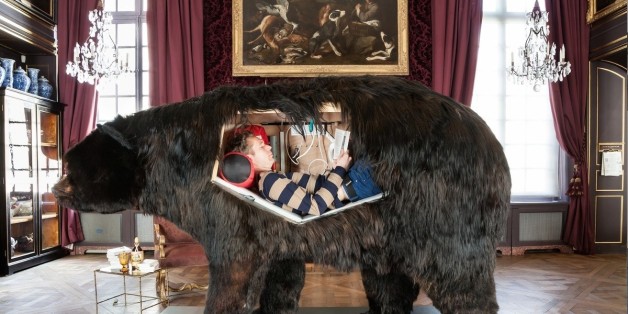 Following the dawn of the 21st century came a resurgence in performance art so swift and strong it nearly took us all by surprise.
Yes, the greats -- like Marina Abramovic, Oskar Schlemmer, John Cage and Stuart Sherman, to name but a few -- had been blurring the lines between theater, dance, music, poetry, activism and contemporary art since the early and mid 1900s. The genre hit a high mark in the 1970s, when everything from Action to Fluxus broke the barrier between artist and audience. Ms. Abramovic shocked viewers with self-mutilation while Vito Acconci turned masturbation into an intimidating production.
The decades to follow saw veteran figures Laurie Anderson, Matthew Barney and Yoko Ono continuing the trend -- not to mention people like Eva & Adele, Gilbert & George, and Genesis Breyer P-Orridge essentially living and breathing as performance artists -- but it wasn't until the next millennium that more mainstream critics and patrons began jumping on the bandwagon.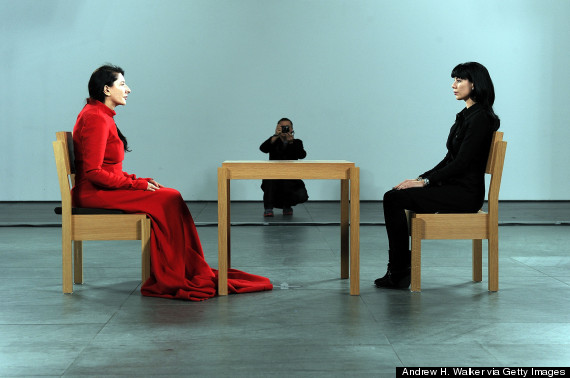 Enter into the aughts and you have Christian Marclay, Ryan Trecartin, and Spartacus Chetwynd ushering performance art into major museum establishments, international art award ceremonies and the internet. In the past few years alone, Abramovic has partnered with James Franco and Lady Gaga to make even the most amateur of creatives aware of her brand. She sleeps, stares, and gets naked, and the world revels in the oddity.
But as this avant-garde, unrestrained type of performance art weaseled its way into pop culture, people with less than a PhD in art history asked: Why is all of this art? To answer the query, we've compiled a list of the most confusing performance art pieces of all time. And by confusing, we mean the most shocking, abrasive, gory, offensive and downright absurd acts that have had novices and experts scratching their heads over the years. In typical "take it or leave it" fashion, we let you know which of art history's performances we can live without.
1. Vito Acconci's 'Seedbed'
Let's hit the ground running, shall we? In 1972, Vito Acconci stunned audiences at New York's Sonnabend Gallery when he buried himself, so to speak, under a ramp in the art haven and proceeded to masturbate, using the sound of visitors walking above him to spark his "sexual fantasies." He also used a microphone to project his ongoing monologue -- basically, a series of very dirty thoughts -- to the entire room.
The performance was, as you might expect, pretty controversial. Despite the obvious sexual undertones, however, the piece had broader intentions. "The troubled personality Acconci acted out resembles the paranoid, dissociated characters in American films of the era: Gene Hackman in 'The Conversation,' Robert de Niro in 'Taxi Driver,'" The Guardian's Jonathan Jones wrote in 2002.
Take it or leave it? Take it. This piece is provocative and voyeuristic and it's easy to assume the work stems from a misogynistic place. But as Acconci said in 2006, "A lot of [the 'Seedbed'] work occurred during the first feminist writings I was aware of. On the one hand I was trying to almost play this ultimate cartoon version of the male, but also to make it explode." At the end of the day, you can't really argue with London's Tate museum when they say the work is "one of the most important live artworks of the 1970s."
2. Marni Kotak's Live Birth Performance In 2011, New York-based performance artist Marni Kotak gave birth to a healthy baby boy during a live durational exhibition titled "The Birth of Baby X." To do so, she built a home birthing center at Microscope Gallery (see above), invited an audience (and a doula) to oversee the labor and created a collection of birth memorabilia including a 10-foot trophy awarded to Baby X for being born.
The performance didn't stop there, though. "She plans to re-conceptualize her role as a parent to baby Ajax into a work of performance art that will last for the rest of her life," The Washington Post explained.
Take it or leave it? Leave it. Some have questioned whether Kotak's desire to turn motherhood into performance is that different than the "mommy bloggers" of the web, and while that's an interesting prompt, the fact remains: "Baby X" turned Ajax into an art object. And while we highly doubt she endangered her son, she certainly used him as a prop in the commercial art world.
3. Wafaa Bilal's Implanted Camera In 2010, NYU professor and Iraq-born artist Wafaa Bilal surgically implanted a camera into the back of his head for an intense, year-long surveillance project. Inspired by his past experience as a refugee, "3rdi" sought to take a photo every 60-seconds and publish his images on the web, in effect, capturing all the things he "leaves behind" on a daily basis.
"I see myself as a mirror reflecting some of the social conditions that we ignore," he said to CNN. "This will expose the unspoken conditions we face... A project like this is meant to establish a dialogue about surveillance."
Take it or leave it? Leave it. After all, his body physically rejected one of the titanium posts keeping the camera in place on his skull. We prefer his "Ashes Series" anyway.
4. Abraham Poincheval, the man who lived in a bear carcass for two weeks.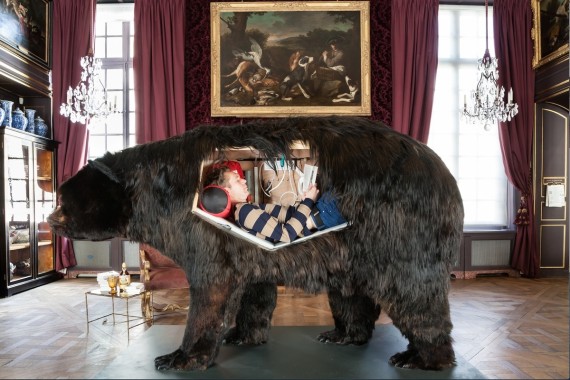 French artist Abraham Poincheval's 2014 performance stunt was simple: He slept in a dead bear for two weeks. Yup, equipped with a small amount of food and water (plus a light, cushion, reading material, kettle and toilet of some kind), he hibernated inside the remains of a hollowed-out bear stomach at the Musée de la Chasse et de la Nature while fans watched him on a live feed.
We're sure the small quarters were claustrophobia-inducing, but from the photos and footage, it sort of appears as though the man was just relaxing in a cramped shelter, which, from the inside, looked nothing like the insides of a bear. Did he push his "physical limits" in the process? Maybe, but what's compelling the audience to care?
Take it or leave it? Leave it. Though his self-imposed prison sentence inside a taxidermy animal was suffering enough, we can't pretend the act didn't remind us of that disturbing scene from "Ace Ventura: When Nature Calls."
5. Adrian Parsons' Live Circumcision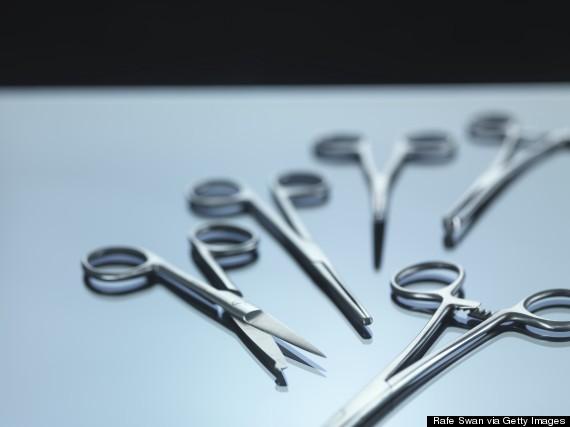 In 2007, a courageous masochistic DC-based artist named Adrian Parsons circumcised himself on stage, in front of an audience, with a dull Swiss army knife. Then he proceeded to stuff the removed foreskin into a glory hole.
"I was trying to penetrate -- in, yes, a direct, literal way -- the gallery and the audience. I wanted to be organic shrapnel," he explained to HuffPost. "Shrapnel" is, in fact, the name of the performance.
Take it or leave it? In this case, we're not being figurative. Leave it.
6. Rachel Mason's FutureClown
Once upon a time a politically-minded performance artist named Rachel Mason decided to reenact Paul Rand's infamous 13-hour filibuster. But, in typical contemporary performance art fashion, she did so dressed as her bizarre alter ego, FutureClown. Horror ensued.
"I happened to hear about Rand Paul's 13-hour filibuster on the news and as a performer, it just struck a chord," she explained to HuffPost. "I perform a lot and think about what it is to simply perform for any duration. It just seemed like an epic durational performance piece... In a strange way I would say aesthetically it almost feels like a Gertrude Stein novel."
Take it or leave it? Take it! What's better than Rand Paul's original filibuster (besides, nearly everything)? Rand Paul's filibuster reenacted by a terrifying clown.
7. Clayton David Pettet's 'Art School Stole My Virginity'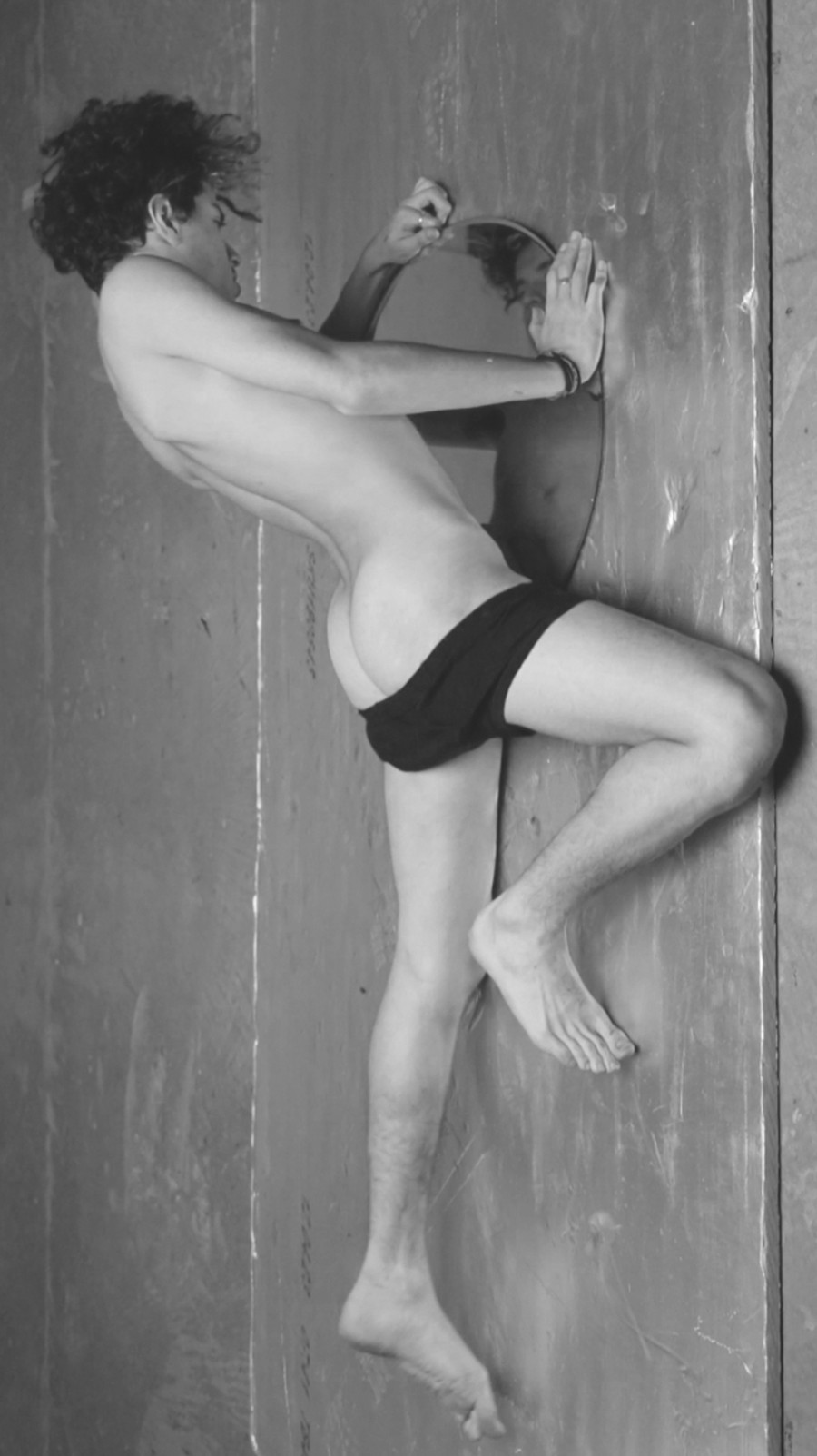 Achieving Narcissism, 2013, Performance 18:00 mins, Clayton Pettet
Clayton David Pettet, a 19-year-old from Central Saint Martins College of Arts and Design, found himself at the center of a media firestorm in 2013 when he announced his plan to have sex with an anonymous male partner... in front of a gallery audience. The project, called "Art School Stole My Virginity,' was inspired by his own experience as a 16-year-old student questioning the cultural significance of virginity. But what actually happened, was a little bit different than the show's tease.
The 120 audience members didn't end up watching Pettet engaged in his first "sexual" experience; instead, they were asked to "penetrate" the artist's mouth with a banana. "I think if people were expecting something else, it shows what they really wanted," the artist told Dazed Digital. "They didn't want an art piece, they wanted to see me have sex. If they came for the art, they wouldn't be as disappointed -- they'd know there were things to read between the lines for."
Take it or leave it? Leave it. There are better ways to scrutinize society's perception of heteronormative virginity. Or, at least, we hope there are.
8. Ron Athey's "Incorruptible Flesh"
Ron Athey began his "Incorruptible Flesh" project back in 1996, but here's what his 2014 iteration looked like: The artist, naked and strapped to a metal examination table, transformed into a frightening corpse-like figure. The skin of his eyes pinned back, a baseball bat impaling him from behind, he invited viewers to "anoint" him with a white, foamy substance.
According to Grace Exhibition Space, Athey and his collaborators "studied the lives of saints, the relics and in particular, the display of the 'incorruptible' bodies, most of which are wax sculptures with a corpse inside." He then adopted the 'incorruptible' status as a representation of his HIV positive diagnosis, chock full of references to his childhood experiences with the Pentecostal church.
Take it or leave it? Take it. This is a macabre take on mortality that satiates the history buffs and iconoclasts.
9. Milo Moire's 'Plop Egg Painting'
For some artists, creation is a labor of love. For others, it's literal labor, of the birthing variety. Swiss-born Milo Moire counts herself in the latter party, as evidenced by her 2014 performance piece, "Plop Egg Painting." In it, the female artist pushes paint eggs out of her vagina onto an empty canvas, taking Jackson Pollock's expressionist painting method to new and very nude heights.
"The 'PlopEgg Painting'...releases a loose chain of thoughts -- about the creation fear, the symbolic strength of the casual and the creative power of the femininity," a video description for the performance reads. "At the end of this almost meditative art birth performance the stained canvas is folded up, smoothed and unfolded to a symmetrically reflected picture, astonishingly coloured and full of [strength]."
Take it or leave it? Leave it. We know that Moire uses nudity as a handy weapon in her performance art toolkit, but what is supposed to be meditative (not to mention, spark some type of contemplation about feminine creation) ends up looking like an Easter celebration gone wrong. It didn't help that the venue of choice for this particular performance was outdoors during Germany's Art Cologne. Passersby were too concerned with skyrocketing art prices to take notice of Moire's artistic disruption.
10. Carolee Schneemann's 'Meat Joy'
In her 1964 performance "Meat Joy," Carolee Schneemann had eight underwear-clad men and women perform a partially choreographed routine, set to music, that involved writhing on the floor in a pile of paint, paper and lots of raw meat. Schneemann staged the strange happening in New York and London following the initial debut at the First Festival of Free Expression in Paris. It was described as an "erotic rite," simultaneously sensual and repellent.
"'Meat Joy' has such an intensive dynamic and carries all the themes of physicality, intensive improvisational contact and training with me," Schneeman recounted to HuffPost. "It carries itself through time and that's been very interesting to look at."
Take it or leave it? Take it. Schneemann is a pioneer of feminist art who does brutal sexuality better than Paul McCarthy. "I never thought I was shocking," she once proclaimed to The Guardian. "I say this all the time and it sounds disingenuous, but I always thought, 'This is something they need. My culture is going to recognize it's missing something.'"
11. Vaginal Knitting
Feminist artist Casey Jenkins, a self-professed "craftivist," caught the attention of the pop performance art world in 2013 when she opted to knit from a ball of yarn wedged inside her vagina. "I'm spending 28 days knitting from wool that I've inserted in my vagina," the Melbourne-based artist stated in a video of the act. "Everyday I take a new skein of wool that's been wound so that it will unravel from the centre and I stick it up inside me... and then I pull out the thread and knit."
The work was called "Casting Off My Womb," and it incited a hilarious storm of Twitter outcry.
Take it or leave it? Take it. We do appreciate Jenkins' commitment (she knitted during menstruation) to the delightfully radical genre of "craftivism."
12. Tilda Swinton's Naps at MoMA In 2013 Tilda Swinton napped at New York's Museum of Modern Art, showing up several times unannounced to sleep in a glass box somewhere in the famous art institute. Called "The Maybe," the work was a reprisal of an earlier Swinton napfest (circa 1995), and was, well, kind of boring.
MoMA's description of the work: "An integral part of The Maybe's incarnation at MoMA in 2013 is that there is no published schedule for its appearance, no artist's statement released, no museum statement beyond this brief context, no public profile or image issued. Those who find it chance upon it for themselves, live and in real -- shared -- time: now we see it, now we don't."
Take it or leave it? Leave it. Social media has profoundly changed the way we interact with celebrity, and this piece just doesn't do the job it might have done in the 1990s.
13. Hermann Nitsch's Orgien Mysterien Theater
From animal slaughters as religious sacrifices to faux crucifixions, Hermann Nitsch has long been known as a "cult provocateur" and the "Pope of Viennese Aktionism." Whether he was drinking blood or drunkenly processing, his pagan rituals often involved the audience as participants, rather than mere viewers.
Take it or leave it? Leave it. Nitsch's work, in a contemporary context, often comes off as a form of glorifying violence. You either like the Aktionists (for their attempt to examine the depths of spirituality) or you don't.
14. Deborah de Robertis' 'Mirror of Origin'
In an homage to Gustav Courbet's "The Origin of the World" (that saucy, unabashed portrait of a woman's genitalia), Luxembourgian artist Deborah de Robertis transformed the two-dimensional masterpiece into a live performance art piece by sitting in front of the 1866 artwork and baring her own "origin of the world" for all patrons of Paris' Musée d'Orsay to see.
The artist was arrested for her bold move (she did not plan ahead with the museum to see if, you know, they'd be cool with her showing her vulva to unsuspecting kids and adults), but she managed to make her intentions known.
"If you ignore the context, you could construe this performance as an act of exhibitionism, but what I did was not an impulsive act," she explained to Luxemburger Wort. "There is a gap in art history, the absent point of view of the object of the gaze... I am not showing my vagina, but I am revealing what we do not see in the painting, the eye of the vagina, the black hole, this concealed eye, this chasm, which, beyond the flesh, refers to infinity, to the origin of the origin."
Take it or leave it? Take it. The applause of excited museum goers that can be heard during recorded footage of the act is enough to convince us. This black hole will suck you in.
15. Zhu Yu
In 2000, Chinese performance artist Zhu Yu recorded himself eating what appeared to be a dead fetus stolen from a medical school. It was presented at the bombastic "Fuck Off" exhibition organized by Ai Weiwei and Feng Boyi. When stills of the act (which did not actually involve a human fetus) hit a Channel 4 documentary in the UK, critics tore the artist apart for courting recognition with deliberately shocking art.
"No religion forbids cannibalism," Zhu Yu claims in the video above. "Nor can I find any law which prevents us from eating people. I took advantage of the space between morality and the law and based my work on it."
Take it or leave it? Leave it. Leave it all.
16. Aliza Shvarts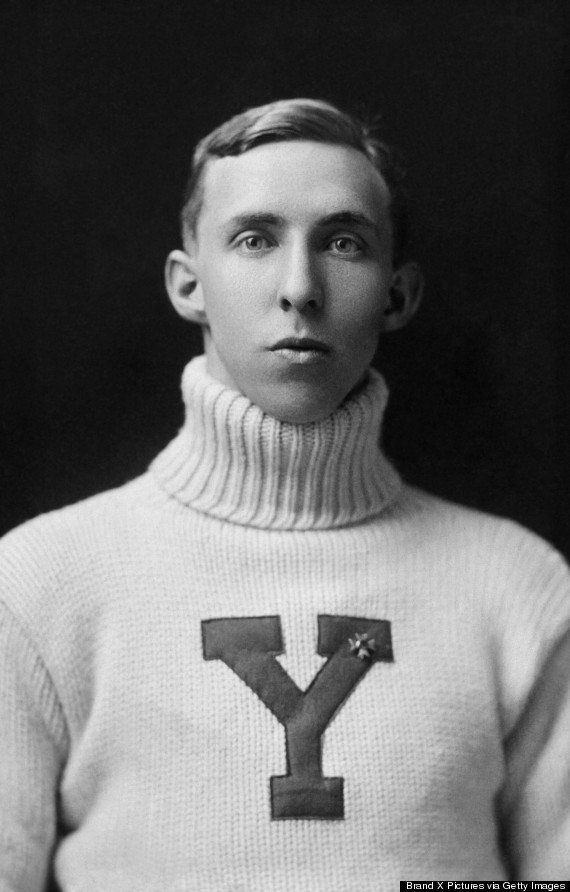 Aliza Shvarts, a 2008 art major at Yale, documented her nine-month process artificially inseminated herself on a regular basis while simultaneously taking abortifacient drugs to induce miscarriages. The resulting exhibition featured video recordings of the miscarriages and physical evidence of the experience, including blood.
"For the past year, I performed repeated self-induced miscarriages," Shvarts wrote in a column for Yale Daily News. "Using a needleless syringe, I would inject the sperm near my cervix within 30 minutes of its collection, so as to insure the possibility of fertilization. On the 28th day of my cycle, I would ingest an abortifacient, after which I would experience cramps and heavy bleeding... Because the miscarriages coincide with the expected date of menstruation (the 28th day of my cycle), it remains ambiguous whether the there (sic) was ever a fertilized ovum or not."
"The reality of the pregnancy, both for myself and for the audience, is a matter of reading," she added.
Yale University, rather predictably, took issue with the artist's project, calling it a "creative fiction." When Shvarts spoke out against that claim, reaffirming that the piece was in fact "university sanction," Yale said that statement was "part of the performance."
Take it or leave it? Hoax or not, we say leave it. While she wanted to "provoke inquiry" around politics and ideology, she merely prompted a he said/she said media frenzy. Shvarts went on to pursue at PhD in Performance Studies at NYU, so she no doubt has the chops to do better.
17. Franko B's 'I Miss You'
For a 2003 piece titled "I Miss You," Italian artist Franco B walked down a catwalk at London's Tate Modern museum covered in white body paint and bleeding from self-inflicted wounds on his wrists. "I don't make work that lives in somebody's living room," the artist said to Metro UK, "but lives in the memory because it speaks to them. Art is about creating language and memories. Language is like a virus that can invade you, and I love that."
Take it or leave it? Take it. He essentially staged the contemporary performance art world's version of a fashion show, giving spectators exactly what they expected from him: blood, nudity and shock. We're sure the Tate hasn't been the same since.
18. Voina's Public Orgy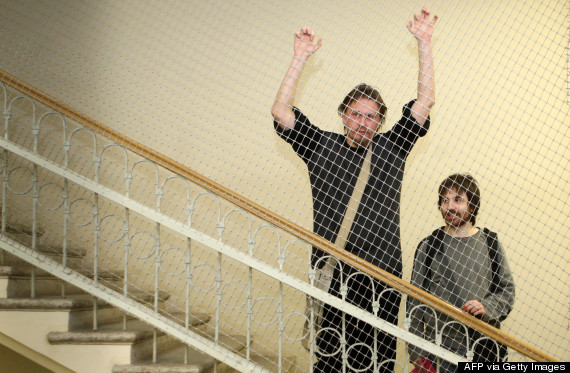 Before there was Pussy Riot there was Voina (meaning "war" in Russian), a collective of radical street artists and performers who challenge Russia's authoritative regime through a series of public disruptions, based largely in Moscow and St. Petersburg. The acts can range from painting giant penises on bridges to violently overturning police cars to tossing cats at McDonalds employees, but their most infamous performance was a public orgy.
The orgy took place at the Timiryazev State Biological Museum in Moscow in February of 2008 as an action titled "Fuck for the heir Puppy Bear!" Aiming their outrage at presidential hopeful Dmitry Medvedev (whose last name comes from the word medved, or "bear"), the Voina members stripped naked and engaged in sexual intercourse on the floor of the museum as a means of "subversively affirming" the state's fertility and reproduction goals.
Take it or leave it? Take it. This particular blend of shock art and activism certainly has a place in politically tyrannical environments. Just leave the cats alone.
19. Marina Abramovic's 'The Artist Is Present'
Who could forget Marina Abramovic's 2010 endurance spectacle "The Artist is Present," in which the Serbian artist spent 736 hours staring at Museum of Modern Art visitors across a table. It was a giant exhibition that prompted headlines like "Wait, Why Did That Woman Sit in the MoMA for 750 Hours?" and blogs like this.
"It's narcissistic, exhibitionistic work, and it has brought out the crowds' own narcissism and exhibitionism, in a self-fulfilling feedback loop," New York Magazine's Jerry Saltz wrote. "But it's also very compelling."
Take it or leave it? Take it. We sincerely cannot resist the allure of Marina Abramovic. She will always be the grandmother of performance art.
20. Chris Burden's 'Shoot'
We began with Vito Acconci so why not end with Chris Burden, the artist who allowed a friend to shoot him with a .22 rifle from 15 feet away... all in the confines of a gallery in 1971.
Take it or leave it? Take it. Even though Burden himself describes the act as "incredibly stupid," the shooting was, in many ways, the start of Burden's 40-year long career. As Roger Ebert said, "For Chris Burden, I believe, the experience is what remains. His experience, and ours."
BONUS: James Franco doing anything. Wish we could solve this art world mystery, but alas, there's no explaining the wacky world of James Franco.
These are just 20 of the world's most confusing examples of performance art. Let us know your favorites that we missed in the comments.