As Christmas quickly approaches and you start watching all your favorite holiday movies again, you might want to know a bit of weird trivia about Rudolph, The Grinch and even the McCallister gang. Ahead, 11 things you didn't know about your favorite Christmas movies.

1. Ralphie makes an uncredited cameo in "Elf."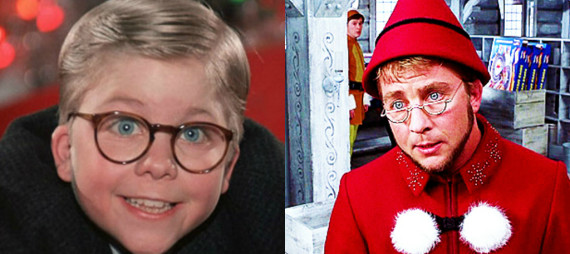 Peter Billingsley, the child star of "A Christmas Story," has a brief, uncredited appearance in "Elf." Although he directs and produces movies now, Billingsley enjoys taking on small acting roles from time to time as he explained the cameo to About.com:
I did do a little part. Every now and then I come back and do a little bit of acting. I love it. I did a little cameo in 'Elf,' which I didn''t take credit for, where I was one of the elves in Santa''s shop. It's fun to do it that way.
Image Left: "A Christmas Story" & Image Right: Elf

2. You can actually stay in the house from "A Christmas Story" for Christmas.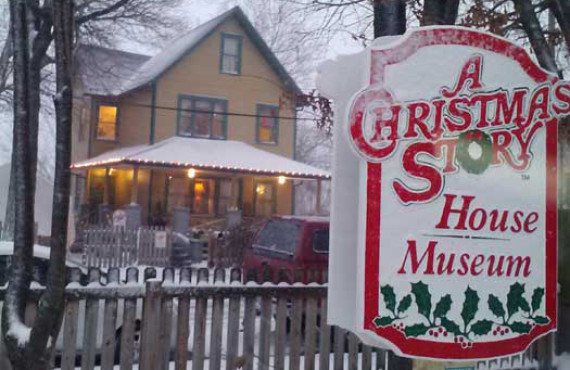 The house from "A Christmas Story" is real and has been preserved as a museum that's open year round. Over the holiday season, the museum holds an auction where superfans can bid on the experience to spend two days and two nights living in the house from Christmas Eve to Christmas. The winner gets to bring a group of four to stay in the house. On Christmas morning, traditional "A Christmas Story" presents are opened in the living room, including two BB guns.
This year, 51 bids on Ebay were made. The winner took the prize for $6,016.40.
The house museum also sells those classic leg lamps in all sorts of sizes.
Image: A Christmas Story House & Museum

3. Yukon Cornelius is always licking his pickaxe in "Rudolph" because he was a peppermint prospector in the original version.
The first airing of "Rudolph the Red-Nosed Reindeer" in 1964 was actually a bit different than the version most people recognize today. A slight alteration was made where a scene that featured Yukon Cornelius discovering a peppermint mine was cut to fit the rescue of the Misfit Toys for the 1965 and subsequent versions.
In the cut scene, Cornelius says that he has been searching for peppermint all his life and that the discovery makes him rich. Multiple scenes were also cut from the original script, including Rudolph being delivered by a stork and Cornelius firing his guns.

4. In the first release of "The Santa Clause," Tim Allen says "1-800-SPANK-ME" as a joke. This ended up being a phone sex service, so Disney tried to buy and discontinue the number.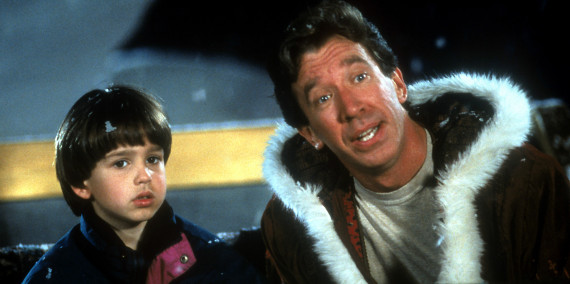 Before Disney cut this scene due to parent complaints, there was a moment when Tim Allen's character, Scott Calvin, picked up his son from his ex-wife and made a phone-sex joke. When Calvin's ex-wife, Laura Calvin Miller, gives him a slip of paper with the phone number for her new mother-in-law to call in case of an emergency, Calvin looks at the paper and says, "1-800-SPANK-ME? ... I know that number."
According to a 1997 article in The Seattle Times, there were multiple cases of children racking up their parents' phone bill by calling the number. A couple noteworthy instances include two 9-year-olds calling the number to get $500 in charges and a 10-year-old girl who got $250 in charges, but also needed counseling for what she heard on the line. One grandma let her grandchildren call the number after seeing the film because she thought the number wouldn't actually exist. The grandma recalled the voice on the phone started by saying, "Hi sexy! You've just connected to the hottest phone line in America."
It is unclear whether Disney was successful in buying and discontinuing the phone number, but a 1997 Orlando Sentinel article does report that Richard Schlesinger, vice president of legal affairs for Disney Motion Pictures Group at the time, claimed Disney attempted the purchase and delete.
Image: Getty

5. The gangster movie playing throughout "Home Alone" isn't real and was made especially for Kevin McCallister.
Throughout "Home Alone," Kevin McCallister watches a movie called "Angels with Filthy Souls." This is actually a fake movie that is a parody of a 1938 gangster movie called "Angels with Dirty Faces." The sequel to "Home Alone" also has a sequel to this parody called "Angels with Even Filthier Souls."
The parody is where McCallister's famous line -- "Keep the change, 'ya filthy animal" -- comes from. In the script for "Angels with Dirty Faces," a character does say "Here's your change," but it's not said as a joke after a gangster is killed, like in the parody.

6. The Grinch wasn't originally green and Dr. Seuss fought for the character to be black and white. Green may have been chosen as it reminded the animator of ugly rental cars.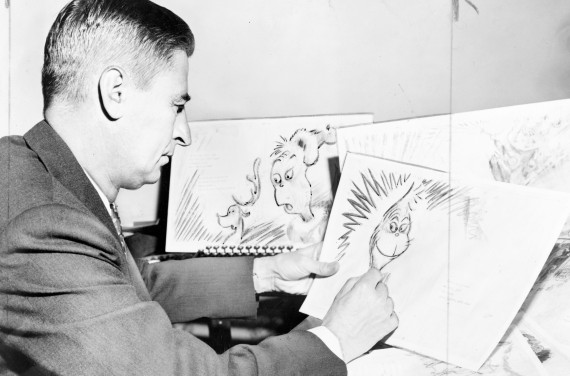 In Dr. Seuss' original book, How the Grinch Stole Christmas, The Grinch was black and white with shades of red.
Chuck Jones, the "Looney Toons" animator who also directed the Grinch movie, is the one who made the character green. Jones and Seuss argued over the color with the original author wanting the character to retain the black, white and red, while Jones insisted the Grinch needed to be more colorful for television.
Apparently, Jones was inspired to choose green because of ugly rental cars popular in the Washington-Baltimore area at the time. This legend has been repeated many times for at least a decade, but the original source is unclear.
Image: Getty

7. Jack Skellington has secretly appeared in many movies including "Beetlejuice," which came out half a decade before the Christmas classic.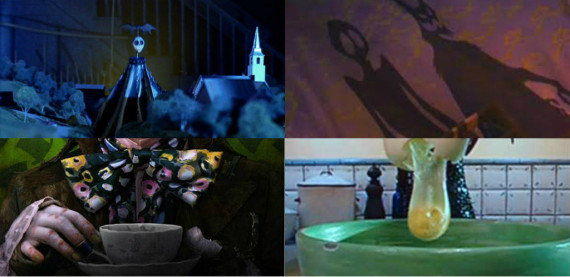 "The Nightmare Before Christmas" is based on a poem that Tim Burton wrote all the way back in 1982. Burton was working as a Disney animator at the time and attempted to pitch the adaptation of the poem as an animated movie, but Disney didn't want to do it at the time. Here's the first stanza:
It was late one fall in Halloweenland,

and the air had quite a chill.

Against the moon a skeleton sat,

alone upon a hill.

He was tall and thin with a bat bow tie;

Jack Skellington was his name.

He was tired and bored in Halloweenland
Since he already had the concept for Jack Skellington, Burton hid the character in his second directorial feature, the 1988 movie, "Beetlejuice." Skellington can be seen on top of the carnival hat that Beetlejuice wears. "The Nightmare Before Christmas" didn't come out until 1993.
Jack Skellington has also been hidden into many other films such as "The Princess and the Frog," "Alice in Wonderland" and briefly in an egg yolk in "Coraline."
Image Top Left: "Beetlejuice". Top Right: "The Princess and the Frog". Bottom Left: "Alice in Wonderland". Bottom Right: "Coraline".

8. "Christmas Vacation" is based on a short story John Hughes wrote called "Christmas '59."
Just as the original "Vacation" movie was based on a John Hughes short story in National Lampoon, the Christmas sequel came from his story, Christmas '59, that was also published in the magazine. The title of the story is referenced when Chevy Chase's Clark heads to the attic and finds a film reel with "Xmas '59" written on the side.
Hughes' story is basically a perfect read as Christmas approaches, but if you need extra convincing, here's the first paragraph:
All in all it was a pretty exciting Christmas, what with the relatives and the presents and the fun and the cops and Aunt Hazel's dog blowing up in our living room. Mom and my Aunt Martha wanted to have one of those fun old-fashioned Christmases that people on TV have, where everybody wears ties and sweaters and sits by the fireplace and makes Christmas-tree ornaments out of food. But as Dad said, the only reason those people have fun is they're getting paid for it.

9. The original "Miracle on 34th Street" came out in May and was marketed as just a love story.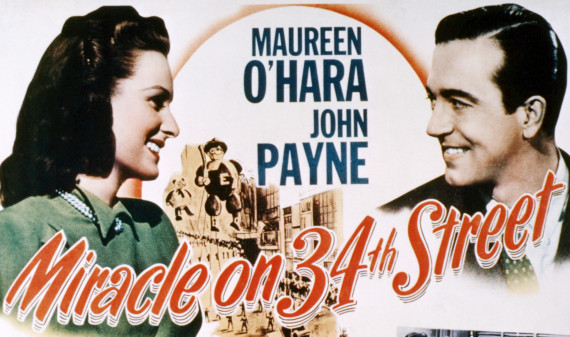 "Miracle on 34th Street" was originally released on May 2, 1947, so it was a summer movie about Santa. Why did this happen?
Well the movie was originally planned for a release during the fall of 1947, but Darryl Zanuck, the studio head at 20th Century Fox in charge of the movie, believed "Miracle on 34th Street" was so good that it should be released during the most popular movie season of the year -- the summer. Despite the whole premise of the movie being about Santa Claus, the marketing department made posters that said nothing about Christmas and tried to trick moviegoers into thinking this was just a love story between popular actors Maureen O'Hara and John Payne.
The trailer didn't even show more than a moment of actual footage of the movie and instead had other popular and acclaimed actors rave about how much viewers would like "Miracle on 34th Street."
For what it's worth, the bizarre promotion worked and the movie made around $3 million on a $630,000 budget.
The more recent 1994 version of "Miracle on 34th Street" did not try a similar marketing strategy and was released on Nov. 18.
Image: Getty

10. "It's a Wonderful Life" was deemed Communist propaganda by the FBI.
The portrayal of banking throughout "It's a Wonderful Life" was far from the FBI's liking. The FBI issued a memo titled, "Communist Infiltration of the Motion Picture Industry," on May 26, 1947 which says in part:
With regard to the picture "It's a Wonderful Life", [redacted] stated in substance that the film represented rather obvious attempts to discredit bankers by casting Lionel Barrymore as a 'scrooge-type' so that he would be the most hated man in the picture. This, according to these sources, is a common trick used by Communists. [In] addition, [redacted] stated that, in his opinion, this picture deliberately maligned the upper class, attempting to show the people who had money were mean and despicable characters.

11. At first, Hugh Grant really didn't want to do the iconic dance in "Love Actually," because he wanted the prime minister to be stately.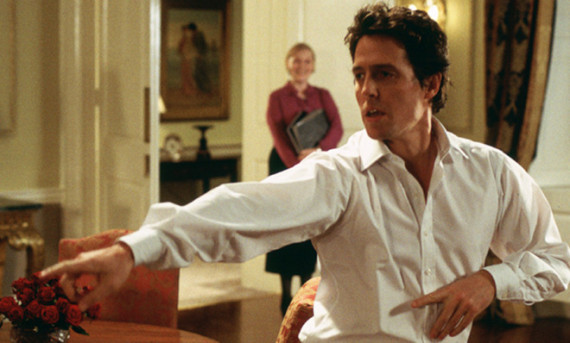 According to an interview the director of "Love Actually," Richard Curtis, gave with The Daily Beast for the movie's 10th anniversary, Hugh Grant was reluctant to film the dance scene. As Curtis explained:
A not nice memory is mainly Hugh and the dancing. He was HUGELY grumpy about it. He was so wanting his bit not to be fake; he wanted to feel as though he could be prime minister. Whenever I said, "Do it a bit sweeter" or "do it a bit more charming," he thought he was being tricked. I told him, "I'm going to mainly be giving you a very magisterial point of view, but I just want to make you a bit sweeter once in a while." The fault line was the dance, because there was no way he could do that in a prime ministerial manner. He kept on putting it off, and he didn't like the song -- it was originally a Jackson 5 song, but we couldn't get it -- so he was hugely unhappy about it. We didn't shoot it until the final day...
Image: "Love Actually"

BONUS: CBS executives originally hated "A Charlie Brown Christmas" and almost didn't release the special at all.
As HuffPost mentioned in a previous article about Charlie Brown -- "They thought it was too slow," executive producer Lee Mendelson recalled of his meetings with CBS. They didn't like that real children voiced the characters. They didn't like that religion was a theme of the Christmas special. They simply just weren't going to air the special. According to Mental Floss, a CBS executive once said, "Well, you gave it a good shot. Believe me, we're big 'Peanuts' fans, but maybe it's better suited to the comic page."
"A Charlie Brown Christmas" ended up winning an Emmy, and still airs every year for millions of viewers (and may have even ruined the once burgeoning aluminum Christmas tree industry).