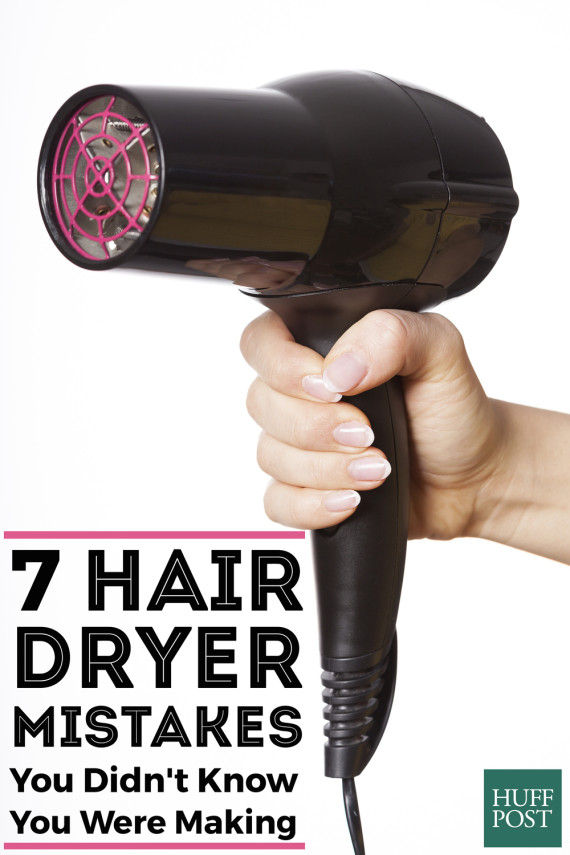 Photo Credit: KatarzynaBialasiewicz via Getty Images
No matter how often you blow-dry your own locks at home, it's likely that it never looks as perfect as a salon blowout. You may have already tried every round brush, ionic hair dryer and shine serum in hopes of getting it right, but don't give up.
We turned to the pros -- Sally Hershberger Downtown stylist Teddi Cranford, celebrity hairstylist Ryan Richman and Rowenta Beauty brand ambassador and hairstylist Josue Perez -- to compile a list of the most common blow-drying mistakes and their solutions.
May you never have another bad at-home blowout.
1. You are using the wrong type of hair dryer. Not all blow dryers are created equal, so it's important to know what you're working with. According to Richman, ionic hair dryers possess a technology that creates millions of negative ions. "That allows the blow dryer to dry your hair much faster and that's because you're not only using heat and the force of the air flow, but you have this new technology that helps to break down water as well," he says. However, a lot of people tend to over-dry their hair, especially along the hairline.
Ceramic dryers emit non-damaging infrared heat, which Perez states dries the hair gently for added heat protection. Tourmaline hair dryers emit infrared heat and negative ions, making the heat much gentler on the hair during styling for a shinier and less frizzy finish.
Don't toss those hair dryer attachments; they can help take the stress out of styling. People with curly hair -- or even a slight, natural wave -- looking to enhance their curls can use a diffuser to add body or bounce to their hair, says Richman. Meanwhile, concentrators direct and focus the air output when people are styling to control frizz and style outcome. Perez uses them to get straight or soft waved looks.
Our editors' picks for hair dryers: Laila Ali Ionic Dryer, Revlon Laser Brilliance Infrared Heat Hair Dryer or Harry Josh Pro Tools 2000 Pro Dryer.
2. You are not holding the blow dryer and brush at the correct angle. It would seem that pointing the dryer at your hair and, you know, just holding it there for a while would make it dry faster. You absolutely should not do that. It should "constantly be moving," says Cranford. "You can't just set the blow dryer on the hair, [or] you're going to fry your hair off. A good tip for at home is to make sure your brush is vertical and your blow dryer horizontal, as opposed to the other way around."
3. You have selected a hair dryer air setting that is too high. The different heat levels should be adjusted to suit your hair texture and condition, according to Perez. He explains: "The high heat is available for really thick or coarse hair, and to remove excessive moisture when the hair is really wet, but always remember to keep the dryer moving and never focus on one portion of the hair for too long. The low setting is perfect for thin or fragile hair. If your hair is only damp instead of wet, it is important to use the low heat setting to prevent over-drying."
That mysterious "cool shot" button helps seal the hair cuticle, setting the final look for long-lasting hold and adds shine. Perez adds, "When your hair is about 80 percent dry, switch over to the cool shot. Richman believes the "cool shot" is also great to lock in a curl, or if you set your hair in curlers, it works to cool down your hair and lock in the waves as desired.
Our editors' picks for heat damage repair products: Phyto Phytokeratine Repairing Thermal Protectant Spray, Garnier Fructis Damage Eraser Split-End Bandage Leave-In Treatment or SheaMoisture Smooth & Repair Nourishing Hair Masque Tahitian Noni & Monoi.
4. You are not using a heat-protectant product. "Protectant serums, lotions and sprays are the best way to ensure your hair stays protected during styling," says Perez.
Even if you're blow-drying every four days, you're likely touching up in between with a curling or flat iron. So Richman recommends using a strengthening treatment.
Our editors' picks for heat-protectant products: Bumble and Bumble Hairdresser's Invisible Oil Heat/UV Protective Primer, Kerastase Résistance Ciment Thermique or Carol's Daughter Sacred Tiare Anti-Breakage and Anti-Frizz Smoothing Serum.
5. You didn't section your hair properly. You're probably thinking, "How complicated can this be?" But you might not be separating your hair correctly -- especially if you're plagued with the dreaded, wonky-in-the-back business. "Section out a mohawk on top, then blow-dry the front and work your way to the back," says Cranford.
6. You are not using the best hair brush for your hair. "The biggest mistake is using metal brushes," says Cranford. The metal varieties heat up way too fast, making hair way too hot. Look for a round brush with with a mix of nylon and boar bristles as they help to evenly distribute conditioning and smoothing products and leave hair soft and bouncy.
Our editors' picks for hair brushes: Umberto Beverly Hills Professional Series Nylon Paddle Brush, Earth Therapeutics Boar Bristle Brush or Cricket Technique 100 Percent Boar Bristle Brush.
7. You are yanking at your hair with the brush. One of the most important steps is drying taut sections of hair, but don't over-pull or yank. "This is essential for getting hair to dry smoothly, especially if you have cowlicks," says Cranford. As far as how many times you pass over each section, Cranford says she'll go over the hair 10 times if she needs to. Though she stresses, "I really making sure I'm getting the root and creating tension with the brush."