Video by: Tom Compagnoni & Emily Verdouw
Does yoghurt grow on trees? A quarter of Australian kids think so but a range of programs teaching gardening, food preparation and provenance is helping connect the paddock to the plate.
Famed Australian cook Stephanie Alexander noticed the disconnect and her foundation is now teaching students in 840 schools across Australia skills from seed planting, harvesting and cooking, right through to setting a table.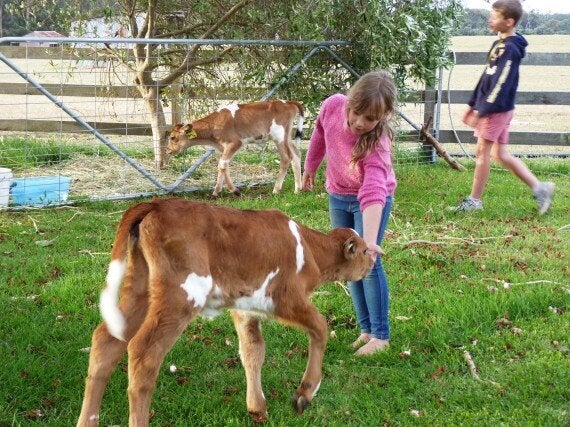 Students visit a dairy farm to see where milk products come from. (Supplied/From Paddock To Plate)
"For children who don't get to have a family meal around the table, most of them don't understand where food comes from and how it ends up on the plate," said Stephanie Alexander Kitchen Garden Foundation CEO Ange Barry.
"None of them know how to cook it or grow it and they are missing out on social experiences," she said.
"Poor diet impacts their capacity to learn, and difficult for teachers to teach students who are hungry or distracted."
A white paper produced by the Department of Agriculture aims to improve food literacy among all students by 2025.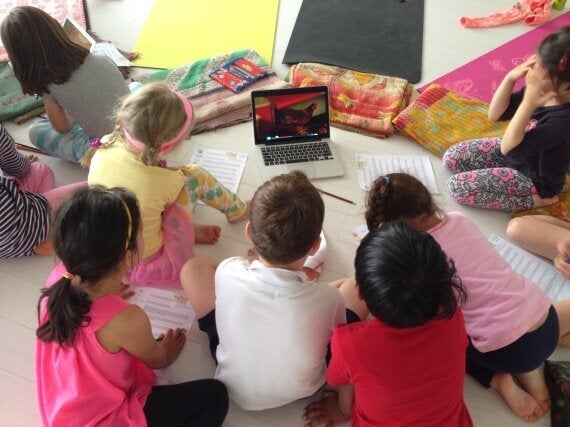 Students watch a video about poultry farming to discover where eggs and chicken come from. (Supplied/From Paddock To Plate)
Barry said since the program started in 2001, it has now rolled out to 10 per cent of all primary schools in the country.
She said the lessons learned were not just isolated to the kids, who would take home their new knowledge and change the way their families ate.
"Kids are such great advocates for anything that excites them and interests them. After doing the program, they want to have their own garden at home, be in charge of a shopping list and share the success they're experiencing. They want to show off, which is great," Barry said.
"We have parents coming in saying their child never ate vegetables. We see them change their approach and attitude to food straight away."
Louise FitzRoy, who runs another education program, From Paddock to Plate, agrees.
She was prompted to start her program after a career as a rural reporter for the ABC, working with farmers in different industries, when she realised the widespread misunderstanding of how and where food was produced.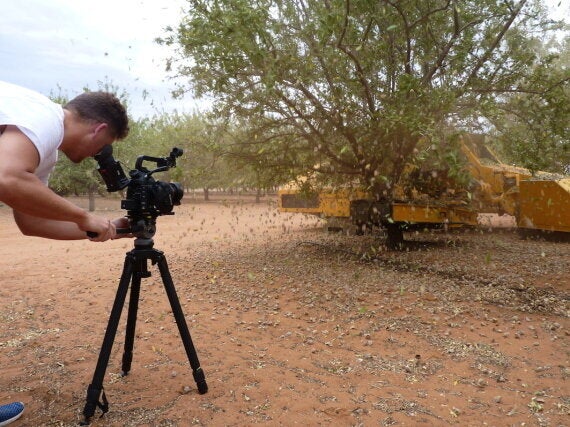 Educators visit an almond farm to see the nut being harvested. (Supplied/From Paddock To Plate)
"We realised that a lot of schoolchildren didn't know where their food came from and how it was produced -- and we realised it was because the parents didn't know," FitzRoy said.
"The best way to solve this is to start with the children, educate the children who then go home and sit at the dinner table with mum and dad, telling them what they've learned and even holding them to account in the grocery store."
Students at Green Square School in Sydney's Waterloo are benefiting not just from the education, but the benefits of teamwork and socialising as part of their school Kitchen Garden.
The school, which specialises in children with behavioural difficulties, is in its early stages of gardening but has already seen results.
"We work with students who have come from mainstream settings who find it challenging for whatever reason in regards to their learning or behaviour," said teacher James Thornton.
"Most of all, they just need a little bit of time -- which they get here.
"Growing good produce, picking it like we're going to do with the rosemary, taking it into the kitchen and seeing how it's cut up and put into the recipe... (it's) good for them to see that connection."
One young student taking part in the program said it had helped him with anger issues.
"You're not locked up in the room, you're out in the fresh air," he said.
Thornton said the lessons they were taught in the garden were also filtering back to the classroom, and helping these "good kids" with their leadership skills.