Australian surfers are scrambling to get in front of twin typhoons bearing down on Japan and the Philippines.
It's like Point Break without the bank robberies.
Surfboard shaper Mike Psillakis is dropping everything at his Sydney-based business to fly to the Philippines this week ahead of Typhoon Goni, which is currently about 840 nautical miles off the capital Manila.
"When the swell is right, you've just gotta do it and be spontaneous," Psillakis said.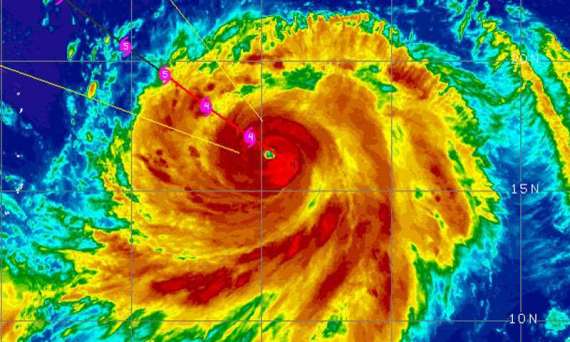 Where you'd rather be: This infrared satellite image courtesy of Coastalwatch of Typhoon Atsani approaching Japan. Source: CIMSS.
"Swells aren't organised, they just happen so you've got to think like a swell -- just get there and do it."
Psillakis acknowledges the danger of flying into an impending storm.
"If you get it right, you're ahead of the storm but if you get it wrong, and you're stuck in a typhoon, well, it's all part of the experience.
"I've landed in a typhoon in Japan with 150 kmh tail winds -- it was pretty heavy."
Psillakis reads weather charts "the old-school way" to determine where the swell will be generated and said he was hoping to travel around Filipino islands to find the ultimate break.
"I've never been to the Philippines before but I'll work it out," he said.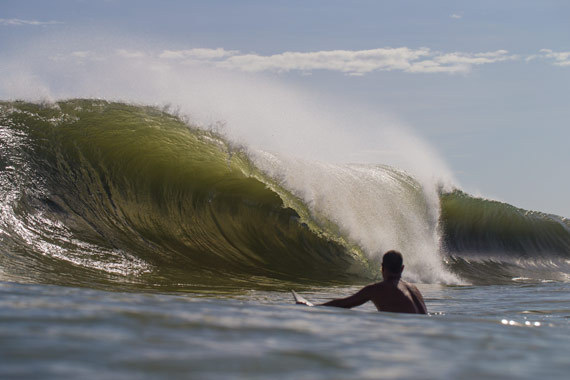 Heavy waves on a shallow reef in Papua New Guinea. Picture: Joel Coleman .
Photographer and surfer Joel Coleman of Sydney is no stranger to storm chasing.
"When a big storm arrives on the radar, sometimes I'm there 24 hours later," Coleman said.
"Birthdays, anniversaries, Christmas, you name it, I've missed it because the conditions are up in Fiji or New Guinea.
"I think my friends and family understand it's what I do, and I'll make it up to them."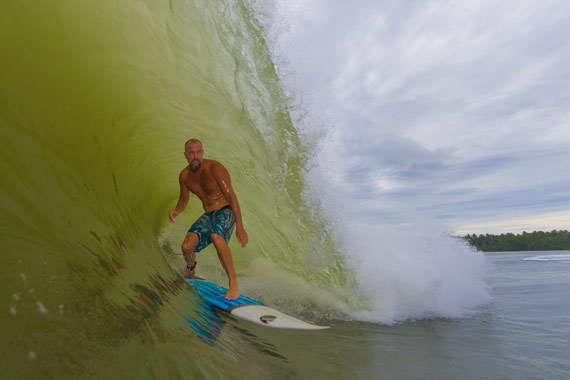 Surfer Andrew Dart in a PNG cave that Coleman "traveled like crazy" to photograph. Picture: Joel Coleman .
He said typhoons created incomparable conditions.
"I was in New Guinea and the conditions weren't right," Coleman said.
"We were travelling around on a boat and it was just off -- the swell, the wind, the conditions weren't working.
"I came home a bit disappointed really and 10 days later, the boat captain calls me and says 'we're leaving in 24 hours and you've got to be on the boat because the conditions are perfect'.
"I was there 24 hours later and it was worth it.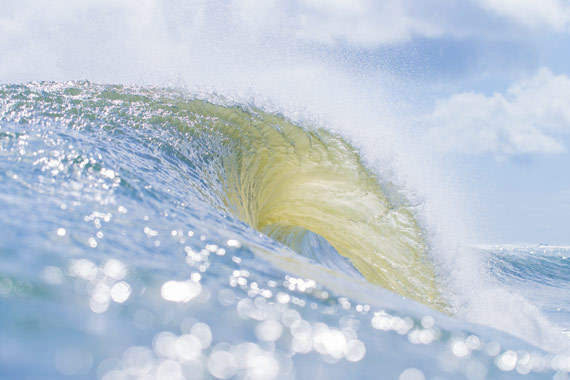 Coleman says he dropped everything to photograph this wave. Picture: Joel Coleman .
"Swells aren't scheduled – they're governed by nature."
Specialist travel company World Surfaris co-director John Finlay said people who dropped everything for a storm swell were "right on the edge".
"All surfers are quite particular about where they want to travel but generally they want to go somewhere where they know there will be good surf," Finlay said.
"There are never any guarantees but it's not the regul;ar customer who will [chase storms].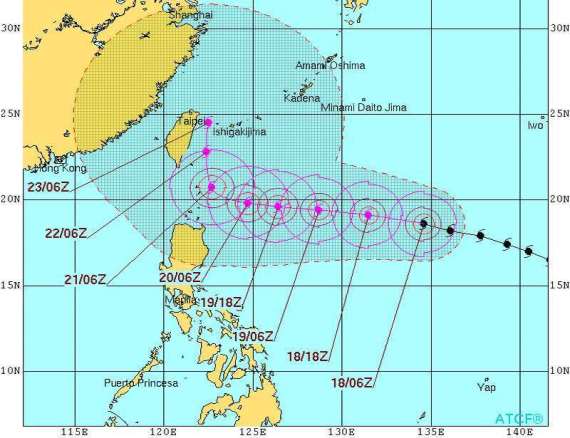 Typhoon Atsani's trajectory towards Japan, courtesy of Coastalwatch. Picture: JTWC
Surf forecaster, live cams and editorial site Coastalwatch is tracking the typhoons and chief swell forecaster Ben Macartney said it was looking good.
"I like to think of typhoons as a storm in a teacup," Macartney said.
"In the eye of the storm, winds could be getting up to 170 knots but they have to be quite close to shore to generate powerful waves.
"These two typhoons are pretty exceptional in that they're very close to the coasts."
He said that while the basics of plotting swell hadn't changed much in the last decade, the software used today was far more fast and accurate.
"Without computer power, you'd go nowhere," Macartney said.
"You'd spend days analysing how big the seas and swells will be for one area.
"Now wave models calculate sea statistics around the world's oceans multiple times per day, spitting out incomprehensible amounts of data.
"We'll be watching these two typhoons."