Fairfax Media/Alex Ellinghausen
Tony Abbott and Bill Shorten met the world champion Australian Diamonds netballers at Parliament House on Thursday, recognising the team's achievements in winning the last three world championships and six of the last seven.
But it was a happy snap putting the most smiles on faces.
The Prime Minister receives a pair of bunny ears during his group photo with the Australian Diamonds and fans pic.twitter.com/DP7oy5lTwY

— ellinghausen (@ellinghausen) August 20, 2015
Yep, that's our Prime Minister getting "bunny ears" in a smiling group photo. Classic prank!
For a brief moment, we nearly combusted with joy with the idea Shorten had stuck up two fingers behind Abbott's head; was the Labor leader showing us his lighter side?
Sadly, not. Shorten soon cleared up any possibility that he was the culprit.
Thought about it...promise it wasn't me @TonyAbbottMHRhttps://t.co/hPgfZINpqR

— Bill Shorten (@billshortenmp) August 20, 2015
Shorten denied responsibility, with blame for the childish prank instead levelled at... well, a child.
.@ellinghausen backs @billshortenmp. Says he saw a girl taking her hand down after the PM's photographer directed her to do so.

— Stephanie Peatling (@srpeatling) August 20, 2015
Let's take a look at that from another angle, courtesy of AAP.
Pix: Canberra Netball Diamonds Reception http://t.co/nfVnV7xHMupic.twitter.com/uO9OJl5ehZ

— AAP Multimedia (@aap_multimedia) August 20, 2015
Seems to settle the argument once and for all. Sadly, we're now just left with the image of Shorten with a goofy grin and the tiny, delicate hands of a small girl.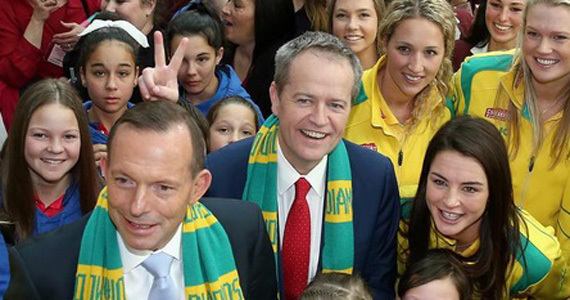 (Fairfax Media/Alex Ellinghausen)