Potentially cheating spouses will be feeling the heat after a website promoting infidelity was hacked, an analysis suggesting more than 600,000 Australians' details may now be public.
Sydney and Melbourne are among the top cities for aspiring adulterers according to an analysis of data allegedly obtained by the "married dating and indiscreet encounters" website Ashley Madison.
And the scandal rolled on to the airwaves this morning, with Nova hosts Fitzy and Wippa taking a call from a Sydney woman who thought her husband may have been a site member. The hosts reportedly checked his name against the hacked data and told the caller her husband had been a member of the site.
The mother-of-two called the website "disgusting", before hanging up, The Sydney Morning Herald reported.
Nearly 10 gigabytes of data which hackers claim exposes 33 million users of the infidelity site was allegedly posted online yesterday. Ashley Madison said in a statement it was aware of the alleged leak, and condemned the actions of those claiming responsibility.
"We are actively monitoring and investigating this situation to determine the validity of any information posted online and will continue to devote significant resources to this effort. Furthermore, we will continue to put forth substantial efforts into removing any information unlawfully released to the public, as well as continuing to operate our business," the statement read.
"This event is not an act of hacktivism, it is an act of criminality. It is an illegal action against the individual members of AshleyMadison.com, as well as any free-thinking people who choose to engage in fully lawful online activities."
The Huffington Post Australia has not accessed the information cache, but reports claiming to have analysed the data have already appeared online.
An analysis posted online by data visualisation firm Dadaviz claims Sydney has the third most accounts of any city in the world, with 251,000 accounts beaten only by New York and Sao Paulo. Melbourne also allegedly makes the top ten, coming in at number six with 213,000 users. Brisbane (118,000 users) and Perth (88,000), too, crack the top 25, at numbers 14 and 22 respectively.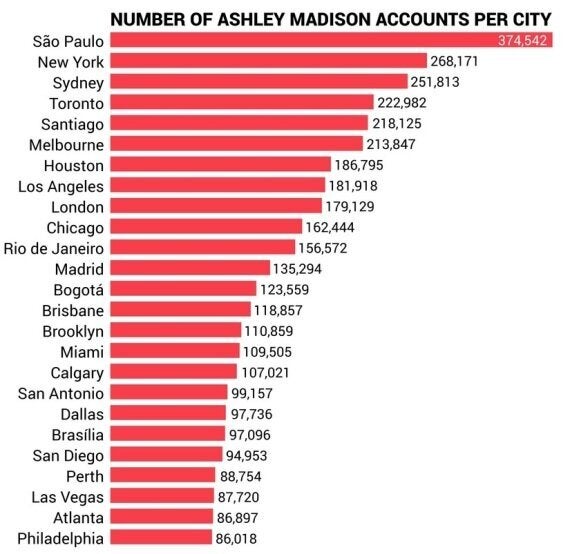 The population of Greater Sydney, according to a Bureau of Statistics report in April, is 4.84 million. If the Dadaviz numbers are correct, that would mean five per cent of Sydney is allegedly registered on Ashley Madison.
Tech news site AG News has reported at least 700 accounts attached to government email addresses have been exposed in the data dump, including from the Department of Defence, the NSW Department of Education, NSW Police, Victorian ambulance, Queensland emergency services, and South Australian Health.
"The most famous name in infidelity," as the site bills itself, was reportedly broken into last month by a group of hackers calling themselves the Impact Group.
The Impact Group posted a statement along with the data dump, criticising Ashley Madison's parent company Avid Life Media and saying users should "prosecute them and claim damages. Then move on with your life".
"We have explained the fraud, deceit and stupidity of ALM and their members. Now everyone gets to see their data," the group wrote.
"Then move on with your life. Learn your lesson and make amends. Embarrassing now, but you'll get over it."
In 2014, Ashley Madison boasted 17 million users in 26 countries, including around one million Australians.