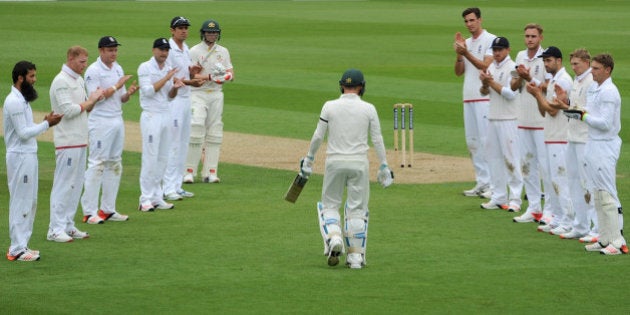 With a sense of all that has come before in this series, Australian captain Michael Clarke strolled away quietly as Alastair Cook declared England would be putting the visitors in to bat having won the toss.
To the surprise of many, the Australian batsmen looked steady in the opening overs taking a relatively slow and very considered approach to the job of accumulating runs.
Openers Warner and Rogers reached a 100-run partnership before Rogers fell to Wood on 43 with the score at 110.
Australia's captain-in-waiting, Steve Smith came to the crease and added more than 50 runs with Dave Warner before Warner succumbed to the work of Moeen Ali on 85, making it the fourth time the England off-spinner has had the opener's measure.
As Australia's next batsman emerged from the rooms, emotions started to rise. As a mark of respect between captains, Alistair Cook marshalled his players into two lines in a guard of honour as Michael Clarke strode to the crease and the crowd rose as one in a standing ovation.
Clarke lasted only 29 balls for his 15 runs, and there was the slightest question over his dismissal, but what was evident was the passing of the baton to his younger batting partner and leadership successor Steve Smith who steadied the ship and went on to finish the day on 78 not out with the prospect of a century well within his grasp leading into Day 2.
Australia ended Day 1 with a respectable total of 3 for 287, and any chatter about the final team selections were part of the analysis but not the main discourse.
The choice of Peter Siddle over Pat Cummins has raised eyebrows at a time when all the talk is of the changing of the guard and a fresh start for the future of Australian cricket.
It will become more central to the conversation as the Test progresses and Australia has its turn with the ball in attack.
All in all the first day was not the nightmare of recent starts and for that Australia is no doubt grateful and will be looking with more hope to what is come on Day Two.