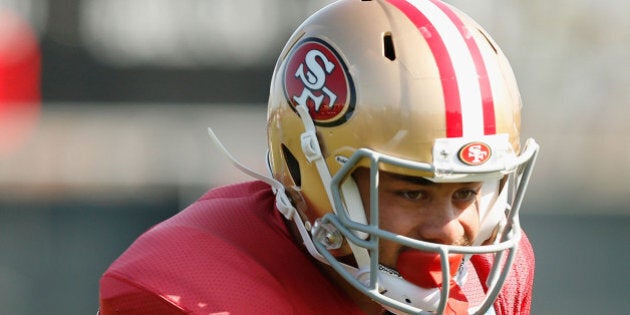 Someone call the San Francisco fire department -- Jarryd Hayne is setting the football world on fire.
The former NRL star has backed up a sizzling NFL preseason debut with another red-hot performance for the 49ers in his second outing as he helped the team to a 23-6 victory over the Dallas Cowboys.
Hayne's first half was spent ducking and weaving through the Dallas Cowboys' defence for a total of 84 yards on three punt returns, but he has also showed his goods as an attacking weapon. He chalked up a 34-yard run and sent a hapless defender flying with a savage fend. He ended the game as the leading rusher, with 54 total yards on eight carries.
One commentator called Hayne "the story of the pre-season" and the NFL itself didn't forget to highlight just how impressive his stats are.
So, 84 yards returning and 34 rushing. That's a LOT.
One of Australia's most gifted athletes, Hayne shouldered the weight of expectation after making headlines with a 53-yard run last week in Houston. But he didn't disappoint the second time around, with each of his three ankle-breaking returns on Monday equal or better to anything his teammates managed all of last season.
In Hayne's first punt return of the game, he caught the ball over his shoulder and juked around several defenders on a long, looping run that brought commentators and fans to their feet.
"How 'bout that catch?" the commentator said in admiration, with several expressions of "wow" for his catch and his reading of the game. A 27-yard return was impressive, but more -- much more -- was to come.
Up next was a 34-yard return, with Hayne almost sure to have run in for a touchdown had he not been tackled by the last line of defence -- the punter himself, a player not usually meant to tackle opponents.
Hayne had two hot returns broadcasted to the NFL's nearly 13 million Twitter followers and even his own team jumped in on his old NRL nickname -- the Hayne Plane.
Hayne also picked up another 23-yard return, with his sparkling form not going unnoticed by his team.
Football writers across the States seem hugely impressed with Hayne's performance.
A reporter for 49ers.com pointed out Hayne was doing incredibly well -- not just for a former rugby league player who has only played NFL for a few months, but compared to anyone in the team.
Bay Area New Group reported Cam Inman, too, was blown away.