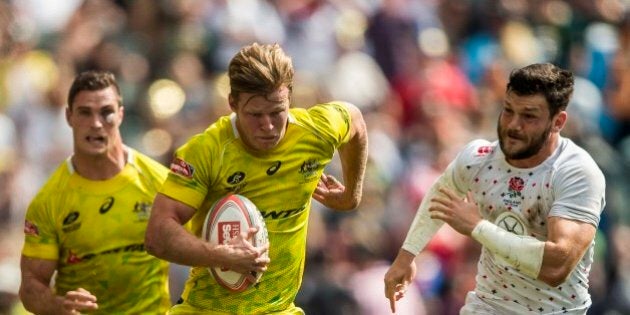 With a year until the Rio 2016 Olympics the Australia Rugby Sevens Men's team is now without a coach.
The Australian Rugby Union has announced the departure of Australia's Director of Sevens Rugby and Men's head coach Geraint John who will be returning home to Wales for family reasons just a year into his contract.
The sport of Rugby Sevens is set to debut in Brazil next year and the Australian contingent is well placed to bring home medals in both the Men's and Women's competition.
While the Women's team has already qualified and is well on the way to a solid pre-season and 2015/2016 HSBC World Series, the Men's team has still to go through its Olympic qualifying tournament in November: success never to be taken for granted but there is no doubt the team is well placed to achieve qualification status.
The Men's program has been surrounded by continual unsettling chatter from ARU management, the media and rugby experts alike, about the inclusion to the unit of cross-code players, XVs players (including some Wallabies) and even youth development players with some debate over exactly what mix the team needs in its bid for a gold medal in Brazil.
The recent re-signing of several main players, as well as the marquee signing of the ACT Brumbies player Henry Speight has, to some extent, consolidated hopes and plans towards the 2016 campaign. But the impending departure of forward Jesse Parahi (moving in the other direction across to Rugby League) and now of the vacancy in the central role of coach with John's departure, again creates a less than stable situation.
The ARU now needs to settle on the plan for this final 12 months and allow the hard-working Sevens unit at Narrabeen to do what is needed to get to the podium -- which is well within their capabilities.