Fairfax Media/Justin McManus
Terror charges against Melbourne teenager Harun Causevic were dropped today, but a handful of Australians still remain in custody over terror-related offences.
Causevic, 18, was to face charges over an alleged plot to behead a police officer, steal their weapon and attack a Melbourne ANZAC Day ceremony earlier this year. He has been held in custody since April but on Tuesday the Commonwealth dropped the terror charges. At the hearing, Causevic's lawyer said he would plead guilty to weapons charges after knives were found at his home and was granted bail.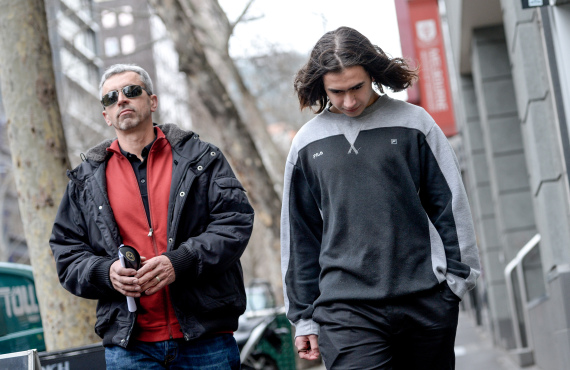 Harun Causevic, with father Vehid, leaves court after having terror charges dropped by prosecutors (Fairfax Media/Justin McManus)
Causevic was detained without charge in April and held under a secretive preventative detention order, one of five arrested in April 18 raids and one of three charges. He was the first Victorian ever held under a PDO, with authorities concerned over his alleged links to Numan Haider, the Melbourne teen shot and killed after stabbing two police officers in September 2014.
Sevdet Besim, 18, was also arrested in the April raids. He remains in custody on charges of conspiring to commit a terrorist act, but is not the only one.
Adam Brookman, 39, remains on remand after allegedly joining Islamic State in Syria. The Melbourne man was arrested after flying back into Australia in July, and faces charges including knowingly providing support to a terrorist organisation and performing services with the intention of supporting a person to engage in a hostile activity in a foreign state.
Brookman claimed he was injured in an airstrike and forced to work in an IS hospital, but did not apply for bail in a Magistrates Court hearing in July. His next court appearance is November 16.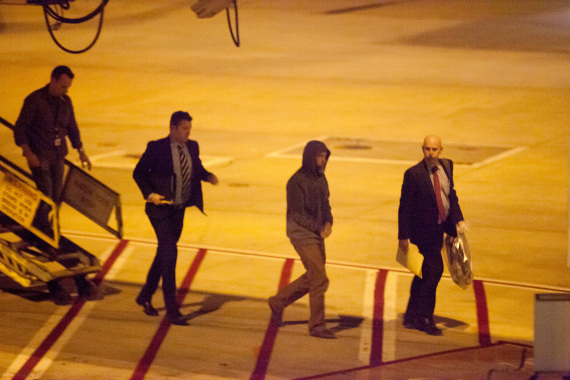 Adam Brookman (second from right) arrives back in Melbourne on July 25, escorted by police (Fairfax Media/Arsineh Houspian)
Another Melbourne teenager faced court on Monday, after bomb-making equipment was allegedly found in his bedroom in May. The 17-year-old cannot be named, but has been charged with planning a terrorist act, possessing things connected with a terrorist act, and failing to provide information or assistance to access computer data. Australian Federal Police claim a pressure cooker, nails and screws were found in his bedroom. The teenager did not apply for bail on Monday. His case is listed for mention again on September 7.
Sydney man Omarjan Azari, currently one of only two remand prisoners held in Goulburn's Supermax prison, applied for bail last week in the NSW Supreme Court. His lawyers called his imprisonment in the Supermax jail as "unfair." Azari was originally on a charge of conspiring to commit a terrorist act, arrested in September 2014 allegedly being told by Mohammad Ali Baryalei -- Australia's most senior member of the terrorist group Islamic State -- to "pick any random unbeliever. When finished put the flag of the [Islamic] State in the background and film it and send it off." The terrorism conspiracy charge was dropped in July, but charges of conspiracy to murder and doing acts in preparation to commit a terrorist act were added. Justice Peter Garling reserved his bail judgement until September 3.
Seven men were arrested in recent weeks at Sydney Airport, allegedly on their way to join terrorist groups in the Middle East with thousands of dollars in their luggage. In two separate incidents, the groups of five and two men were twice stopped from boarding flights. It is still unclear if any of the men will face charges over the incidents. Immigration Minister Peter Dutton said 336 people have been intercepted by authorities in the past year as they attempted to leave the country in suspicious circumstances.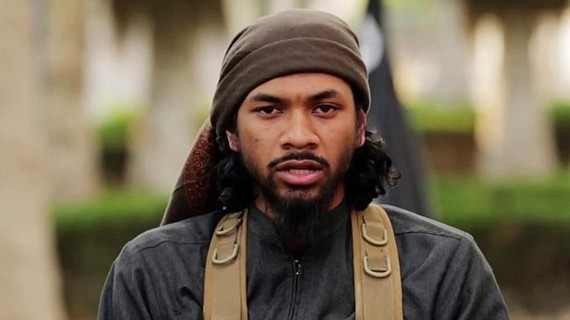 Neil Prakash, in vision from an IS propaganda video (Supplied)
Another Melbourne man, Neil Prakash, is also in the sights of authorities. Prakash, 24, is believed to have joined IS. The Herald Sun reported last week he was set to be added to an Interpol wanted list, after Australian police obtained a warrant for his arrest.