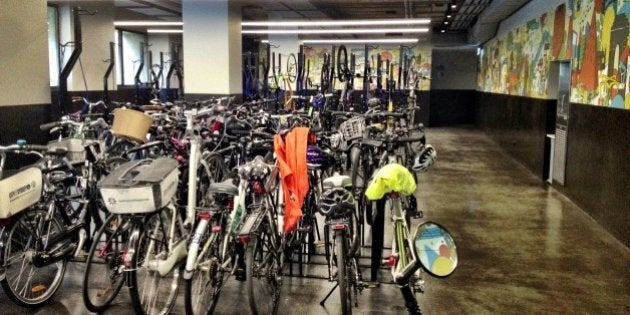 In the once dark and dank concrete basements of Australia's office buildings, exclusive clubs are sprouting up that have only one membership requirement -- to be sweaty and clad in lycra.
New commercial buildings and older buildings undergoing refits are placing luxury 'end-of-trip' facilities -- or fancy shower spaces for cyclists, runners and gym-goers -- as essentials for the modern workplace.
The City of Sydney recently mandated all new developments install bike racks and facilities as part of its cycling strategy, with the number of required spaces linked to the size of the building.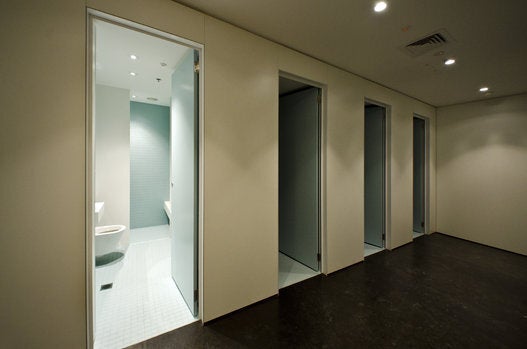 On Yer Bike: Best Bike Facilities in Sydney
Lord Mayor Clover Moore said it was a "no brainer" to encourage workers to cycle, given the health benefits and reduction in absenteeism.
"There has been a dramatic increase in people cycling to work, and a real increase in all those beautiful new buildings in our city building end of trip facilities," she told The Huffington Post Australia.
"Employers want to attract the best employees they can and one of those things employees want is end-of-trip facilities.
"They have grooming stations, with hair straighteners, shoe cleaning and dry cleaning services.
"(New development) Barangaroo has over 1000 bike racks, they have waiting rooms with interactive digital screens for weather and news, on-site bike repair, 24-hour laundry and dry cleaning - paired with only 600 car parking spaces."
Andrew Wilson, Managing Director, Barangaroo South said: "Employee productivity, collaboration, and wellbeing are all critical to the performance of a 21st century organisation, so at International Towers Sydney we have designed superior facilities for our tenants to promote healthy and active lifestyles."
Westpac is the first tenant to move into the ITS complex, starting to shift employees over this month, with 6000 staff due to be based there by the end of the year.
Architect Scott Moylan, a partner at Gray Puksand, said these facilities were now "must-haves" for not just premium commercial properties, but also B-grade buildings.
"People realise it's not just ticking a box, it's actually on the list of must-haves," he said.
"All tenants now expect to have some form of cycle storage and facilities. And it can no longer be in the back corner."
The firm redesigned the HSBC building at 580 George St, Sydney, and included bike racks, air compressors to inflate tyres, repair tools and lockers.
But the creature comforts are what makes it like a private sports club, Moylan said.
"It has a club-style feel, with television screens, mobile phone recharge stations, services for your bike," he said.
"It's an extra offering that's not costing the tenants anything -- the hairdryer, the soaps, the moisturisers, the fresh towels -- you're feeling a little bit more special."
"Cycling offers benefits that may not be available through other forms of travel," said lead researcher Melanie Crane.
"These benefits include the mental health benefits of being active outdoors, a greater control over and predictability of their commuting journey, a sense of fun and a way to save money.
"This may be why cycling commuters arrive for work in a happier mind frame than other commuters."
Cr Moore said while acceptance had increased of cyclists, it was still an uphill battle to ensure the roads and resources were shared.
But she said support had come from unexpected quarters.
"When I was first elected Lord Mayor in 2004, executives from the big end of town were the hardest lobbyists, saying we needed separated cycleways. They work long hours and wanted to cycle to and from their homes.
"The people who gave me a hard time were university people. Students should be cycling and so should their lecturers, not talking about losing parking for their cars out the front of their houses.
"The fact is, this is one of our important leaders on how we as a city can tackle climate change, predominantly in our commercial buildings. If we can reduce the number of cars on the road, that's a major contributor to reducing emissions."
The most recent figures from the Australian Bicycle Council show a slight dip in people commuting to work by bike, while recreational use has increased this year compared to 2011.