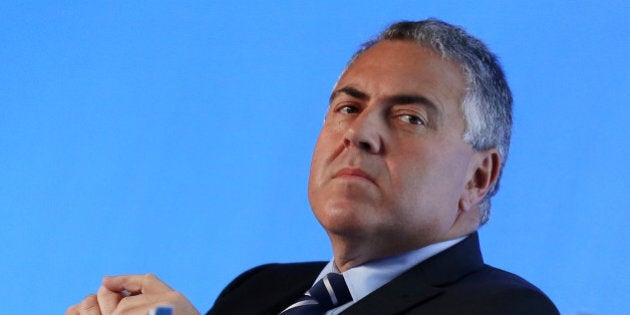 SYDNEY -- Treasurer Joe Hockey said Australia's tax system is holding the nation back and has outlined a case to take income tax cuts to the next election, paid for by further slashing of government spending.
But Opposition Leader Bill Shorten has questioned the Government's motives and commitment to tax reform, saying Australians had to "put their hand over their wallet" whenever Hockey talks about tax cuts.
In a speech to the Tax Institute and Chartered Accountants Australia and New Zealand in Sydney, Hockey said the tax system does not reward effort and Australia risked losing its best and brightest talent offshore.
"I am standing before you as your Treasurer pointing out there is a significant risk to the revenue of the nation, if you make it harder and harder for fewer people to stay in the country because of higher tax rates," Hockey told the audience of financial experts.
He said wage growth and inflation is pushing people into higher tax brackets, otherwise known as "bracket creep." Hockey said bracket creep robs incentive for people to work harder.
"We want to short-circuit the negative impact of bracket creep on the incentive to earn more and be more successful."
But Shorten said Hockey was obliged to explain how Australia would pay for the income tax cuts.
"I don't believe Joe Hockey any more. When Joe Hockey talks about a tax cut you have to start putting your hand over your wallet," Shorten told reporters in Cairns.
"It's somewhat suspicious that you've got a Canning by-election and there is poor old Joe Hockey out there again huffing and puffing about tax cuts."
Asked today, if voters will be told, before the election, what services will be cut or scaled back, Hockey replied "yes".
The Treasurer said if tax cuts don't happen, about 300,000 Australians will move into the second-highest tax bracket in the next two years, while almost half of all taxpayers will be in the top two tax brackets within a decade.
"The incentive for hard work is blunted -- and inflation means that without a real wage rise, people pay a higher and higher average tax rate each year," Hockey told the audience.
"Our tax system represents a structural handbrake on growth -- it is clearly time for change."
Hockey is softening the ground for tax reform ahead the official response to the tax white paper, expected in the coming months.
The Treasurer argued the tax changes will help economic growth.
"To borrow an old analogy from Louis XIV's finance minister, collecting tax can be like plucking a goose -- and you don't want to run out of feathers.
"Worse still, you don't want to kill the goose."
After ruling out changes to the GST without the agreement of the states and territories, billions of dollars' worth of further government spending cuts are expected to pay for the tax cuts, although the Treasurer has not outlined where the government will cut.
The Government is struggling to get the Budget back into surplus.
"We still have a Budget to balance. We still have a Budget to repair. There's no denying this."
"We are undeterred in our mission to pinpoint government waste; to stop spending money where it doesn't need to be spent.
"In short, we need to live within our means."
Thousands of public service workers have been let go from since the Government came to power and whole agencies have been merged or abolished.
Prime Minister Tony Abbott gave an assurance in April that "the worst of the public service cuts were over".