Nearly every Australian says that seeing litter bothers them -- but one in three of us are trash talkers who litter anyway.
New findings by McCrindle Research have shone a light on on Aussies' shameful litter habits; while 99 percent said they were opposed to littering, only 70 percent actually followed through and kept the streets clean.
The research comes as the Keep Australia Beautiful (KAB) Week campaign encouraged people to step up and speak up.
"The research found that if we saw a friend litter, 74 percent of us would ask them to clean it up," said KAB CEO Peter McLean.
"But if it was a stranger we observed littering, only 31 percent of us would intervene.
"We need to take more responsibility and challenge those who are littering our country".
National smoking rates were down but a lot of them still irresponsibly disposed of their butts.
One in six who took part in the survey were smokers -- but half admitted to dropping cigarette butts on the street.
Although littering has reduced for most of the country, both Tasmania and the Northern Territory have seen an increase in rubbish behaviour.
The most common excuses for litterbugs were that the rubbish was 'very small' or thought to be 'biodegradable', or there were no nearby bins.
"We need to remember that Australia belongs to all of us -- it's everyone's backyard," Mclean said.
KAB has created a trippy promotional '3D' bin front of the Sydney Opera House and captured its creation in a time-lapse video.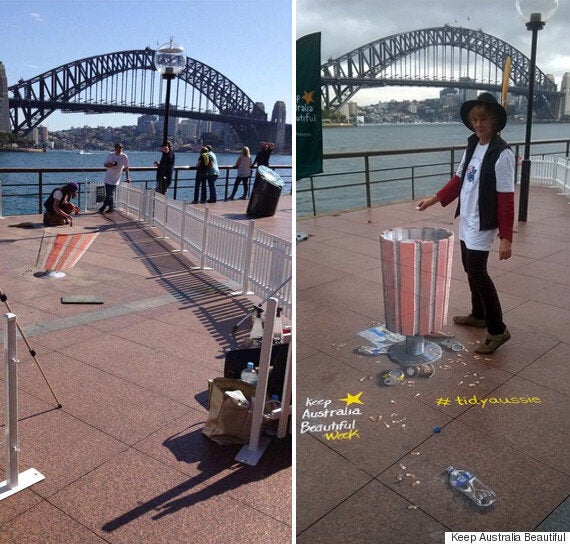 You need to take a closer look.