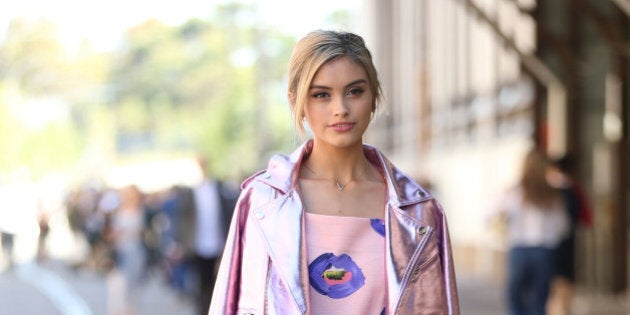 She shot to fame four years ago after posting a funny video of her 'dancing eyebrows' on YouTube. Now Sarah Ellen – who has over 871K followers on Instagram -- has starred in a short film about the dangers of social media addiction.
The abstract project, titled Room 317, portrays Ellen as a girl who lives in the iconic QT Sydney Hotel. Though leading a seemingly glamorous life, things aren't always what they seem.
Written and directed by Jonathan Pease, the piece is styled by another Australian social media star, Margaret Zhang.
Ellen says her involvement in a project -- despite the fact she credits social media for her fame (and undisclosed fortune) -- comes from her earlier struggles with the sudden onslaught of attention.
"My popularity on social media pretty much happened overnight, and I found myself in a situation where everyone was wanting to know more about me and wanting me to upload more videos," Ellen said.
"That was fun for me, as I've always loved creating fun content and eventually wanted to work in the entertainment industry, but at the same time I had a lot of people writing horrible things about me. For a while it really affected me and I was second guessing everything that I would post, wondering if it would encourage negative responses. This what part of my motivation for making Room 317."
"I reached a point, though, where I decided that I was just going to be true to myself and post whatever I liked. If I let the haters impact on what I did, then that would just be letting them win."
Despite posting "two to five times a day, five days a week" Ellen stresses the importance of regularly taking some time out.
"I feel that because a huge part of my work involves being on social media, I'm conscious of taking time out to do activities 'offline', like reading a book or doing yoga. Having a life offline helps me keep everything online in perspective," Ellen said.
"I feel really lucky and grateful for social media, as it has brought about opportunities for me in ways that never existed before social media. At the same time, though, I also feel a sense of responsibility when it comes to social media and how I interact with it. I'm conscious of wanting to set a good example with content I post -- I try to be inspiring, but I also think it is important to keep it real. Although I play characters in some of my content for fun, in general, I don't want there to be much of a difference between 'online' Sarah Ellen and the 'offline' Sarah Ellen."
"Whereas I guess Room 317 is a bit of a cautionary tale and has a darker side to it, with Perks Of Her in general I am trying to create a really positive and inspiring place that encourages people to be themselves and always look to find the perks in life," Ellen said. "It's about have a positive attitude and perspective on the world and not taking yourself too seriously."
Room 317 will premiere on Tuesday, 25th August at the QT Hotel, Sydney.