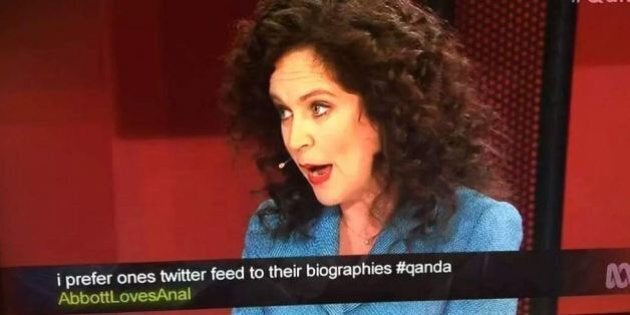 SYDNEY -- Prime Minister Tony Abbot has declared the ABC program Q&A "out of control" and revealed ABC Managing Director Mark Scott apologised for the latest controversy by SMS.
Scott apologised to Tony Abbott this morning for an inoffensive tweet aired on the Q&A screen from the offensive handle @AbbottLovesAnal.
The Prime Minister received the apology while on a trip to Thursday Island in the Torres Strait, but has not replied.
"Look, I haven't had a chance to respond to the text message that I had, because it's been a very busy morning," the Prime Minister told reporters.
The ABC program had only recently been released from a ban by government ministers for allowing former terrorism suspect Zaky Mallah to appear on the program on June 22.
"I think it is a bit out of control," Abbott said.
An independent review of Q&A by Shaun Brown and Ray Martin is underway, but the ABC Board agreed earlier this month to move the program from the ABC Entertainment Division to the News Division.
The shift to News was due to happen no later than the 2016 broadcast year, but the Prime Minister is now impatient with ABC management.
"I think it's important for the ABC not just to talk about tighter management structures, tighter management control on that particular program, but actually do it," he said.
The Communications Minister Malcolm Turnbull called the ABC boss early this morning to demand the apology, describing the call as a "Groundhog Day moment" and the tweet as "another unedifying incident at QandA".
In a statement, Turnbull said: "The tweet should obviously never have been put on the screen and the fact that it was underlines the need for better supervision of the program."
An ABC spokesman said the live Q&A program handles a very high volume of tweets during the program and this particular tweet was not published on purpose.
He said last night's program contained a "vibrant discussion on a range of topics and featured some lively Twitter exchanges".
He said the ABC regrets any offence the tweet may have caused.
The tweet will be removed from any replays of Q&A.
Q&A guest Annabel Crabb has made light of the latest Q&A controversy, tweeting that she was "pretty disappointed about the inadvertent misspelling of the #AbbottLovesAnnabel hashtag on @QandA"