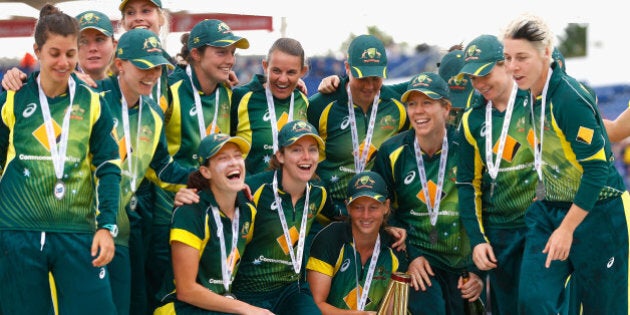 Australia has won the Ashes and gentlemen … that's how it's done.
The Australian women's cricket team, the Southern Stars, achieved what Michael Clarke's men could not by toppling England and bringing home the Ashes.
"The fact we haven't relied on one or two people has been really important," said captain Meg Lanning.
"We think that one of our strengths is that we've got a lot of depth; different people can stand up at different times."
With talent in the ranks the likes of debutantes Jess Jonassen and Grace Harris, the more experienced heads at the helm had the support needed to pull off a successful tour and bring home the much prized trophy which has not been secured by the Australian women, on English soil, since 2001.
That makes this one of the most satisfying victories of this team's record to date with good performances by the Australians both with bat and ball although there is always things to work on.
With this, the women regained some national pride for Australia given the English summer was such a forgettable one for the Australian men's team.
In fairness to Clarke and co it has become very apparent that the Australian team was not in as comfortable position as was publicly believed and that the 'changing of the guard' was immediately necessary, not just imminent.
Cricket, like any sport, is a movable feast in terms of form and performance and we, as fans, place a great weight on our champions. The fact that this is the women's time to shine and the men have to take a back seat is perhaps a little deserving.
This women's cricket team has been excelling in all forms of the game at all levels but if the Australian men's cricket team had been performing well -- as is the public expectation -- then it is highly unlikely there would have been much coverage or awareness of the women's success.
The men's team will rebuild, practically from scratch in the batting department, thus lowering expectations for the summer ahead. But, they will bounce back, as they always do, in this cyclical process that is elite sport.
Despite the mixed bag of results for Cricket Australia, one of the brightest lights in our sporting skies is the Southern Stars. With a sharpening focus on women's sport in Australia, this outstanding team of sporting talent is leading the way.