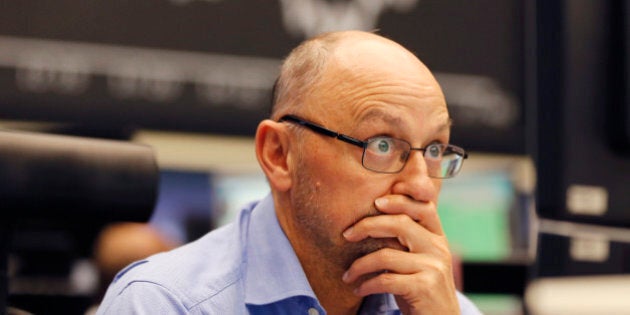 Market watchers insist Global Financial Crisis Mach II has not arrived despite a second day of global stock turmoil and concern about the world's second largest economy.
The Australian stock market opened down but quickly stabilised after $60 billion was wiped on Monday, the worst day for the ASX since the 2008 Global Financial Crisis.
On Tuesday morning, the benchmark Shanghai Composite Index opened about 6.4 percent lower, after declining 8.5 percent on Monday, wiping out all gains made this year.
It is not just global jitters. Bargain hunters have stepped in.
Professor Fariborz Moshirian, the Director of the Institute of Global Finance told the Huffington Post Australia: "There are many hedge funds fishing in the market looking for an opportunity to buy."
This morning Treasurer Joe Hockey urged calm.
"Yes, there isn't the same firepower as there was in 2008 and in fact there is no crisis now," Hockey told Channel Nine.
More than $US5 trillion has been erased from the value of global equities since August.
Prime Minister Tony Abbott was advised by the Reserve Bank Governor on Tuesday morning while touring remote Indigenous communities in the Torres Strait and has been briefed by senior officials in his makeshift tent office.
"It's important to remember that stock markets do go up and down. That's just life in a market economy that stock markets will go up and down, "Abbott told reporters on Thursday Island.
"I think it's important that people don't hyperventilate about these type of things."
"The fundamentals are sound while the Chinese economy is slowing, the US economy is gathering speed. The European economy is gathering speed.
"Not as much speed as we'd like, but certainly the worst is very much over for Europe and our economy continues to perform quite well."
Professor Fariborz Moshirian advised there was was no reason to panic, even if Chinese stocks lost another 8.5 percent in value.
"I would not see that as a trigger for a second Global Financial Crisis, at least for the time being," Professor Moshirian told the Huffington Post Australia.
"The global banking system is stable. It is not the same as 2007-2008. American banks are doing well. European banks are doing well."
Since China unexpectedly devalued the yuan on August 11 there have been fears about a severe economic slowdown in China and what that will mean for the United States.
Officials moved to make the yuan more competitive in a bid to make exports cheaper.
Professor Moshirian said the global jitters represented investors questioning the credibility of Chinese officials, particularly how they were managing economic and monetary policy.
"Market participants said OK if Chinese authorities are nervous, they could not fix the stock market, now they are going to fix the currency to stimulate the economy, therefore there must be something fundamentally wrong in the Chinese economy," he said.
"The key question is now whether the Chinese authorities wish to intervene (again). For instance reduce interest rates," he said.
There has been weak demand from resource-hungry China; Hockey said the Chinese stock market was 40 percent higher than it was 12 months ago and there had been a "lot of flighty money" in China.
"The fundamentals are still strong in China. You know, it is a massive economy with a growing population. The fundamentals are still strong," Hockey said.
"I'm absolutely confident, absolutely confident that the fundamentals of the Australian economy and the global economy are still good."