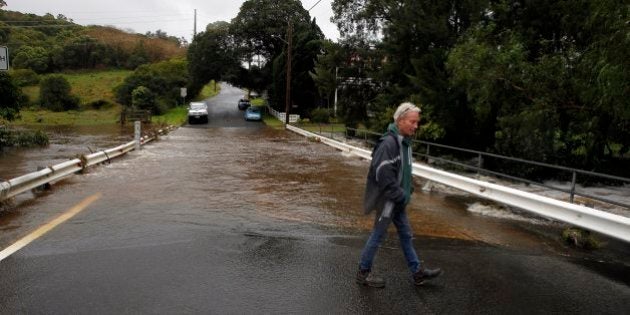 Residents in 40 homes have been told to evacuate by emergency services this morning as flash flooding continues to threaten the NSW South Coast, after 320 people were removed from their homes in the dark overnight.
NSW SES spokeswoman Sue Pritchard said evacuations took place in about eight streets in St Georges Basin, Sussex Inlet and downstream from Jerrara Dam from about 9pm last night but new concerns were emerging this morning.
"I can confirm that this morning we are door knocking a further 40 properties around Nowra and Shoalhaven Heads," Pritchard told The Huffington Post Australia.
SES Kiama Local Controller Warren Turner said Jerarra Dam received about 200ml of rain since the east coast low arrived this week, pushing it into 'red alert'.
"Red alert is a requirement to evacuate all downstream premises so we had to go and visit each house," Turner said in a video.
By 11am Wednesday, SES gave Jerrara Dam the all clear with some residents allowed to return to their home.
The Bureau of Meteorology has severe weather warnings for Wollongong, Kiama, Nowra, Jervis Bay and Ulladulla as well as very heavy surf.
SES is reminding communities to stay out of flood waters, with 57 flood rescues having been enacted this week as of 8am.