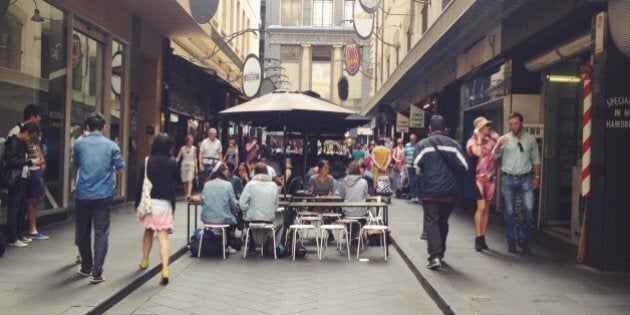 CANBERRA -- Victoria Police has called off a weekend policing blitz in Melbourne's CBD after a public relations disaster involving the inclusion of Australian Border Force.
In a shift from dealing with asylum seekers, the ABF had earlier announced it was joining the inter-agency "Operation Fortitude" which targets CBD crime from anti-social behaviour to outstanding warrants.
In a press release, the ABF Regional Commander, Don Smith indicated a random element to the operation.
"ABF officers will be positioned at various locations around the CBD speaking with any individual we cross paths with," Smith said.
"You need to be aware of the conditions of your visa; if you commit visa fraud you should know it's only a matter of time before you're caught out."
Australian Border Force Commissioner Roman Quaedvlieg told media on Friday afternoon that the press release was "clumsily worded" and "taken out of context".
After being ridiculed on social media, Border Force was forced to issue a statement denying it would be 'stopping people at random' in Melbourne to 'check people's papers.
"The ABF does not and will not stop people at random in the streets and does not target on the basis of race, religion, or ethnicity, "the agency said in a "clarifying" statement.
A scheduled media conference at Flinders Street Station to announce Operation Fortitude was cancelled after it turned into protest and hundreds of people spilled onto nearby streets.
This was swiftly followed by Victoria Police announcing it was cancelling this weekend's operation.
"We understand there has been a high level of community interest and concern which has been taken into consideration when making this decision," it said in a statement.
"Victoria Police's priority is the safety and wellbeing of the whole community and we will continue to work with our partner agencies to achieve this."
Opposition Leader Bill Shorten said he had no particular problem with visa checks, but he's questioned the public relations exercise.
"If you're going to do a blitz I don't know why you'd necessarily telegraph it to the media first, "Shorten told reporters in Perth.
Australian Border Force is a government agency formed from the merger of the Immigration and Customs Departments, tasked with border protections and national security duties.
Authorities say Operation Fortitude has a "particular focus on people travelling to, from and around the CBD".
The operation involves the co-operation of Victoria Police, Metro Trains, Yarra Trams, the Sheriff's Office, Taxi Services Commission and the ABF.
The Victorian Government said it backed the decision to cancel the operation it said was always intended to be a standard crime operation.
"Operation Fortitude was intended to be a standard police operation," the Police Minister Wade Noonan said in a statement.
"We fully support the decision by Victoria Police to cancel the operation after the unfortunate and inappropriate characterisation by the Australian Border Force today."
Labor has called on the Immigration Minister Peter Dutton to explain what happened in announcing the joint agency operation, calling it "at best clumsy" and "at worst shambolic".
"This has been incredibly badly handled and Peter Dutton needs to immediately come clean on how this announcement was so botched," Richard Marles, shadow minister for immigration and border protection, said in a statement.
The office of the Immigration Minister says it is an "operational matter" and ministers do not direct ops.