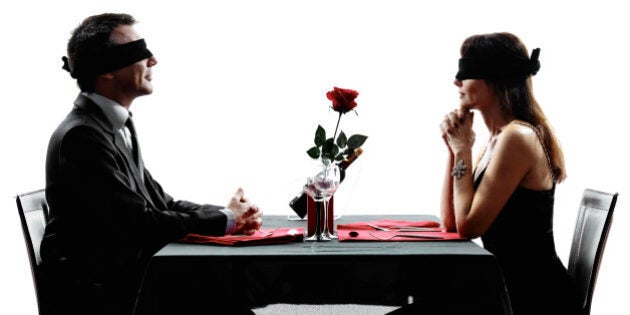 So, you've been chatting online for a while now and you've decided to take the plunge.
You and your internet crush are going to meet up IN REAL LIFE and see if the chemistry you have over the internet still exists when you're face to face.
Next problem: where do you go to meet your potential love interest? You obviously want it to make a good impression, but you also need to be able to make a quick exit if the date turns into a disaster.
Sydneysider Amanda Fox said she always looked for the same things when choosing a date venue.
"You want somewhere that's not too busy, but you absolutely do not want to go somewhere too secluded either, in case a serial killer turns up," Fox told The Huffington Post Australia.
"Don't go anywhere that's too loud or where you have to book. You never want to organise a dinner date; you only want to have drinks. But you want there to be some nibbly food available in case the date goes well and you decide to eat -- you don't want to get too tipsy."
John Aiken, relationship psychologist and dating expert for RSVP, said it was important to keep it casual.
"Look to make a time limit of two hours and meet up during the day at a public place that is safe. For example, a cafe for coffee or pub for brunch," he said.
"Perhaps pick a place that you've been to before that you know well, so you arrive feeling relaxed and in control of your surroundings."
"Avoid loud places where you can't hear each other, expensive restaurants, going to one another's house or apartment, anywhere that has too much travel time or no parking, a place that requires you to get changed, anywhere that needs you to go swimming, and keep away from places that gets you isolated."
Want some examples? Well, you're in luck -- Fox has listed her top pubs and bars for Tinder dating in Sydney.
Enjoy responsibly, lovebirds!
"What I like about it is it has really good lighting and intimate seating," Fox said.
"Plus, it's table service so you don't have to get up and get your drinks, which is good because it's always awkward when you get back. It ruins the rhythm of the date."
Shady Pines, Darlinghurst
"It has a fun, underground Texan vibe and there are great drinks for guys. They have a really good whiskey range there," Fox said.
"Again, great lighting and free peanuts. These are great -- they keep you busy while you're on your date because you're shelling your peanuts. You might want to check if your date's allergic though. Otherwise, bring an EpiPen."
"Arcadia has a great wine selection, plus it's super romantic with the fairy lights. It's right near Redfern station, so you have a quick escape if they're a dud," Fox said.
"Also, it's easy get to if you come from different parts of the city."
"I don't know what to say about Freda's aside from the fact it's very cool," Fox said. "It has fun music and a good vibe, with really great cocktails.
"It's a bit of a classic. It's the kind of place you'd take a guy you want to impress with a bit more of a cooler vibe."
"This place has so much fun art and so many talking pieces. It's a great place to go if you get stuck for conversation easily," Fox said.
"There's also the Caravan of Love if things go really well. I'm kidding. But it plays really retro music, which I thought was fun."
"Again, this has table service which is great. It's really small, intimate and has a good vibe. There's a big mural on the wall and velvet couches and a great wine list."
Earl's Juke Joint, Newtown
"So this is not to be a first date on the weekend," Fox said. "Only the weeknights otherwise it's mega hectic. A dark room, a jazzy vibe, great cocktails. Or you can get a picnic basket from Bloodwood across the road -- it's a really nice restaurant and they supply picnic baskets for you to have at your table.
"It's a really inconspicuous bar, with no signage out the front so make sure you keep an eye out for it."
"This is for an afternoon or night kind of date," Fox said. "It's a great one for guys. It's a brewery so you get to try lots of different beers and sometimes there are art exhibits which are always a fun talking point."
"OK, so what I like about The Clock is that there are these nooks and crannies out the back or in the separate areas, and you can find your own spot," Fox said.
"There's nothing worse than everyone in the bar knowing you're on a Tinder date, so this way you can hide away while still being in the vicinity of lots of people.
"It has more of a casual vibe and it's centrally located, which is always handy."