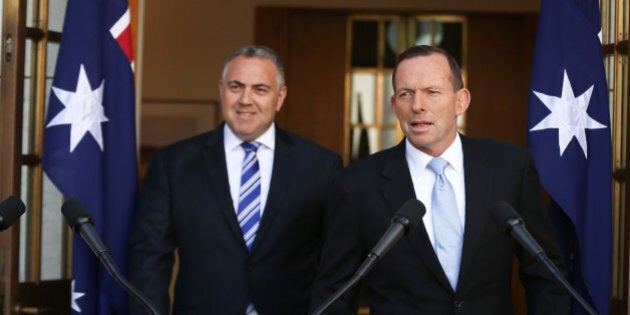 CANBERRA -- You know a high profile relationship is on the rocks when a couple fronts up to the cameras with forced smiles and scraps a tax.
Prime Minister Tony Abbott and Joe Hockey have announced that the bank deposit tax, proposed by Labor in Government and backed by the Coalition going into the last election, will not go ahead.
And Abbott also took the time to pay tribute to the man he's been accused of considering dumping.
"Labor's bank deposit tax is dead," Abbott told reporters in Canberra.
"The last way to make our banks strong, the last way to protect depositors, is to hit banks with more taxes. That's the Labor way."
It is the first time the two men have been seen together since Fairfax Media detailed moves to destabilise the Treasurer and possibly replace him with Social Services Minister Scott Morrison.
"I am delighted to be here with my friend and colleague, the Treasurer," Abbott said.
"The Treasurer has done an outstanding job, an absolutely outstanding job."
The Prime Minister referred to backgrounding against Hockey and earlier claims by the Immigration Minister Peter Dutton that Fairfax and the ABC were trying to bring down the government by going on a "bit of a jihad" as "insider gossip."
"I'm not going to get into all this insider stuff," he said.
"Naturally it fascinates the media but as soon as I start talking about it, you'll say that the Government was distracted from its purpose.
"My purpose today is to end another bad Labor tax."
The bank deposit tax – a 0.05 per cent levy on deposits up to $250,000 - was proposed by the then Labor Government to begin at the start of 2016.
It was designed to pay for a potential, but unlikely bank failure and, even though no such tax had been legislated, it had been budgeted to raise $500m a year.
"That's a $1.5 billion hit on the people of Australia that is not going ahead thanks to this budget, thanks to this Government," Abbott said.
The big banks were against the bank deposit levy, but up until now the Abbott Government, scratching for revenue, had been for the tax.
Hockey had vowed in 2013 to adopt the tax but deferred a decision until after it had held a financial system inquiry.
He says the government had consulted with the banking sector and to proceed with a new tax now, would harm depositors.
"It was a tax on savings. It was a tax that was going to affect everyone with a bank account," Hockey said.
"More than a week ago I spoke to the Prime Minister and said this is bad policy in light of the new capital requirements for the major financial institutions.
"We will not proceed with bad policy."