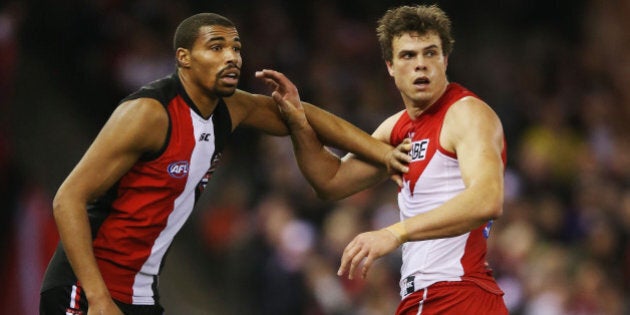 If you were fortunate enough to watch the AFL game, between the Sydney Swans and St Kilda over the weekend, you were treated to a piece of history.
Contesting the ruck were two men who hail from North America: one from Canada and one from the United States.
Mike Pyke is now what could be termed as a veteran of the AFL landscape. The 31 year old has been in the system since 2009 and is a 107-game premiership player with the Sydney Swans.
He migrated to the game of Australian Rules football relatively late in his professional sporting career, coming from a rugby background in Canada, where he represented his country 20 times before injury saw him have to look to other sporting horizons.
Facing Pyke, on the other side of the ruck contest on Sunday, was a tall, lanky American who used to play basketball until he decided he wanted to spread his wings and try something a bit different in professional sport.
Jason Holmes has only been in the Australian Rules football system for two years and has been fast-tracked by the St Kilda football club into its playing ranks.
Michael Ablett, the National Talent Football Manager at the AFL, says the interest from that part of the world has increased significantly over the past 12 to 18 months.
"We're talking about elite athletes. And when you look at how much of the game is played in the air and the dominance that the big guys can have; they see … a lot of similar traits.
"We specifically try and target the more defensive minded athletes over there because they're generally the more competitive type of athlete."
Ablett says the college coaches think some of their athletes are more suited to a contact sport and so liaise with the AFL talent managers on the ground over there.
At 25 years of age, Holmes is mature for a draftee and more importantly, a novice at the game, not having the benefit of growing up surrounded by the strong culture that is AFL.
But his height, not to mention his athleticism as a basketballer, has seen him adapt quickly and show all the signs of succeeding on what is a steep learning curve.
His coach at VFL level, and St Kilda's Development Manager, former player Paul Hudson, says Holmes is determined to take it all in and learn from all he is being told and shown.
"The incentive was for him to be the first American-born (player). He's pretty determined and pretty focused and the best part is he listens and tries to apply what we're trying to teach him. That makes it very much easier when you've got an attitude and a person of his character, it just makes it that much easier."
Michael Ablett says that clubs realise they need to be looking at all the alternatives when it comes to recruiting.
"When you look at those guys (Pyke and Holmes), clubs are left really, in my opinion, with not much choice but to start to think outside the square a little bit, otherwise you find yourself getting left behind pretty quickly.
"The international players, whether they're Irish, (north) American or players out of New Zealand, they certainly take a little bit more resource internally from the club … but if they can be in the best six players on Grand Final day … you'd certainly say it's been worthwhile."