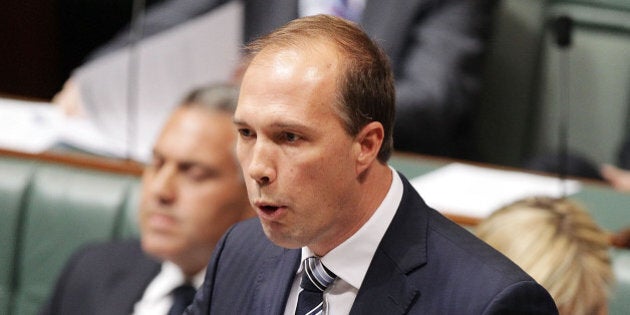 CANBERRA -- Immigration Minister Peter Dutton has accused Fairfax Media of conducting a "bit of a jihad", in a bid to bring down the Abbott Government, while a frontbench colleague has accused an ABC presenter of "verballing" him.
In echoes of Gillard/Rudd Labor Government complaints about News Corp coverage, Dutton has also accused the national broadcaster, the ABC, of being co-conspirators.
"They aren't supposed to be political players, they're supposed to be objective reporters of the news and I think many of them have morphed into frustrated politicians," he told the ABC.
Dutton has taken particular aim at recent Fairfax stories relating to government disunity and moves to destabilise the Treasurer Joe Hockey.
"I think the reality is there is a bit of a jihad being conducted by Fairfax at the moment," Dutton told Sky News.
"Hard to get a good story up in Fairfax. Publishing stories without checking with my office. Stories that are factually incorrect."
"That becomes frustrating. There can only be one reason for that," he offered.
Jihad is an Islamic term, popularly used to describe a holy war, but its core meaning is "to strive, to apply oneself, to struggle, to persevere."
Meanwhile, the minister touted as a likely replacement to Hockey, Social Services Minister Scott Morrison, has doubled down on the media by squaring off with AM host Michael Brissenden.
"You pose these questions in a very verballing way," Morrison said in an interview this morning.
"I am not about to entertain it. What I will say is this. It is becoming common place for politics to be reported on like it is reality television.
"We as a government take it more seriously than that."
Asked repeatedly about the government's long trend of poor polling and what it meant, Morrison chose to hit back.
"You can make forecasts. You can make predictions. You can call the end of the Abbott government if you wish to," he told AM.
When Brissenden said he was not calling the end, Morrison smiled and hit on.
"I am getting that slight sentiment from you, Michael.
"I does not surprise me."
Opposition Leader Bill Shorten said Dutton is blaming the news outlets for his own mistakes.
"What happens here is that the Abbott Government is becoming a giant blame factory," he told reporters in Whittlesea.
"All they want to do is blame the unions or blame the media or blame the environmentalists or blame the economists. The only people they never want to blame is themselves and that is where they should start looking."
Fairfax Media yesterday reported that Cabinet ministers had urged Tony Abbott to dump Hockey as Treasurer if Liberal candidate Andrew Hastie loses the September 19 Canning by-election.
Such a move could spare Abbott from falling on his sword, allow for a political reset and set the stage for an early March federal poll.
Abbott declared dumping Hockey had never been raised with him and the Treasurer had his "full confidence".
Hockey dismissed the backgrounding as "gossip" and described government leakers, even Cabinet ministers, as "fringe whingers."
Yesterday, in an extraordinary move which elevated and legitimised the backgrounding to journalists, government senator Arthur Sinodinos urged the Prime Minister to sack any minister or adviser who is engaged in deliberate leaking and destabilisation.
"Ministers should be working hard to win the Canning by-election rather than backgrounding against a colleague to scapegoat a potential loss," Sinodinos said in a statement.
Dutton also warned against government disunity, but laid the blame squarely on journalists: "I just think that is mischief either way."
Morrison said he is not aware of any move on the Treasurer and if his name keeps coming up as a successor, he insisted it is not coming from him.
But would be take the job, if it suddenly became available?
"It's speculative nonsense. I am not going to indulge this fantasy of yours," he said to AM's Brissenden.
Small Business Minister Bruce Billson has urged colleagues to "focus on the work," but Abbott's words of August 2013 have re-emerged on social media.
"If you want better coverage, be a better government," Abbott told then Prime Minister Kevin Rudd.
"Fundamentally, if you want good coverage, you've got to perform well."