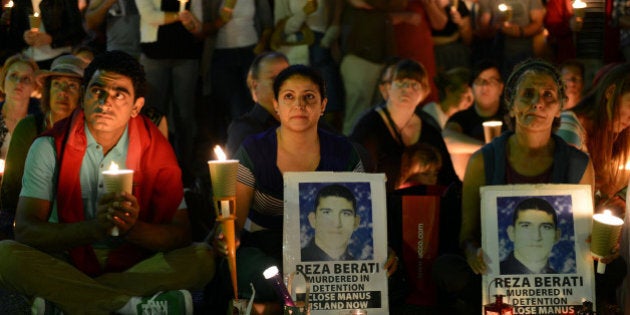 SYDNEY -- Papua New Guinea's Supreme Court has extended an injunction halting the deportation of asylum seekers to their home countries, a lawyer says.
Ben Lomai, a lawyer representing hundreds of asylum seekers challenging their detention on constitutional grounds, said Justice Terrence Higgins granted the permanent injunction at 1.30pm on Wednesday.
Last week the Supreme Court granted a temporary injunction on the deportations.
One point argued in court Wednesday was that asylum seekers were being denied the right to review immigration minister Rimbink Pato's decision on their status, and that right could be lost altogether if they are deported, Mr Lomai said.
"First, these guys have already filed their case in court you see and there is a serious breach of their constitutional rights," Mr Lomai told The Huffington Post Australia.
"If they are to be deported then who is going to prosecute their case on their behalf."
"On the basis of those arguments, the Court was satisfied that there is a need for an injunction to preserve the status of the applicant's right."
The matter will return to the Supreme Court for a directions hearing on September 7, while the injunction will remain in place until the case is determined by the end of the year or early 2016, Mr Lomai said.
On Wednesday it was reported PNG's immigration department summarily ended the right of appeal for asylum seekers against a negative finding.
Two weeks ago an asylum seeker was reportedly forcibly deported while a court case was underway to halt his removal.
Last month PNG's Supreme Court ruled a human rights inquiry into Australian-run funded detention centre on Manus was null and void after a three-person bench unanimously decided the judge who started the inquiry failed to disclose that an expert witness was a friend.
Comment has been sought from Australia's department of immigration.