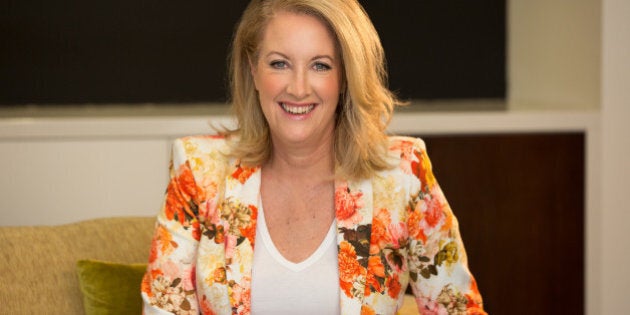 CANBERRA -- Outgoing Sex Discrimination Commissioner Elizabeth Broderick says "gender equality is not finished business in Australia" and believes the country is still confronted by sexual harassment, domestic violence and poor representation of women in politics.
In an interview with The Huffington Post Australia, Broderick said it sometimes seemed possible over eight years in her dream job to "lose faith in the possibility of change" but was confident that a positive shift towards gender equality in Australia had occurred.
"I have given everything I have got and I have loved every moment of it," she told HuffPost Australia.
"I am proud I have been able to put the human face on some of the inequality that exists today."
Broderick, who officially steps down on Friday, is best known for her work tackling long term systemic gender equality issues with the Australian Defence Force, leading the 2011 Human Rights Commission's Review into Defence's Treatment of Women.
She still works with Defence and said it had been a privilege.
"I am proud of the fact that I have been able to work with others to create cultural change in Australia's military and as an extension of that, we are doing a lot of work with NATO military as well," Broderick said.
The former lawyer cited gender equality progress in the introduction of a paid parental leave scheme, the protection of the right to request flexible work under law, a more than doubling of women on ASX boards and a strengthening of the sex discrimination act in relation to sexual harassment.
She also created the Male Champions of Change strategy on 2011, where she said "we are seeing more and more, powerful and decent men step up beside women and create change".
Still, there is still a gender pay gap of nearly 20 percent and one in four Australian women have experienced workplace sexual harassment, ranging from low-level sexism through to almost sexual assault, over the past five years.
"Gender equality is not finished business in Australia," Broderick said. "There is still much too much sexual harassment."
She said the sexual harassment figure was around 40 percent when former Sex Discrimination Commissioner Pru Goward last looked at it in 2003.
"It has come down, but it is just flat lining at the moment," she said.
Worse still for Broderick is that fact that two women a week in Australia are murdered by their intimate partner.
"We don't need to go to Afghanistan, Pakistan or indeed Papua New Guinea to see violence against women. It is happening right here in our very own backyard," she said.
"I'd like to see a continuing focus on that."
Domestic or family violence has become a more prominent issue in Australia over the past year. Domestic violence campaigner Rosie Batty is the 2015 Australian of the Year and there is work underway to develop a national domestic violence order (DVO) scheme by the end of 2015.
Broderick said domestic violence has also become a workplace issue.
"I remember when I first started and I used go to companies and speak about harassment and you know, have a reasonable conversation," Broderick said.
"But the minute I raised domestic or family violence it was like 'Whoa!! that's a private matter. Out there. We will not be discussing that in the workplace.'
"That has been a huge shift."
Broderick says true change will have taken place when women sitting at powerful tables is a norm.
"What we need to see is more women at decision making levels across the nation," she said. "We need women's voices to be elevated.
"Until that (happens) we will most likely continue to see ill-informed and often inopportune remarks about the place of women in Australian society."
Australia's political landscape is well known to be lagging behind. Only a third of Australia's state and federal parliaments is female, compared with 50.8 percent of the population. It's a low figure for a developed, democratic country.
Broderick backed targets for female representation "with teeth", not legislated quotas, as quotas wer "quite a blunt instrument," but she warned "if we don't see progress we'd expect to see, then I think we need to have a very robust conversation about quotas".
She was optimistic about Australia's "confident" and "articulate" young women and impressed by Australia's young men as "there is a greater belief that boys and girls, men and women are equal",
She admitted that at times the job of Sex Discrimination Commissioner seemed sad and overwhelming, especially when met by seemingly glacial change.
"You can lose faith in the possibility of change," Broderick said.
"Some days I do find myself thinking 'Oh my gosh! Is this ever going to move? Is this ever going to change?' I have heard this, you know, 50 times in the past two weeks.
"When I get to that place I remind myself that change does not happen in one great leap. There will be countless small intentional steps."
Broderick said has not decided her next role, but it is widely expected to be on the global stage.
She hints, "It will probably be around having a small number of high impact roles which will enable me to continue to elevate women's voices, but even to a higher level."
"I am really excited about what may happen next, so we will see," she said.
Broderick will address the National Press Club in Canberra on Wednesday.