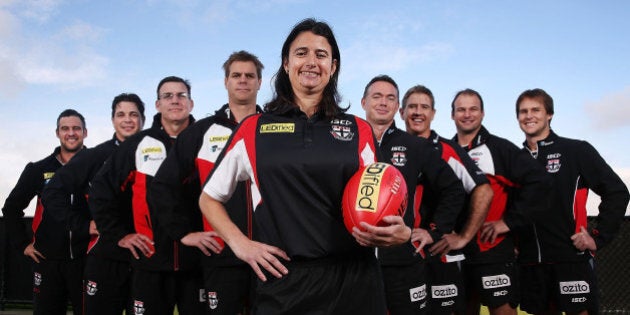 Peta Searle is a woman not completely comfortable with the tag of role model.
She is, however, aware that this is the consequence of the career path she's chosen and says her biggest priority is to be a good role model for her young daughter.
"In some respects you'd like to be able just go and do your job: but having said that, it is a privilege to be the role model to help others achieve their own dreams," Searle told The Huffington Post Australia.
"So, for me, as long as I'm being a really good role model for my daughter and I can demonstrate to her what you can do, that's probably pretty important."
Searle is the first and currently the only female coach in the AFL. In 2014 she was appointed Development Coach for the St Kilda Football Club. Her experience is unquestionable as is her ability at her job, but she is nevertheless scrutinised because she is a woman in what has historically been considered only a man's domain.
The scrutiny only comes from the outside: media, football die-hards and intrigued sporting onlookers.
Searle said she received no such scrutiny or uncertainty from inside the bubble that is the occasionally surreal world of AFL clubs.
"I've just been accepted as me and I've just been respected as me. I'm being respected as a person that does their job as they would respect anybody that does their job in society," she said.
"All the players, the staff even the supporters, the amount of support and encouragement they give you is enormous."
Searle is among the many that is applauding the recent exposure women's football has received.
"It's very exciting for the young girls who want to play the game -- to actually see there's (the) development of a pathway and it can be a sport that can be valued and appreciated at the highest level -- that's a real positive," she said.
And she agreed the media coverage was a major step forward for the growth of the game.
While she is currently flying the flag solo for women in the AFL coaching ranks, she said it would not be too long before she has company with the likes of Michelle Cowan doing well as an assistant coach in the WAFL (the West Australian Football League) as well as being the Melbourne Football Club's women's coach.
While Searle would love to be a senior coach in the long-term, she is pragmatic about the path she is on and the learning curve she has in front of her.
"I've got a lot of growth to do -- as anyone does when they first step into the role -- and I want to be given an opportunity to grow and develop," she said.
"I certainly see that there's absolutely long-term a coaching role out there… to grow and work towards."
But in the meantime she does her job as she says anyone would do any job, with all the accompanying challenges.
"Probably the thing that I've had to cope with is the pressure. You just soak it up as a coach. I probably put the greatest amount of pressure on myself to do well. I always have," she said.
"But in terms of how difficult it is, I don't think it's any more difficult than any other job as a working mother, because let's face it, that's really the hardest thing to manage is your family and a full time job.
"No matter what you do in any job, as a parent, there's always good things about it and there's also things that make life difficult. That's just life; that's just the reality of any working mum."