In a cold, crowded prison cell in Egypt, Australian journalist Peter Greste battled a sense of isolation. He had been arrested in December 2013, along with fellow Al Jazeera employees Egyptian-Canadian producer Mohamed Fahmy, and Egyptian producer Baher Mohamed.
"In prison, one of the most disturbing things is a sense of isolation – the fear that you are on your own, with nobody to fight your corner, nobody to shout by your side or get mad on your behalf," Greste writes in Prison Post: Letters of Support for Peter Greste being launched tonight in Sydney.
"If you are genuinely innocent, caught in a painfully slow judicial system and with no obvious end in sight, the isolation can start to play games with your mind."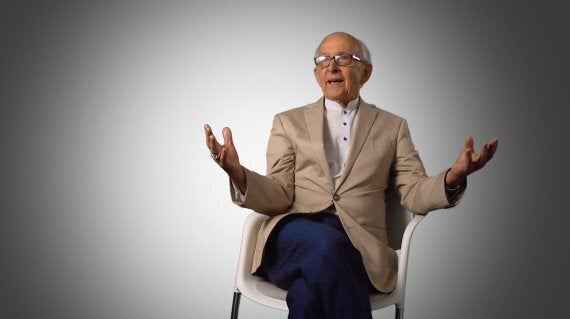 Peter Greste's father Juris Greste says the family was overwhelmed by the support. Picture: Editia / Contentgroup
For Greste and his family, moments of salvation came in the form of letters from prominent and ordinary Australians which have been compiled by digital-first publishing business Editia.
This is an excerpt of those letters.
June 26, 2014

So many of us know your name now and, until you are free, there will be a part of us that is in that cell with you.

In the dark times, I hope you can find some small solace that I will use my voice – one of many, many Australian voices – to speak up for you, whenever and wherever I can.

Wendy Harmer
July 1, 2014

We've kept your desk as it was and put free aljaz journos and #journalismisnotacrime banners all over the office.

People who knew you, those you interacted with, the local journalists you trained, strangers who just know you from TV are always calling us up to get updates.

They are as shocked as we are about what has happened but are firm in their belief of what kind of journalist you are.

Catherine Wambua
11 July, 2014

My mum, brother, sister and I have been very concerned about what has happened to you in Egypt.

I hope your colleagues are alright too.

Do you like to read?

I love reading because when you are stressed or are worried or angry, reading takes you to a completely different world, where all your worries and fears are drowned away from your mind.

Grace Worthing (aged 9)
September 23, 2014

I've been out of daily journalism for a few years, and retain a sense of awed admiration for those who continue to do good work, especially in dangerous places.

I'm not sure whether to write something heartfelt and serious about how much I hope justice prevails very soon, and you get to come home, or whether to make a joke about how "you should get out more".

So here's both.

Kaz Cooke
September 24, 2014

I want you to know that I stand in solidarity with you – that your experience and hardship is something that has impacted me and so many.

That because you are locked up in a jail in Cairo, an Australian living in Dhaka reads the newspaper a different way, has a different response to reading a story regarding freedom of the press, has a better understanding of the vital role that a free media plays in society, and will therefore speak out, defend and contribute to this cause for the rest of my life.

Peter Yates
Letters run with permission from Prison post: Letters of support for Peter Greste available in print ($24.99) and as an ebook ($9.99) in good bookstores and via Editia.
Peter Greste will speak at the launch at Berkelouw Paddington in Sydney at 6.30pm tonight.