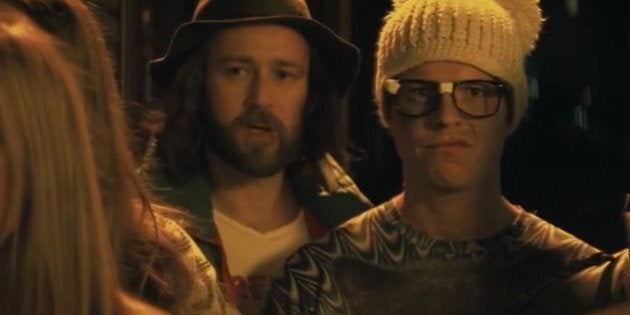 The Bondi Hipsters have released a new music video and this time they've (sort of) teamed up with Aussie DJ Timmy Trumpet, totally (or: totes) remaking the [underground] track Hipsta.
One half of the pretentious duo, Dom Nader (played by Christiaan Van Vuuren) said the collaboration came about after an early morning run-in with the DJ in Europe. Probably involving a kale smoothie.
Warning: This video contains content that may offend. Including violence, nudity and strong language.
"Me and (Adrian) were on a Contiki tour and swung by Ibiza last year, and we bumped into Timmy Trumpet who was dropping beats at one of the clubs," 'Dom' told The Huffington Post Australia.
"We said 'Oh we make beats back home, we're doing a bit of MC'ing, wanna collab' on some of this stuff?'.
"He said, 'Yeah, yeah hit me up, hit me up'. It was, like, 4am in some club.
"So we hit him up earlier this year when he dropped that Hipsta track and he's like, 'Sorry who are you? We have no idea who you are'. So we just downloaded his track and put a verse on top of it."
Although Dom and Adrian seem to believe they come off well in this video, they cop a fair few hits to the face whenever they make a pretentious hipster remark.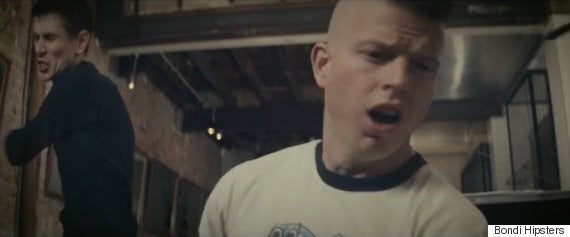 Christiaan Van Vuuren, the man behind the character 'Dom', said the video was actually one for the people.
"We've been making Bondi Hipster videos for a while and we have like a love-hate relationship with the characters ourselves," Van Vuuren told HuffPost Australia.
"So there seemed some fun to be had with seeing Dom and Adrian get the s*** slapped out of them," he said.
"In all the videos we make they've always been the dickheads. They're the guys who take the wrong line. You know, we like to think Dom and Adrian think they're the solution, but they're clearly part of the problem.
"So with this video we just had some fun in letting normal people slap the s*** out of Dom and Adrian."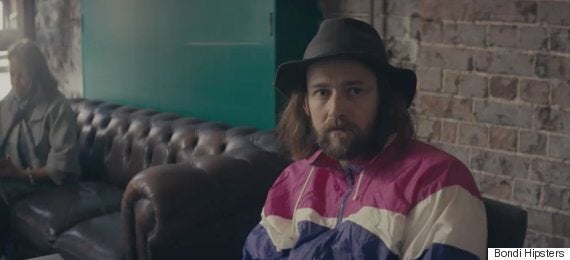 Pictured: 'Dom' is one half of the Bondi Hipster duo played by Christiaan Van Vurren
Of course for anyone who still doesn't know what a hipster is, Van Vuuren is referring to pretentious customers who brag about eating gluten-free or vegan. Who sit in a cafe all day using the wifi and just order water. Or the store clerk who makes you feel bad when you ask for help. Before it was cool.
"In my head mentally I reckon I've slapped some of these store clerks. So it was just fun to do it," Van Vuuren said.
"When we really wrote the clip it was going to be just everyone slapping the hispters. It was going to be everyone from the guy in the shop, to the Uber driver, to the doorman and DJ. Everybody just slapping them.
"All those slapping shots are tricky to do though. And we actually had to get slapped in the face for a few of them."
Though he would like to make it clear that "no hipsters were harmed in the filming of that -- just hipster satirists".
To see more from the Bondi Hipsters head over here.