CANBERRA -- Australia has significantly stepped up both its humanitarian and military response to the conflict in Syria, extending airstrikes against Islamic State targets and agreeing to accept 12,000 extra Syrian refugees.
Cabinet and then the Coalition party room signed off on the measures on Wednesday morning, which also includes an extra $44 million in extra foreign aid for the UN refugee agency, UNHCR.
The addition of 12,000 permanent places for Syrians almost doubles Australia's annual humanitarian refugee intake.
"This is a very significant increase in Australia's humanitarian intake and it's a generous response to the current emergency," Abbott told reporters in Canberra.
Persecuted minorities in Syria, such as Christians, Kurds and Yazidis, will be given priority.
Abbott said the focus would be on "women, children and families from persecuted minorities who have sought temporary refuge in Jordan, Lebanon and Turkey".
"I do want to stress women, children and families, the most vulnerable of all," he said.
Opposition Leader Bill Shorten has welcomed the decision, which exceed Labor's earlier call for 10,000 extra refugee places.
"Importantly, these places are being offered on the basis of need and no other consideration," he told Parliament.
"Our compassion should pay no heed to the colour of a person's skin or the god they pray to."
The Prime Minister had been for days arguing Australia should increase this year's intake of Syrian refugees without increasing the overall 13,750 humanitarian places.
But Abbott confirmed the permanent settlement of an additional 12,000 refugees would be "over and above" the existing intake.
The $44 million will support approximately 240,000 refugees in countries neighbouring Syria and Iraq, according to Foreign Minister Julie Bishop.
"With the coming winter there are urgent needs to provide basic equipment and support - shelter kits, clean, safe drinking water, food, support for women and girls," she said.
'This additional assistance will be very timely, we can do it immediately."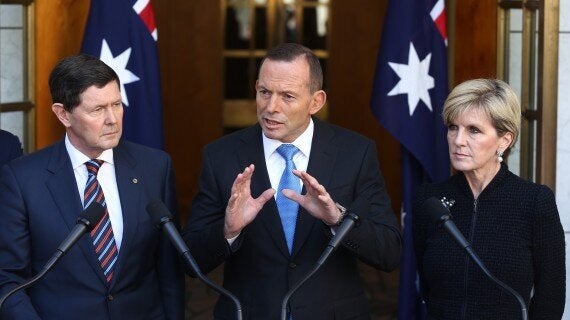 Tony Abbott confirms airstrikes and additional refugee intake at a press conference in Canberra. (Fairfax)
Abbott also confirmed the widely expected decision that Australia has agreed to the U.S. request to expand air strikes on ISIS target in Syria.
"We have to act with our heads as well as with our hearts," he said.
"We cannot defeat Daesh in Iraq without defeating Daesh in Syria too."
RAAF fighter jets are expected to fire on ISIS targets in Syria soon, possibly within the week.
Shorter said Labor supported the expansion into Syrian airspace but told Parliament that "it is important that at all stages we maintain our moral and legal authority".
"The best gift we could give Daesh and the like would be to abandon our moral authority," he said. "The ADF operations have to be constrained to the collective self-defence of Iraq."
Shorten also asked the government to formally notify the UN Security Council of the decision and hold a parliamentary debate to explain Australia's long-term Iraq strategy.
The Abbott Government took the decision after seeking legal advice. Airstrikes into Syria differ from Iraq because Australia does not recognise the Assad regime and the Iraqi Government had official invited the Australian military into its country.
"I emphasise that our aircraft will be targeting Daesh, not the Assad regime, evil though it is," Abbott said.
"That is where our strikes will be directed. We have no legal basis at this point in time for wider strikes in Syria and we don't intend to make wider strikes in Syria."
"We are exercising the right to collective self-defence under article 51 of the UN charter in striking Daesh in Syria."
Peter Jennings, the executive director of the Australia Strategic Policy Institute has welcomed the expanded airstrikes into Syria.
"I am convinced of the need that the international community hands a military defeat to IS," Jennings told The Huffington Post Australia.
"To do that we cannot be fighting with one hand behind our back. We actually have to take the fight into Syria."
But independent MP and former defence analyst, Andrew Wilkie, has condemned the move.
"This is a very bad decision and a very reckless and dangerous decision," he told reporters in Canberra.
"For a start, it is illegal for Australia to bomb in Syria. There is no UN imprimatur for Australia to bomb in the sovereign State of Syria. It's as simple as that."
Abbott said joining the fight in Syria is in Australia's national interest.
"We know from our intelligence agencies and from two terrorist incidents and six disrupted attacks that Daesh continues to reach out to Australia," he said.
"Destroying this death cult is essential, not just to ending the humanitarian crisis in the Middle East but also to ending the threat to Australia and the wider world."
Greens Leader Richard Di Natale is concerned about the focus on particular refugees in the government's Syria response. He said the government appears to be tapping into a "very strong anti-Muslim sentiment" that exists in Australia.
"We are I think on very dangerous territory here if we start deciding that our intake should be based on race or religion," he told RN Breakfast.
"To go down that road has more than a whiff of the White Australia policy about it."
But, the Prime Minister has acknowledged Muslim minorities in the Middle East, including Druze, Turkmen and Kurds.
"There are persecuted minorities that are Muslim, there are persecuted minorities that are non-Muslim," he said.
"Our focus is on the persecuted minorities who have been displaced and are very unlikely ever to be able to go back to their original homes."