Faierfax Media/Andrew Meares
PM Tony Abbott is in Papua New Guinea for the annual Pacific Islands Forum, joining 15 other leaders from around the region in Port Moresby. Serious issues including climate change and refugees are on the agenda, but Abbott found a bit of time for some fun.
PM Abbott participated in the rooster fight and face slap drills with the Paga Panthers rugby league team in PNG pic.twitter.com/fq6Km1Bnaz

— andrew meares (@mearesy) September 9, 2015
In fact, it seems the only ones having more fun than our PM are the troupe of photojournalists are following Abbott as he goes about his activities in PNG. Abbott was greeted with a traditional welcome and lei:
PM Abbott receives a lei on arrival in Port Moresby for the Pacific Islands Forum pic.twitter.com/mrGdrjekUJ

— andrew meares (@mearesy) September 9, 2015
Then it was straight to business, with the PM trading the formal suit for the footy shorts and jumping on the field with the PNG women's rugby league team.
It's not even 10am, but I think I'm calling photo of the day to @MickTsikas for this corker. pic.twitter.com/skBoasZG84

— Alice Workman (@workmanalice) September 9, 2015
ABC News' excellent Vine account captured the PM in action.
The PM was known as a rugby union talent in his school days, but seemed at ease playing rugby league.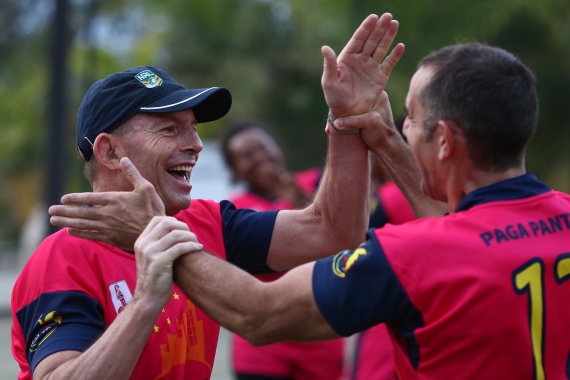 "Stop hitting yourself, stop hitting yourself..." (Fairfax Media/Andrew Meares)
Later, Abbott seemed reluctant to change into the traditional leader's shirt...
PM Abbott met with PNG PM O'Neill in Port Moresby pic.twitter.com/MwhREv4Q3c

— andrew meares (@mearesy) September 9, 2015
But finally cracked and donned the black and gold design.
PM Abbott with leaders from Tonga Solomon Islands PNG and Kiribati during the Pacific Islands Forum photo pic.twitter.com/amo83gbvNw

— andrew meares (@mearesy) September 10, 2015
While it has been fun and games so far, the real business is much more serious. The smaller nations in the Pacific are asking Australia and New Zealand for bigger commitments on climate change, with fears some of the low-lying islands will be drowned under rising sea levels.
"I think they need to come to the party, if they really are our friends then they should be looking after our future as well," Kiribati's president Anote Tong said earlier this week.
"What we are talking about is survival, it's not about economic development... it's not politics, it's survival."