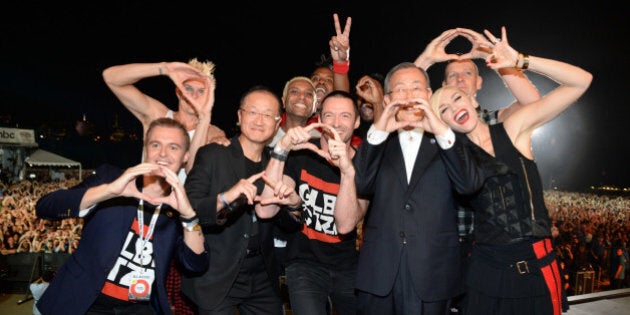 On the Last Saturday of September 60,000 people will converge in New York's Central Park for a spectacular festival of good will.
Performers Beyoncé, ColdPlay, Ed Sheeran and Pearl Jam are donating their talents, entertainers Hugh Jackman and Stephen Colbert are donating their time, and every ticket-winner is pledging support to 'The Global Poverty Project'; a movement determined to wipe out extreme poverty within a generation.
"No amount of black-tie gala dinners or fundraisers is going to end it," the man behind the movement, Australian CEO Hugh Evans, told The Huffington Post Australia.
"That's why all of our work is focused on mobilising our now six million members around the world to encourage world leaders to do the right thing when it comes to the 1.2 billion people on this planet who live in extreme poverty."
An impressive and diverse group of organisations have committed to aide in the fight to end extreme poverty over recent years. The World Bank has pledged $65 billion annually towards the goal. India has promised to install a toilet in every school and every house by 2019, and in Africa, sanitation education will soon reach 40,000 schools across Nigeria and Malawi. Just last year, Norway's Prime Minister agreed to spend $1 billion on vaccines and immunisations.
It's the culmination of years of hard work for a boy from Melbourne who drew his first humanitarian inspiration from the 40-hour-famine.
"It really changes your perspective. You gain I think a sense of empathy," he told HuffPost Australia.
"Even though we're never really going to know what it's like to live in extreme poverty, it gives you a small taste, enough to build that sense of empathy and say, 'we want to get behind this'."
So strong was Evans' empathy, he went on to establish the Oaktree Foundation in 2003, an organisation which aims to provide aid for developing nations. Four years later he had turned his attention to the hugely successful 'Make Poverty History' concerts.
Along the way Evans has collected a string of awards -- including Young Australian of The Year and Outstanding Young Person Of The Year -- but it's the change brought about in Canberra, following the success of the 'Make Poverty History' concerts, of which he is most proud.
"That's what led to Kevin Rudd, when he was about to become Prime Minister, to double Australia's foreign aid levels and announce an additional $6.2 billion in foreign aid," he said.
"The sad part of that story is that the current Australian government has cut more than $12 billion in foreign aid since coming into office".
The timing of the Global Citizen festival is no coincidence. It's being held during the United Nations General Assembly week as world leaders come together to agree upon a new set of global goals for sustainable development.
Together with Chris Martin from Coldplay, who has signed a 15-year commitment to be the musical curator of the festival, Evans plans to hold an accountability moment each year to ensure that progress towards achieving the UN's goals is being made.
"Since Chris signed on as curator this year, he has been an amazing supporter," Evans said.
"He called Ed Sheeran, he called Beyoncé himself, he even travelled to India with us to find an incredible artist that we're going to be showcasing on stage at the festival"
Evans believes every artist on the planet wants to make a difference, and they want to know where they can make the biggest difference.
"We've demonstrated through the movement that change is possible," he said.
The Global Citizen Project invites Australia to get behind he movement, and is running a competition to fly two people to New York to attend the festival on September 26.