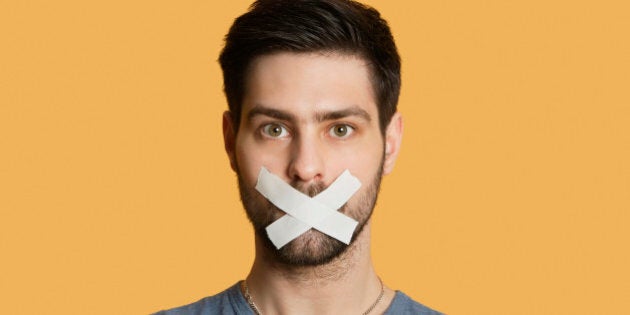 They say the secret to any good dinner party is good food, good wine, and good conversation. Now imagine a dinner party where one of those things was taken off the table -- would you still want to attend?
Conceived by Honi Ryan in 2006 as an international performance art project, The Silent Dinner Party has since travelled all over the world and soon will be making its way back to its hometown of Sydney.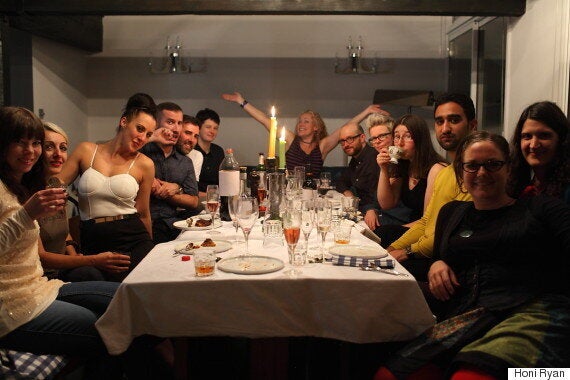 Silent Dinner Party, London-style.
Billed as The Sydney Fringe Festival's keynote closing event, roughly 300 people are expected to attend, making it the largest silent dinner party to date.
The premise is simple. No talking. No reading or writing (one would assume in the absence of menus, attendees are just down for whatever is served on the night), and no engagement with technology.
Oh, and it's recommended you stick it out for at least two hours.
So, what's the reasoning behind this extended session of silence?
"Silence is a relief from noise -- the gadgets and the chit chat," Ryan told The Huffington Post Australia. "It's about having to engage in a different way. It's a release and an exciting thing, especially because as these days, we never gives ourselves time out from technology and acting linguistically."
"It's about the absence of language."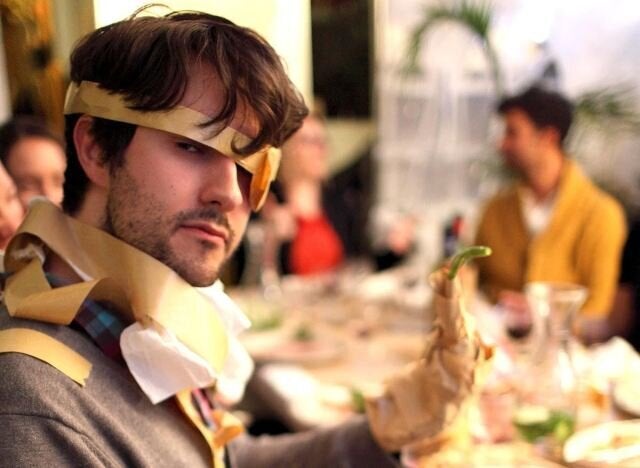 Guest from a previous SDP. At least you can play with your food.
Ryan first started The Silent Dinner Party when she was living in Germany on student exchange.
"It started as a social experiment. I had a lot of language anxiety at the time, not being able to speak the mother tongue, and at the same time I was really experimenting with cooking and all the different foods," Ryan said.
"So I started designing these dinner parties where people would come and we'd decide not to talk."
From there, the premise has taken off, with Ryan having hosted almost 40 silent dinner parties around the world; including Lebanon, Berlin, New York, Dubai and Mexico City.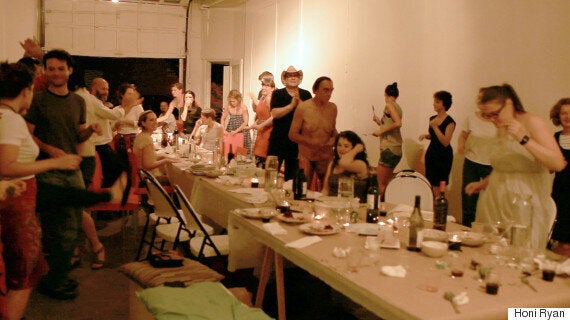 Silent Dinner Party in New York.
Ryan states though the spoken word is discouraged, the events have a distinct, unifying feel.
"I think people adjust pretty quickly. There is always the awkward first bit. And even I, after having done it nearly 40 times, I still have that."
"People really get through it quite quickly. It's that sense of solidarity -- you're all experiencing the same thing. It very quickly becomes something that unifies people."
"I think people exercise new ways of relating to people. Hopefully they drop their initial prejudices and judgments and are more open to other people."
"Kind of tolerance that always runs through the silent dinner parties -- an eagerness to try and understand the other person."
In terms of the types of people who attend, Ryan says it's a mixed bag.
"There's a really broad range of people who attend. There are a lot of people who come solo. I get groups, too. Six is the biggest group I've booked. When I've been in charge of the bookings, I've preferred smaller groups of people."
If you are keen to attend in a group or with a friend, Ryan suggests sitting apart from each other to get the full experience, and then debriefing at the end.
The next Silent Dinner Party will be held at the Sydney Fringe Festival on Saturday, September 26. HuffPost Australia will be at the table. We can't say any more.