CANBERRA -- Australia may shortly have a new Prime Minister, with Tony Abbott rising to a leadership challenge by Malcolm Turnbull and calling for a party room ballot tonight.
The former Communications Minister finally declared his hand earlier today and challenged Abbott, saying the government was not capable in providing economic leadership and questioning Abbott's leadership style.
Turnbull has promised a different style of leadership, with a return to cabinet style government and an end to captain's calls.
The current Deputy and Foreign Minister Julie Bishop will stand with Turnbull in a leadership spill. After hours of silence, the Prime Minister emerged late this afternoon to say he will fight for his job.
"There will be a Party Room ballot for both the leadership and deputy leadership positions later this evening. I will be a candidate and I expect to win," he said.
Abbott said he has been heartened by support, but dismayed by months of destabilisation.
"I do say to my fellow Liberals that the destabilisation just has to stop," he told reporters in Canberra.
"I firmly believe that our party is better than this, that our Government is better than this and, by God, that our country is so much better than this."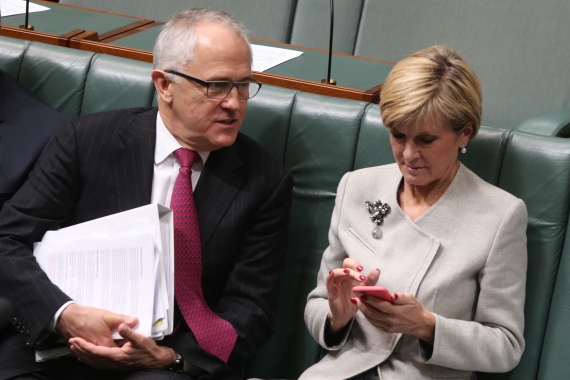 Malcolm Turnbull and Julie Bishop at Parliament House on June 23 (Fairfax Media/Andrew Meares)
Treasurer Joe Hockey has also hit back at Turnbull, saying the concerns about Australia's economic direction he is now outlaying were never relayed to him or the rest of the Abbott cabinet.
"The disloyalty of some has been outrageous," he said.
Hockey is the first senior Minister to declare support for Abbott, since the challenge was announced.
Turnbull supporters have told The Huffington Post Australia they are confident he has the numbers in the Liberal Party room.
They cite Bishop's move to join Turnbull and say a "significant" section of the party's right faction has moved support away from Abbott.
HuffPost Australia understands Turnbull has made several concessions to the right, including keeping the current climate targets, committing to a plebiscite on same sex marriage and agreeing not to go to an early election.
Vision courtesy ABC News
Abbott's support is not known, but he said the message he has been getting from MPs is "We are not the Labor Party."
"This country needs strong and stable Government and that means avoiding, at all costs, Labor's revolving-door Prime Ministership," he said.
He has intimated that Turnbull, who he defeated in a leadership spill in 2009 by one vote, is motivated by personal ambition.
"The Prime Ministership of this country is not a prize or a plaything to be demanded. It should be something which is earned by a vote of the Australian people."
But, Turnbull said he was motivated by saving his party from electoral defeat. Polls since the first budget have had the Coalition in an election losing position.
"We have lost 30 Newspolls in a row. It is clear that the people have made up their mind about Mr Abbott's leadership," Turnbull said.
"Now if we continue with Mr Abbott as Prime Minister, it is clear enough what will happen. He will cease to be Prime Minister and he'll be succeeded by Mr Shorten."
Turnbull was also critical of Abbott's leadership style.
"We need advocacy, not slogans. We need to respect the intelligence of the Australian people."