Malcolm Turnbull is using his first question time as Prime Minister to lay down his vision of an 'agile, forward focused' nation.
Having been sworn in by His Excellency General the Honourable Sir Peter Cosgrove early Tuesday afternoon, Turnbull hit the ground running at question time.
The former Communications Minister made Tony Abbott the shortest serving prime minister since Harold Holt by a vote of 54 to 44 on Monday night in a Liberal party room ballot following a sudden spill.
During question time, he began by tipping his hat to Abbott.
"The challenges of leadership are very considerable," Turnbull said.
"The pressures are enormous and as Tony Abbott has often said himself, very, very profoundly, that all of us here are volunteers.
"It is our families that are conscripts and so we should acknowledge today, of course, the debt we also owe to his wife Margie and their daughters."
Leader of the Opposition Bill Shorten also commended Abbott, saying: "I've disagreed with his politics and decisions on many occasions but I also wish to record that he had this frustrating ability on occasion, just when you were really frustrated with a particular decision he might have made to do something unexpected and generous and personal".
Turnbull went on to outline his priorities of supporting technology and science, pointing to Australian architects playing a part in China's rapid urbanisation.
"We know that our future lies in technology, it lies in science," Turnbull said.
"The opportunities and challenges of a rapidly globalising economy are remarkable."
He also confirmed the coalition's military commitment to fighting in Syria, as well as a pledge to welcome an additional 12,000 Syrian refugees.
Turnbull also defended the government's Direct Action Plan saying: "It doesn't matter how you cut emissions as long as they're cut".
While Turnbull's star rose today, Abbott officially tendered his resignation to Cosgrove -- the man who he announced as Governor-General in January 2014.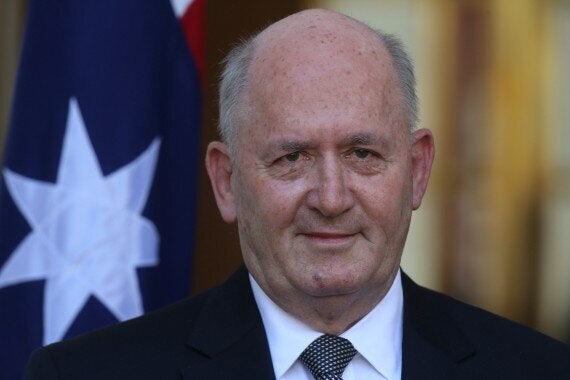 Peter Cosgrove today accepted Abbott's resignation. Picture: Fairfax Media / Andrew Meares
"I am proud of my service," Abbott said.
"My love for this country is as strong as ever and may god bless this great Commonwealth."