Jim Jurica via Getty Images
If you last bought a pack of cigarettes when Toadie was a household name and Warnie was an athlete, here's a refresher -- a 25-pack now costs about $25.50.
That's right, pack-a-day smokers now pay about $180 each week.
That's on par with a 700ml bottle of Laphroaig 18-year scotch whisky a week or $9360 in savings over a year.
Price hikes aren't the only that's changed for smokers in the last decade -- there's also a growing industry of black market tobacco suppliers, counterfeit products and cut-price new labels.
This month's tobacco excise tax hike of 12.5 per cent is third in a line of four increases set out by the Federal Government between 2013 to 2016, as well as a 25 per cent tax increase in 2010.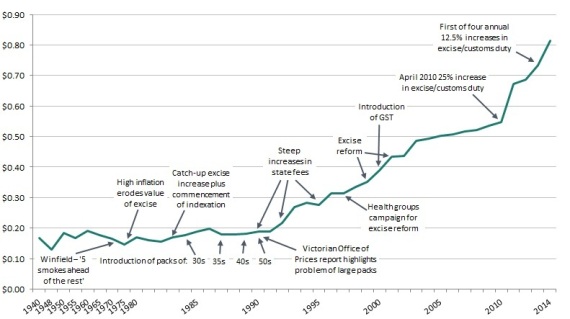 The cost per stick of cigarettes over time. Sources: The Cancer Council, NSW Retail Traders' Association and Victorian Office of Prices
Cancer Council NSW Manager of Tobacco Control Scott Walsberger told The Huffington Post Australia the hikes were effective in encouraging people to quit.
"One of the biggest reductions we've had in the number of people using tobacco products in Australia was after the 25 per cent tax increase in April 2010," Walsberger said.
"Two out of three long-term smokers will die as a result of their smoking habit.
"If this causes someone to reflect on the financial burden of smoking, hopefully that will cause them to quit."
Currently, 13.3 per cent of Australian adults smoke and this rate has almost halved since 1980.
In Australia, the average cost of a cigarette, per stick was 15 cents in 1940 in current dollars.
In 1940, it went up to 24 cents, then 32 cents in 1960 and 39 cents in 1970.
A pack of Winfield 25s was the equivalent to $4.25 in the 1980s and was more than $10 in 1998. By 2014 the same pack was more than $20 in current dollars and today, a pack of Winfield 25s is $25.55.
Alliance of Australian Retailers member Bob Stanton, however, said the price hikes were pushing people to buy tobacco smuggled into Australia on the black market.
"This issue is hurting retailers and has the potential to threaten the viability of small business all around Australia," Stanton said in a statement.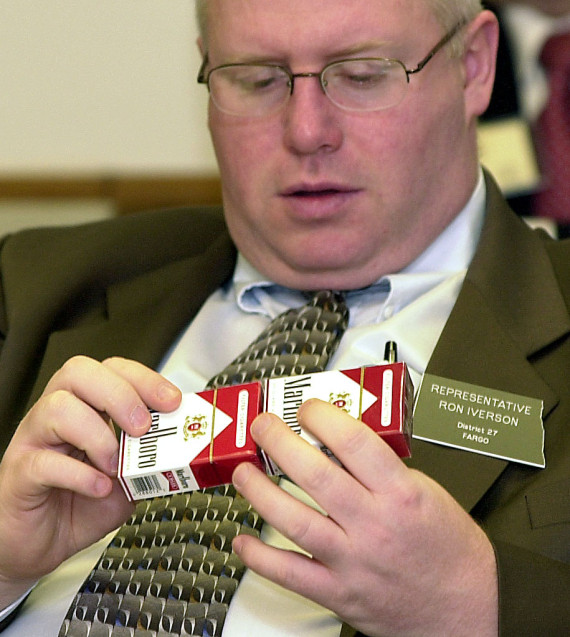 Counterfeit cigarettes can be convincing. Picture: AP Photo / Will Kincaid
"The shift to the illegal black market will further damage the Australian institution of corner shops and convenience stores, not to mention jobs and income for thousands of Australian families."
Indeed in 2012-13, customs seized 200 million sticks of illegal cigarettes, up from 141 million in 2011-12, while in August 2014, police seized 500,000 sticks of illicit tobacco in raids in Fairfield and Bankstown.
This year Border Force started working closely with Indonesia to stop the trade of illegal tobacco.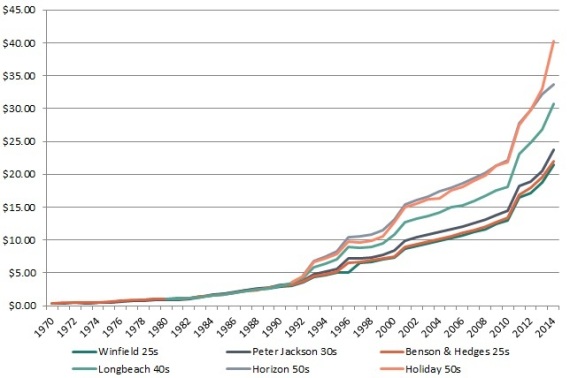 The recommended retail price of six top selling brands between February 1970 to March 2014 Sources: Cancer Council, NSW Retail Tobacco Traders' Association
British American Tobacco Australia spokesman Scott McIntyre told HuffPost Australia the hikes had created a new cut-price class of cigarettes.
"In order to compete with black market cigarettes and loose leaf tobacco, this new market of very cheap legal cigarettes has been created. Rothmans sells for about $12 or $13 and a year ago it had zero market share but today it's about 12 per cent of the market share.
"People who want to smoke are just going into a store and asking for the cheapest pack."