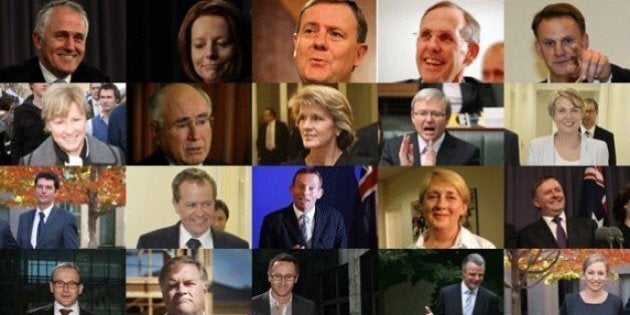 You don't need to watch endless hours of television news coverage, read piles of newspapers or listen to rabid talkback radio to understand Australia's recent wild political history and leadership turbulence -- you just need 18 seconds.
That's the leadership of the Liberal, Labor and Greens parties since 2005. There have been 21 people in that time -- 15 men, six women -- who have occupied the leader and deputy leader positions of the three parties. Counting Malcolm Turnbull and Julie Bishop twice, who have led the Liberals on two separate occasions in 2008-09 and of course right now, there have been 16 different leadership combinations.
The Greens did not have an official national leader until Bob Brown in November 2005 and then officially named a deputy leader in November 2008.
From 2005 until today, the politicians who have held the leader or deputy leader positions of their party are:
John Howard, Peter Costello, Mark Latham, Jenny Macklin, Kim Beazley, Bob Brown, Kevin Rudd, Julia Gillard, Brendan Nelson, Julie Bishop, Malcolm Turnbull, Christine Milne, Tony Abbott, Wayne Swan, Adam Bandt, Anthony Albanese, Bill Shorten, Tanya Plibersek, Richard Di Natale, Larissa Waters and Scott Ludlam.