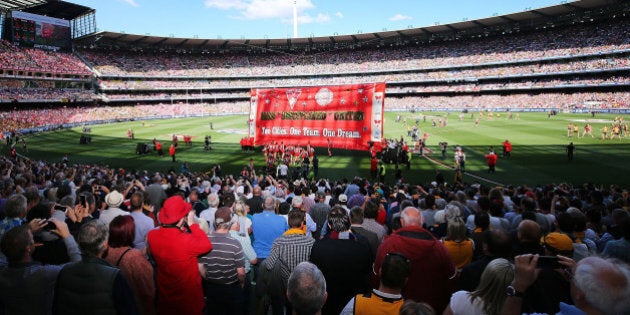 Nothing shouts "true love" like meat pies, sweaty footy shorts and a throng of drunken men screaming at the telly, amirite?
Strange though it seems, new data from internet dating site eHarmony suggests this just may be the case, with the site's personalised dating index showing a correlation between the search for love and Grand Final day.
Yes, you read correctly. GF Day = love. Who knew?
The dating index -- the data from which spans from January 2012 to December 2014 -- collates Google search data for relevant terms such as "online dating", mentions of dating on social media platforms and web traffic to eHarmony.
The data revealed the average daily score (out of 100) for Australians during the AFL and NRL seasons were 40.1 and 40.4 respectively but these numbers jumped significantly on the biggest days of the year for both sports -- an average of 49.86 for the AFL Grand Final and 49.9 for the NRL's big day.
In other words -- people were thinking about dating more than usual on the GF weekend of either sport. Which leads us to the inevitable next question -- WHY?
"Looking from a psychological perspective, finals fever is a really festive time," psychologist and eHarmony dating and relationship expert, Melanie Schilling, told The Huffington Post Australia.
"In Australia it means we're coming into warmer months, and finals tend to mean summer is on its way. There's a sense of celebration, even if you're not interested in sport in the slightest.
"There's also that nationwide support of a sport that brings people together. I'm not even a football follower myself but I'm always at a barbecue or at at a pub or some kind of gathering."
Schilling also notes football grand finals often coincide with a long weekend (particularly in Victoria) so people have more time to socialise.
"The findings tend to peak around public holidays as well which then can translate to football," Schilling said.
"For instance the AFL Grand Final is on a long weekend this year, which is a great opportunity for singles.
"We've seen it time and time again -- any time in the year when there's a long weekend, there is greater activity online for singles. It doesn't matter whether someone follows football or not."
While the data shows an increase in people looking for love online during these peak periods, Schilling says it's also a great time to get off the web and try to meet some people in real life (omg).
"So many different venues put on events for Grand Final day -- it's really worthwhile having a look in gig guides and seeing what's on," Schilling said.
"It's a great opportunity to branch out and go to a new venue with a new crowd in order to connect with new people. Jump into the revelations and festivities and embrace it."
Party fever aside, Schilling also acknowledges there is another, less festive reason people turn to internet dating over long weekends and big events.
"On the flip side -- loneliness can really peak during peak weekends and festive times. People might look around them and see all the couples out and about and come to the realisation, 'oh god I'm still on my own,' and this might prompt them to register for the first time or get a little bit more active."
Whatever the reason, Schilling says a long or sporting weekend is a good time for daters to get online, simply for the reason more people are doing the exact same thing.
"More people are online, there are new new people and more activity and new matches coming through," Schilling said.
"It's a more target rich environment online as well as offline. I'd suggest the two pronged approach -- online and offline -- because there are really great opportunities with both."
And if you do decide to meet someone who you met online, remember, safety first.
"One of the obvious features about a grand final weekend is there is lots of alcohol," Schilling said.
"The plus side is that can mean people's inhibitions are lowered a little bit and they are more open to meeting people. The negative side is it can make people vulnerable and socially inappropriate.
"So to amp up the safety message -- while these weekends can be fun and full of opportunities -- there is always a chance of something going wrong. Make sure you've got a friend with you, or if you're meeting someone you've met online for the first time, make sure someone knows where you are.
"My best advice is to keep it short -- meet him or her for brunch and then go and meet your friends afterwards."