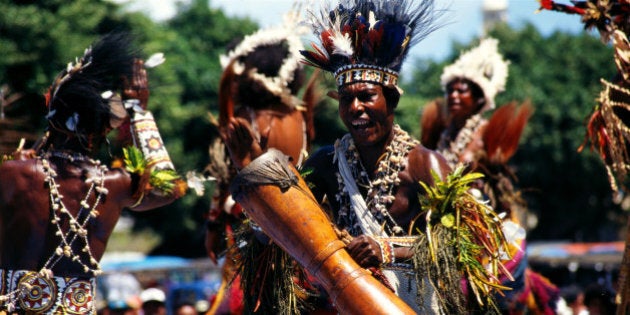 The sun beats down on the shirtless teenager at the roadblock. He pockets his mobile phone, wipes sweat from near his mouth, hoists his rifle and saunters towards my car.
It's June 2012 and I am in the highlands of Papua New Guinea, on a dirt road leaving the gas field township of Tari. It's national election time.
This kid -- no older than 17 - peers into my tinted car window for the briefest of seconds, assessing me and my two colleagues with his rifle still in hand. We hold our breaths.
He turns suddenly to his handful of armed mates hanging around the ramshackle roadblock. Some of the boys dot a hill overlooking a wide ditch which cradles what looks like the very recent wreckage of a small truck.
"Not politicians, not politicians," he said, indicating to them, as much as me, that we are free to go.
"The land of the unexpected," I thought, as I kicked the car into gear and took off towards the cracked and broken Highlands Highway which snakes through the centre of the country.
Incidents like these are not isolated.
They are part of life in modern PNG -- a nation that continues to confound, even 40 years after it achieved independence from Australia.
On Wednesday in Port Moresby -- a long way from the highlands -- the traditional dawn lowering of the Australian flag and the hoisting of PNG's own on Independence Hill marked the beginning of independence celebrations.
Drums, birds of paradise, concerts, traditional dancing and thousands of revelers.
PNG has much to celebrate.
With nearly 8 million people, 1000 tribal groups, more than 800 languages, abundant natural resources and political stability, PNG is far from the failed state it was predicted to become four decades ago.
Last week it hosted the Pacific Islands Leaders Forum, and in 2018 will host 20 of the world's Presidents and Prime Ministers for the APEC Leaders Summit - the most significant international event ever to be held in the country.
"When you look at our achievements as a nation, there is much we can be proud of and give thanks for," Prime Minister Peter O'Neill said on Wednesday.
"Ours is a country that has seen a lot of challenge, as a united nation. There is also much more that we can achieve if we work together as one united democratic and confident nation."
Over the years PNG has had some hairy moments - the Sandline affair, where the government hired mercenaries during the Bougainville civil war, and the 2012 attempted military mutiny in Port Moresby – but in the end neither threatened to split the country asunder.
"I am proud of our country's unbroken democracy," PNG's first prime minister, Sir Michael Somare, told the Port Moresby based Post Courier newspaper on Wednesday.
In the early 1970s Sir Michael toured newly independent nations before he and the country's other founding fathers settled on the Westminster style system.
"Many of these countries had chosen the Presidential style leadership and many had after a number of years succumbed to coup d'etats and terrible political consequences," Sir Michael said.
Instead the country's problems are far more banal and, at the same time, mammoth -- rampant unemployment, endemic corruption, high rates of crime and domestic violence.
The country is in the grips of a rolling communications revolution thanks in part to mobile phone provider Digicel, who can be found selling phone credit in the most remote of villages.
From this a vibrant civil society has emerged on the streets and in social media, calling out and defending politicians, officials and civilians accused of corruption and other crimes.
But the data streams also bring with them horrifying imagery of tribal and casual violence; of women in rural areas, accused of witchcraft, being tortured and murdered in mocking show trials.
The police -- underfunded and under-trained, and hampered by PNG's impassable geography -- are mostly powerless to stop the killings.
The country is also undergoing its worst drought in 20 years, which is spurring fears of a food crisis for some of the 80 per cent of Papua New Guineans who live off the land.
And after spending much of the past decade being told it was on the cusp of an economic boom brought on by the mammoth
Exxon-Mobil Liquefied Natural Gas Project, the country now finds itself under pressure from sliding global commodity prices.
But the country is expected to continue its economic growth, at a slower rate, while it also takes on a stronger regional role in areas such as climate change.
Following independence celebrations, Mr O'Neill on Wednesday acknowledged the challenges facing his country -- particularly in the areas of healthcare and education, and the mistakes made over the past 40 years.
"But I think as a country we are coming back together to make sure that we're a unified country with the right set of policies; educating our population, making sure we have a healthy population and of course, a safer community for our country with a strong economy," he said.
This story was originally published on September 16, 2015.