The world has responded to Monday's lightning-fast prime ministerial switch-a-roo, labelling us a nation of "front-stabbers" which celebrates political turmoil as a national pastime.
Australia's Wikipedia page was edited overnight, to add random but regular 'leadership spills' to our favourite national pastimes.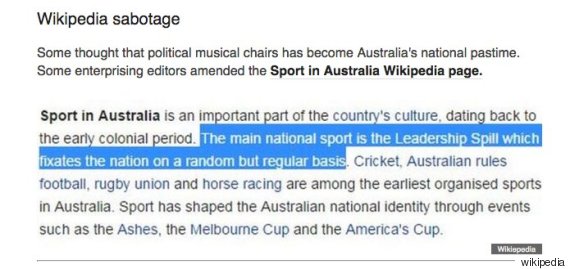 According to one report we, "down under", call our never-ending political assassinations "front stabbing".
That is but one explanation of why, or rather, how, in a matter of hours, Australia has a brand new Prime Minister. Again.
It's Monday so Australia has a new prime minister http://t.co/bnA4KSRIoN via @slate

— Josh Keating (@joshuakeating) September 14, 2015
As if our revolving Lodge door isn't confusing enough, the BBC is reporting on our nation's sudden compulsion to "put out our onions".
Twitter lit up last night with pictures of punters displaying bags of onions on door handles, and porches, ribbing outgoing Prime Minister Tony Abbott for his ill-considered onion munching moment, earlier this year.
Why Australians are asking people to #PutYourOnionsOut for Tony Abbott http://t.co/IYBeIM0t3O pic.twitter.com/2U4X4S5BDX

— BBC News (World) (@BBCWorld) September 14, 2015
The Economist describes Prime Minister-elect Malcolm Turnbull as Abbott's progressive successor, and the leader most likely to modernise Australia.
Australia's conservative prime minister, Tony Abbott, is ousted by his progressive nemesis http://t.co/Fu44W9gQf4 pic.twitter.com/aGyd20JQ8w

— The Economist (@TheEconomist) September 14, 2015
The Independent newspaper from the UK was just generally confused by the whole thing.
The Independendent on how Malcolm Turnbull rolled his rival 'Paul Abbott' #libspill #auspol pic.twitter.com/87P9a73Zg2

— Bevan Shields (@BevanShields) September 14, 2015
As, it seems, was morning show Sunrise. After a night of shocks, apparently a surprising leadership contender threw their hat into the ring.
From the transcript of Julie Bishop on Sunrise - look who we just voted in as PM! pic.twitter.com/cBFr9uEwiA

— Leigh Sales (@leighsales) September 14, 2015
But even before Turnbull has been sworn in to office, his political opponents are lining up to rain on his parade.
And then there was this, from a pair of bona fide leadership spill experts.
Congratulations to Malcolm Turnbull on becoming Prime Minister - a great honour and responsibility. JG

— Julia Gillard (@JuliaGillard) September 14, 2015
Best wishes to Malcolm Turnbull becoming Australia's 29th Prime Minister Huge job with huge challenges.Therese and I wish he and Lucy well.

— Kevin Rudd (@MrKRudd) September 14, 2015
In a night of knifings, even morning television was not safe from unexpected accidents. Here, the Today Show -- including The Huffington Post Australia editor-at-large Lisa Wilkinson -- was attacked by their own set.
WHEN SETS ATTACK!

@TheTodayShow marquee collapses live on air. Hope you're ok @Lisa_Wilkinson @karlstefanovic #ouch pic.twitter.com/hfSS8th7kJ

— Chris Urquhart (@chrisurquhart) September 14, 2015
And, as always, the NT News team had the best take of them all.
"Rich dude becomes PM" - front page of NT News #libspill #auspol pic.twitter.com/UGHFGnSnbW

— Alice Workman (@workmanalice) September 14, 2015