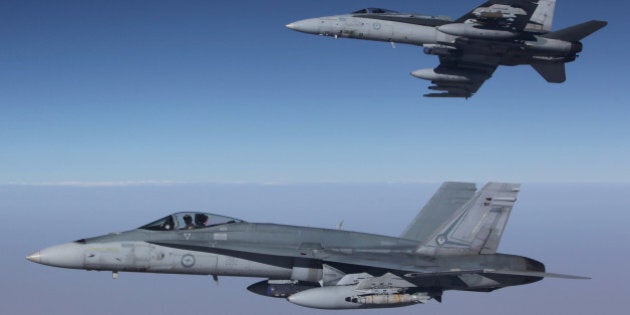 Australia has dropped its first bombs on IS targets in Syria, after former Prime Minister Tony Abbott announced the air program to supplement the ongoing flight mission above Iraq.
A Centcom spokeswoman told The Huffington Post Australia that this was the first "publicly confirmed" involvement Australia had with the bombing on Syria.
The airstrikes in Syria included two attacks on an ISIL tactical unit which destroyed an ISIL armoured personnel carrier near Al Hasakah.
Near Dayr Az Zawr, one airstrike struck an ISIL crude oil collection point.
Defence Minister Kevin Andrews confirmed the strike, defending his decision not to announce the details of the operation, which took place earlier this week.
"This is part of our logical extension in the fight against Daesh to operate not just over northern Iraq but also to operate over eastern Syria in order to degrade and destroy the Daesh forces," he told reporters in Canberra.
"We don't normally announce the missions that occur almost on a daily basis."
Andrews will make a detailed address on Middle East operations to parliament later on Wednesday.
Australia conducted its first sortie on the weekend, but deployed no weapons.
RAAF Australian Air Task Group deployed four aircraft into eastern Syria on Saturday -- two F/A-18A Hornets, a refuelling aircraft and an early warning and control aircraft.
Last Wednesday, then-PM Abbott confirmed Australia had granted a U.S. request for assistance with the bombing campaign in Syria.
At the time, the Australian Defence Force said action would begin within a week.