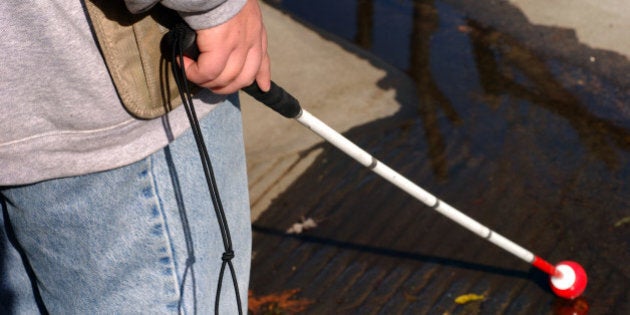 A collaboration between art and science is helping people who are vision impaired to create mobile-friendly, interactive "sensory maps" of Sydney.
The BlindWiki art project is calling on people who are blind or visually impaired to share their experiences of navigating Sydney by creating audio messages in a free application on their smartphones.
Those messages then populate a geo-located "auditory map" which becomes a guide for others who walk in their footsteps.
Spanish media artist Antoni Abad said BlindWiki, which has also been trialed in Rome and Barcelona, is as much about storytelling as it is about navigation and obstacles.
"The app creates a sensory map by allowing users to instantly record and publish audio messages of their sensations of public places, the smells, sounds and experiences that might go unnoticed by sighted people," Mr Abad said.
The Sydney arm of the project is a collaboration between Abad, The Cervantes Institute, The University of Sydney and the Spanish Embassy.
It is hoped the app will allow a broad cross-section of the blind and visually impaired community to share their findings.
"It also serves as a window for the rest of society to become aware of the challenges and joys unique to people who are blind or visually impaired," Abad said.
Since 2004 Abad's megafone.net has been inviting groups of people to express their experiences and opinions through mobile phone technology.
In that project participants transform their devices into digital megaphones, amplifying the voices of individuals and groups who are often overlooked or misrepresented in the mainstream media.
It is hoped this new project catches on with students, with the aim to spread Blindwiki through Sydney, said Professor Luis Salvador-Carulla, from USyd's Centre for Disability Research and Policy.
"It's an exciting project for the University as we see ourselves as very much part of the city of Sydney and welcome people from all places and backgrounds to our campus," said Professor Salvador-Carulla.
"We hope students and our local community will embrace the project as the initial participants are the starting point through which BlindWiki will spread through Sydney."