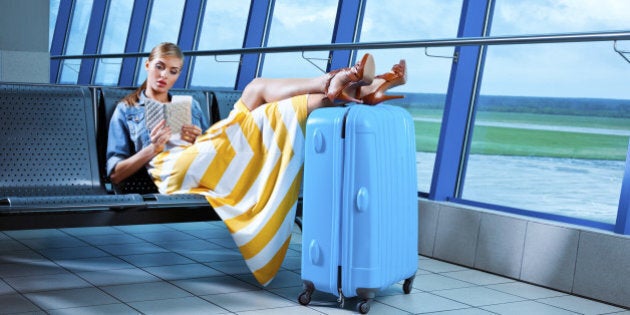 Many of us can only dream of packing our bags every few weeks and dashing off to the airport for a quick getaway, but for Simone McDermid, Advocacy Manager for helloworld, it's a reality.
Being away for one or two nights means all you really need is carry on luggage, though fitting everything in can be a stretch. Here McDermid offers her tips for packing the ultimate hand luggage.
It's an obvious starting point but one that so many people overlook or skimp on. Having a practical piece of luggage is critical to being a successful carry-on traveller. Invest in a piece of luggage that's light (don't waste precious kilos on a heavy case), durable, functional, has separate compartments and most importantly is within cabin size dimensions. Keep in mind that carry on sizes for domestic flights are different from intentional, too. If it's oversized or too heavy ground staff will have no hesitation in tagging it and loading it into the hold of the plane and you can wave all your hard planning, carefully packing and precious gained minutes goodbye.
First up, always pack the night before if you're leaving in the morning to avoid throwing everything in in a rush. Before you even open your wardrobe, stop, sit down and re-visit your itinerary so you can plan to pack only what you really need. Keep in mind your destination and it's climate and look up the weather forecast so you can pack appropriately. Remind yourself of what you will be doing and where you will be going so you know if you need a combination of casual and smart attire -- and if you're planning on exercising make allowances for bulky, heavier footwear. If you can't manage to fit in your trainers, YouTube workouts you can do in your hotel room, instead.
Once you've completed the planning stage and have everything out ready to pack, be ruthless and halve it. We always want to pack more than we need for those "just in case" moments and nine times out of 10 those moments never happen. Instead, pack a selection of mix-and-match items that are versatile and work from day into night (think classic black pants and blazers) and if that "just in case" moment happens, chances are you can adapt and make what you have work.
Refine your packing techniques
Roll or fold? It's an ongoing traveller's packing debate, but if you've planned properly and taken on board (pun intended) the above advice of halving the amount you originally planned to pack, you should have enough room to do either. Some fabrics lend themselves to rolling so they don't crease.
Toiletries are usually heavy and cumbersome, so pack smartly when it comes to these vital items. Purchase some travel-sized toiletries (most mainstream brands offer minis these days) or decant your favorite essential liquids into smaller containers, which are readily available to buy from most pharmacies. Remember, if you're staying in a hotel they often provide the essentials and anything you don't have you can usually buy at your destination anyway. Better news is that most hotel hairdryers are decent nowadays, so leave your own at home. Also keep in mind that aerosoles must have a lid to make it through domestic security, and be mindful of flammables and razors.