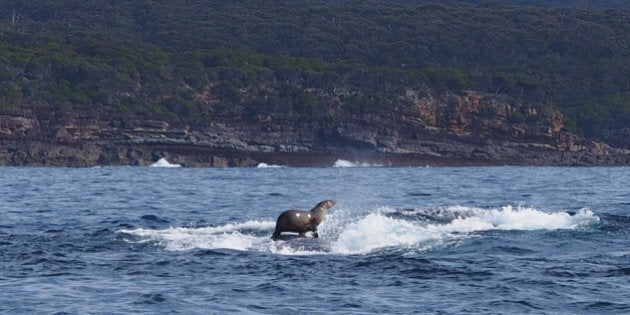 Sometimes Australia can overdo itself, and just be too Australia. A fur seal riding on the back of a humpback whale might be one of those times.
This incredible image was captured by photographer Robyn Malcolm on a trip at Eden, on the NSW south coast. She told the Sydney Morning Herald a pod of humpbacks were feeding on a school of fish, when the seal just jumped on the back of one of the whales and joined in.
The new seal-whale team were reportedly a successful pairing; how could they not be? It's a seal majestically perched atop a humpback whale as if it were a horse. When the creatures of the sea unite and emerge from the oceans in a quest to plunder our lands and claim the homes of land-dwellers, it will be this seal riding this humpback that will be the general leading the aquatic army.
It begs the question -- what can animals do when they team up like this? A Google search for "animals riding other animals" teaches us more about the strategies that beasts may employ to fight back against human oppression.
A kitten being chaired around by a tortoise. A monkey perched atop a warthog. A mouse riding a cat riding a dog? It's almost too much.
Here, have a hyrax riding a tortoise.
Or, you know, just enjoy this koala/dog pairing.