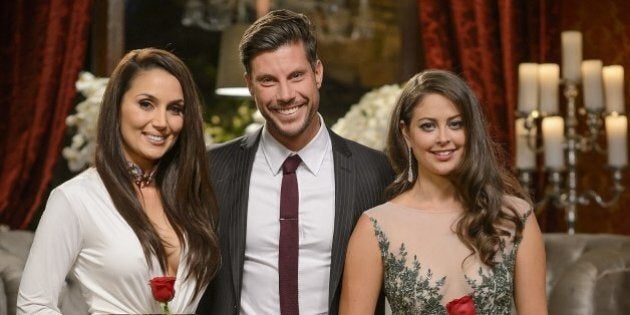 Dark horse, Sarah, was left roseless on Wednesday night making Lana and Snezana (fondly known as Parmigiana to the rest of Australia) the last two standing.
But who could it be -- the 34-year-old Macedonian beauty and single mum Snez -- or Lana, the intruder with "gorgeous eyes" (as Sam so often likes to remind us) who can also speak Spanish?
The Interwebs has some theories ahead of tonight's finale. So here is an unbiased* version of events so you can make your own call.
Theory One: Sam and Snez's "physical attraction" and "chemistry" seals the deal
From day one, it was clear Sam and Snez were HOT for each other. And to be clear, we mean everyone kept mentioning the obvious "physical attraction" and "chemistry" they shared.
However, Snez has continuously made it clear that her 10-year-old daughter, Eve, is her priority -- and if Sam isn't down with that, then too bad. Of course, her concerns were perhaps put at ease when she found out he worked with kids. Which was put on display during episode 11's group date.
"Watching him with the kids I was like, 'Wow, he would be an amazing father figure," she said.
Snez is also willing to move away from her family and across the country for Sam even though her super scary brother made it clear he hated the idea. But Snez is all like, "whatever, bro" and told radio hosts Fitzy and Wippa this morning that she'd happily move from Perth to Melbourne where Sam is based. Barrier one, sorted.
On top of that, Sam and Snez were spotted at Sydney airport on Wednesday night. Sure, they weren't actually together -- but it begs the question -- was it a set up by producers at Channel Ten to fool us all? Has the physical attraction finally fizzled out? Or had they flown in together before the big finale tonight? Judging by the couch cuddles on Wednesday night's episode, we're going with the latter.
Theory Two: Sam can't look away from Lana's "amazing eyes" and decides she should stay forever
If hot, steamy pool pashing is anything to go by Lana's got this one in the bag.
Sure, she hasn't spent as much time with Sam as Parmi -- but remember the parasailing date? Lana hadn't been there two minutes and it was like the pair had shimmied into the sunset together leaving Parmi, crowd fave, Heather and the rest of the gang behind.
We also know that in an interview with KISS FM's Kyle and Jackie O, Snez revealed she'd had no contact with Bachie Sam since they finished filming.
"No, I have had no contact with Sam since the show ended," she said.
Probably because he's stuck staring into the eyes of his one true love, Lana, obvs.
Theory Three: Sam finds it too hard to choose (again), breaks down in tears and continues in a polygamous relationship with both Snez and Lana
What? Isn't that the whole premise of the show?
*TBH we're all just waiting for Heather to come back.