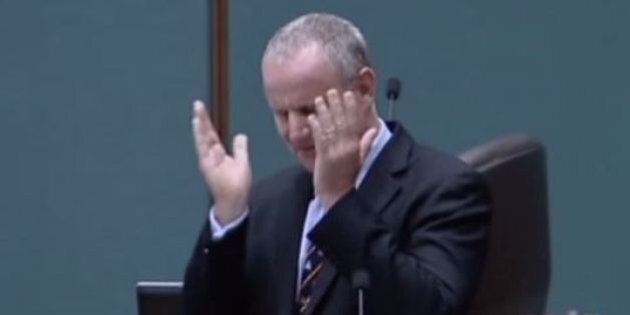 The Northern Territory's Attorney-General has made a lengthy apology after he said he was "really tempted" to give a female colleague "a slap right now".
Johan Elferink, who is also Minsiter for Families and Children, made the comment at Opposition Whip Natasha Fyles after she interrupted him in parliament yesterday.
Elferink apologised in parliament today saying he had been soul searching since the backlash to the comment began.
"I genuinely wish that I was often better than I am," Elferink said.
"When I do make a mistake I stand up and acknowledge that mistake fulsomely and openly.
"I apologise without reservation to the member of Nightcliff for the comment I made."
"It's the language that I used yesterday which I now, upon reflection, I can only say sorry for."
"I live by the philosophy that when I am wrong I have to promptly admit it, on this occasion I am wrong.
"I accept the error of my ways and will seek in every way to improve the quality of performance that I offer the people of the Northern Territory."
Flinders University Head of Women's Studies Yvonne Corcoran-Nantes said no apology would be enough.
"We have four women dead in the last week and this so called political person is standing in a public arena as public arena threatening a woman with violence," Corcoran-Nantes said.
"It's politicians that set a baseline for behaviour and it's one of the reasons that I think women in other workplaces find themselves bereft of support when things like this happen.
"Our children have to listen and see this stuff."
"In that speech, Julia Gillard said what all women wanted to say at one point in their lives, because all women have been subjected to comments like that.
"Politics in this country need a new standard. We need to take it apart and restructure because it's not a gender friendly environment."